Published:

24 Jan 2018
John Muir Award Story - Money (and self-confidence) do grow on trees
In 2017 a Hastings woodland hosted an innovative partnership between an educational charity and a bank, underpinned by the John Muir Award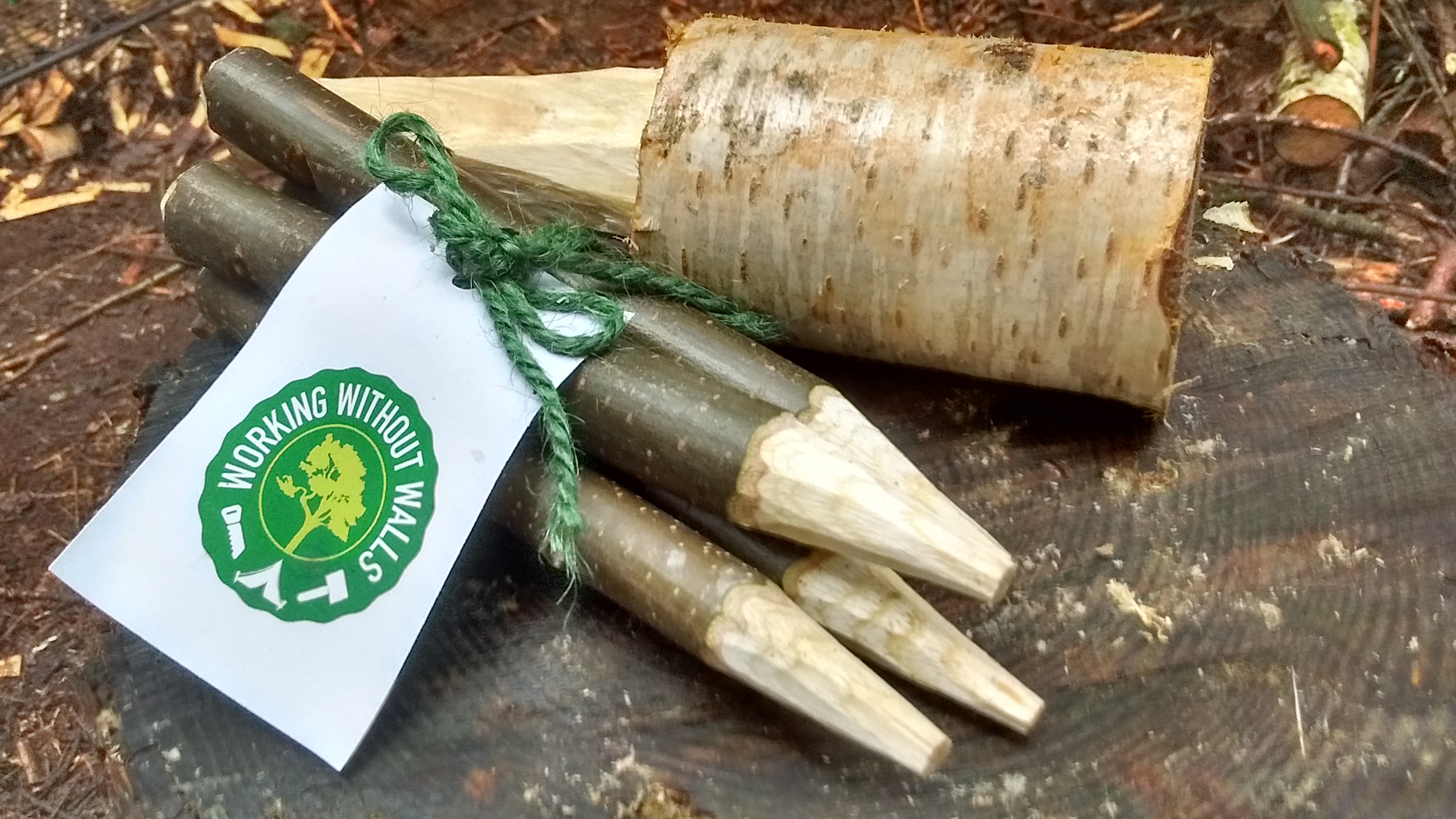 Working Without Walls is an Education Futures Trust (EFT) outdoor learning course, well known locally for teaching young people woodcraft skills and inspiring connections with natural places. It's designed and led by Luke Funnell, who knows the value of time spent in nature having 'survived' a week in the wild with nothing but a knife. His personal experience led not only to an insight into the power of nature, but also to a professional commitment to "re-wild" local young people.
In Spring 2017 Luke took the unusual step of inviting a well known bank to "leave the high street and step into the wild". The aim: to create a social enterprise - making and selling woodland tools and products - that could support both the economic and mental health of young adults considered to be at risk of disengaging with their community. As well as providing funding for the course through the NatWest Skills and Opportunities Fund, staff from the bank were on hand to offer advice and guidance to the young people. This proved to be every bit as valuable as the financial support as they developed their woodland skills, produced items for sale, became more financially savvy and considered their opportunities for future training and employment.
Through the coldest months of the year participants met in woodland not far from Hastings city centre and worked together, often in challenging weather, to create a sustainable independent business.
Weekly sessions, aligned to the framework of the John Muir Award, nurtured a sense of responsibility through practical conservation and self-awareness, and culminated in recognition for the achievements of each individual as they grew personally and as a group. New practical skills - tree felling, wood processing and whittling - dovetailed with learning about the essentials of enterprise - accounting and money management - leading to re-gained confidence and a new found sense of place in the community.
It wasn't all hard work. The emphasis always came back to positive experiences of connection to nature. This often involved playing games relying on the senses and communication (Eagle Eye and Capture the Flag were two favourites), resulting in muddy yet happy participants at the end of each day. Participants highlighted the impact of these sessions too: "I learned how to walk like a fox, build fires and speak more" said one group member. Another: "I learnt how to respect nature and respect everyone in the group."
"The idea was to offer young people a way of experiencing their local woodland as a place to nurture their sense of confidence and provide a catalyst for a stable financial future" said Luke. "By gaining in-depth knowledge of the wood, whilst being supported by NatWest's knowledge of business, we could explore ways in which they could create an alternative and independent future for themselves".
Participants embraced the opportunity to show that they were capable of genuine hard work and creative problem solving. Alongside preparing the physical products to sell, they approached local businesses, made original promotional videos and created their own unique branding, successfully selling their wares in the city centre and raising funds for their next venture.
As reports of water shortages, air pollution, and the decline of native species such as the hedgehog begin to feature more regularly in the news, gaining an appreciation of how nature is at the root of all our prosperity is more urgent than ever. Working Without Walls helps to explore these important issues head on. Many participants progress to join local environmental volunteering groups and have chosen rural management, production and skills-related college courses as the next steps towards their own future prosperity.
"Coming on this course I've learnt how much of an enriching environment the woods can be. The course has shown me that I have a passion for and an engagement with the environment. I'm now hoping to find somewhere that I can apply it, to pass it on to other people". Working Without Walls Participant
To find out more about the exciting opportunities on offer at EFT and to discover how you can participate go to: www.educationfuturestrust.org
Article by Daniel Ford, Doctorate Research Student - University of Hull