Quinag walks programme 2021
Book a place on one of our summer walks at Quinag in Assynt. Walks are free, but donations towards our work in wild places are warmly welcomed.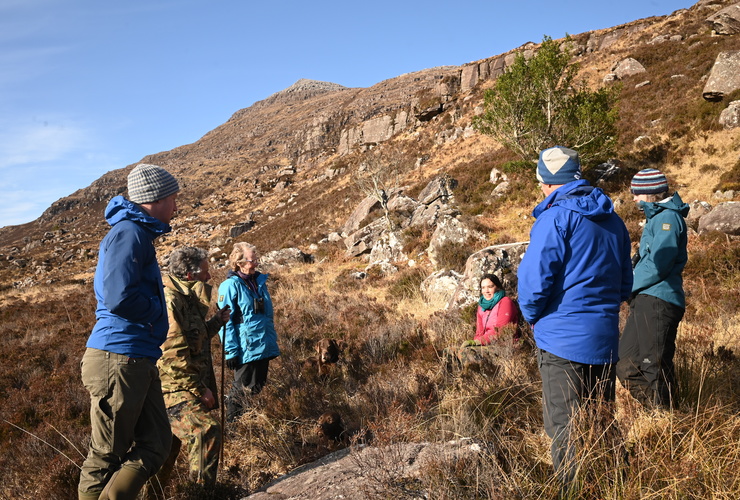 14 June: Walk in the wild
Join us for a walk through the woodland looking at signs of badgers and otters. Enjoy a coastal lunch with good views across Loch a` Chairn Bhain.
When: 11am-3pm
Where: Meet at layby on B869 above river at Torr a' Ghamhna (waterfall layby) grid ref NC214323
26 July: Get close up with nature
Walk with local naturalist Ian Evans along the old route on the south side of Quinag and explore the wildlife and plants.
When: 11am-2pm
Where: Meet at boat bay layby on A837, grid ref 202260
23 August: Map and compass skills
Learn basic map features, how to take a bearing, walking to a point on the map using a compass.
When: 11am-2pm
Where: Meet at car park north of Skiag Bridge, grid ref NC233274
20 September: A mountain walk
This walk up Spidean Coinich, Quinag, offers spectacular views and possible sightings of ptarmigan, mountain hare and golden eagles.
When: 10am-5pm
Where: Meet at car park north of Skiag Bridge, grid ref NC233274
4 October: Nut collection walk
Join our partners at Coigach-Assynt Living Landscape (CALL) on a foraging walk, collecting seed sources for the native tree nursery.
When: 10am-2pm
Where: Meet at Lochinver car park next to church/bus stop, grid ref NC094227
To book a place, contact: Romany Garnett
All walks are led by John Muir Trust staff. You are responsible for your own safety and that of your children. Dress appropriately for changeable Highland weather and bring good sturdy shoes/boots and packed lunch/snack.