30 Aug 2023
Wild Space hosts special 40th celebration
Trust friends - old and new - reunited in Pitlochry's Wild Space for a fun afternoon of reminiscing, looking to the future and raising a glass to four decades of caring for wild places.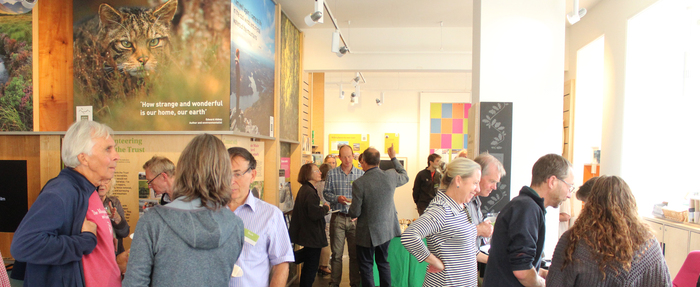 Members, supporters and guests joined staff and trustees in our Wild Space visitor centre for a celebration at the end of August. They had been invited to Pitlochry for an informal drinks reception and tour of our exhibition 'What's the future for wild places?' followed by a private viewing of our new film Clear on Deer and Q&A with the team.
The Trust's Director of Development Kevin Lelland welcomed the 45 guests by paying tribute to everyone who has helped realise the "powerful idea" behind the Trust over the past four decades: that wild places are special and they create an enduring personal connection to nature that is worth conserving.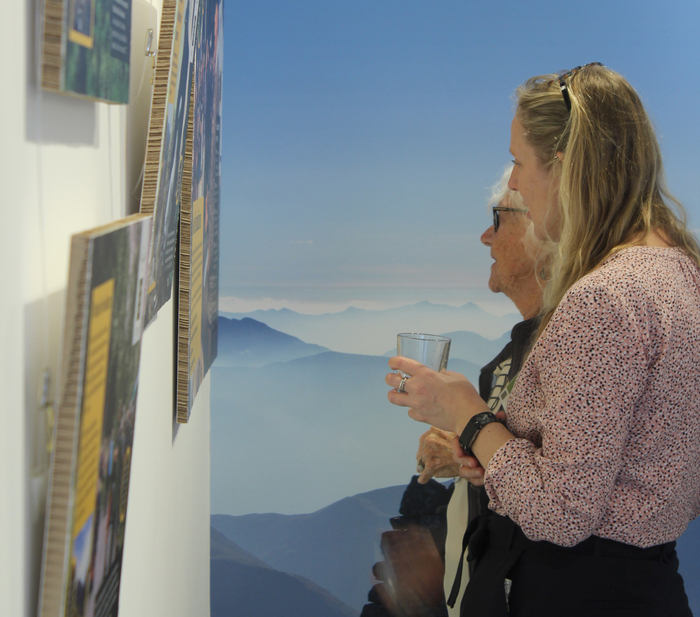 Local MSP John Swinney said the John Muir Trust is one of Perthshire's special organisations that brings him a great deal of pride.
"Forty years ago, it was a bold, brave and courageous move to establish the John Muir Trust. Its initiatives were not taken seriously, now they are seen as critical. What was not particularly mainstream 40 years ago, is now in the mainstream today."
John Swinney acknowledged the importance of the therapeutic value of being able to access the natural environment mentioning our John Muir Award environmental award scheme and our work with Heart of Scotland Forest Partners on projects like the easy access Foss Loop path at Schiehallion saying: "It's a privilege to observe the Trust's practical work engaging with the local community."
Trust Chair Jane Smallman followed by highlighting some of our most recent initiatives including: Reimagining Strathaird on Skye; examining the potential use of the Kylesku site as an interpretation centre for the Assynt area; walking away from Glenridding Common after five years, but continuing our work in the Lake District with partners at Thirlmere; taking on management of the John Muir Way through central Scotland on a trial basis; and reviewing the John Muir Award.
She finished by thanking Denis Mollison (who was at the event) and his fellow founders for their vision 40 years ago, which we plan to continue developing for at least the next 40 years.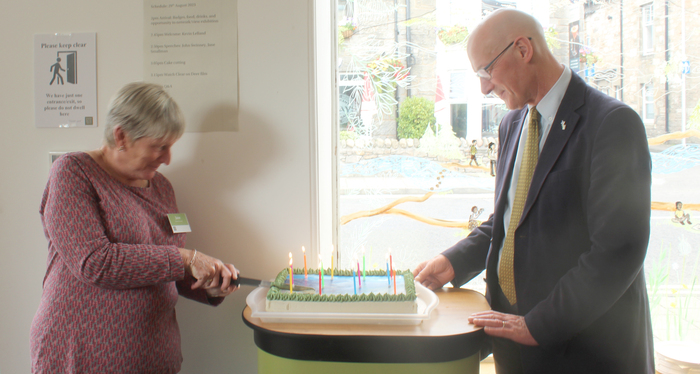 The Clear on Deer film preview was watched with interest and afterwards the guests enjoyed a Q&A with our Head of Policy, Mike Daniels.
Mike concluded by thanking everyone for their continuing support of the Trust saying it enables us to ensure that wild places, and the benefits they provide for nature, people and communities, can continue to have a voice for the next 40 years.
Photographs show: the gathering in Wild Space, Maude Tiso recognising her younger self in our exhibition, and Trust Chair Jane Smallman and John Swinney MSP cutting our anniversary cake. See more photographs of the event.