10 Dec 2020
Tribute: Doug Scott
Rob Bushby, former John Muir Award Manager and long-term associate of Doug Scott, pays tribute to the mountaineer who died on 7 December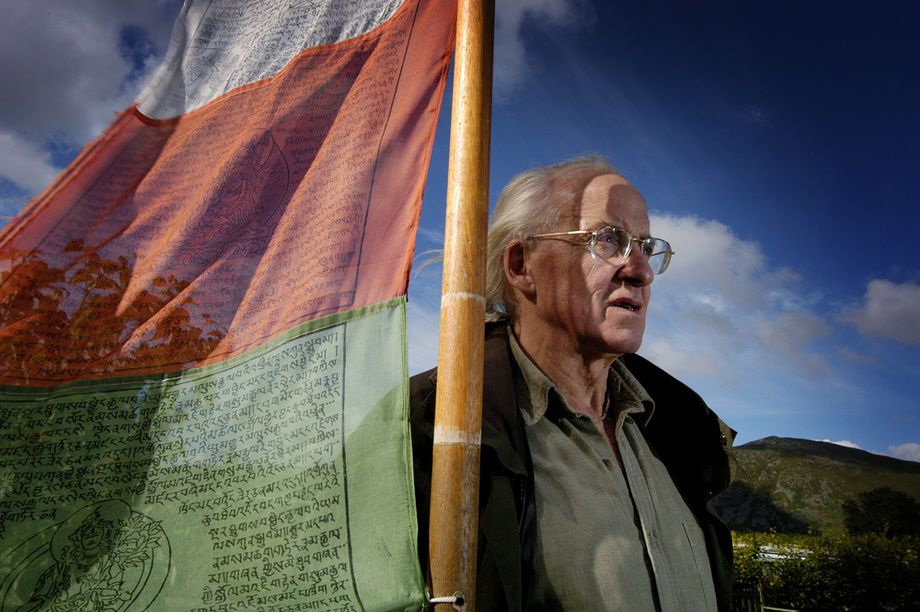 In amongst the many words used in tribute to Doug Scott – legendary, heroic, giant, inspirational – stir other more modest ones to offer a fuller picture. Humble, spiritual, understated, community-minded, and a lifetime friend of Nepal: all emerge just as clearly. And alongside reflections from deeply acquainted climbing friends and colleagues are accolades from lives he touched briefly but with lasting impact; from those who've sat captivated in his lectures, been transported by his books and images, or been on the receiving end of a passing nod and a dry Scott one-liner. Doug's reputation is far more than that of a singular climber.
Doug has been a friend of the John Muir Trust from the early 2000s when he encountered groups doing their John Muir Award with the Life Science Trust in Pishwanton Woods, East Lothian. He presented the 7,000th John Muir Award at Holyrood Park Education Centre and generously offered his voice for films ("My favourite mountain? Has to be Blencathra, hasn't it?"), leaflets and campaigns.
He became only the third John Muir Trust Lifetime Achievement Award recipient in 2005, after Tom Weir and Adam Watson. This recognised not only Doug's exceptional mountaineering accomplishments over more than 40 years but his commitment to conserving environments and supporting communities around the world.
Strong bonds developed with the people of Nepal during his expeditions led Doug to form the charity Community Action Nepal (CAN). An early advocate of the concept of responsible tourism, he set up Community Action Treks (CAT) as a sister organisation to ensure fair treatment for trekking crews and to put something back into regions hosting commercial trips.
His Lifetime Achievement Award also acknowledged the craftsmanship of his writing and photography – he won the first Boardman Tasker award for mountaineering literature, and at the time had more of his photographs on mountain book covers than any other photographer.
On receiving it, Doug said "I'm really pleased to accept this Award as it all helps to highlight the need to preserve wild places and support the people that live there. The Trustees of Community Action Nepal and myself are constantly inspired both by the landscape of the Himalaya, and its hard working, resourceful inhabitants. We must ensure that these opportunities for inspiration continue well into the future."
A presentation by longstanding friend and fellow climber Chris Bonington and John Muir Trust Trustee Will Williams at Kendal Mountain Festival was warmly received by what was very much a 'home crowd'. A special celebration event at Rheged, Penrith, followed with Leo Houlding and 1975 Everest expedition companion Paul 'Tut' Braithwaite paying tribute.
Leo reflected that, as a young Cumbrian near-neighbour, he'd been taken by his dad to see the Scott Garage of Mountaineering Paraphernalia. ("There was his blue Everest wind-suit in a heap in the corner – it should be in a museum!"). Respectfully awed, he told of which climbs in Doug's Himalayan Climber book were a source of inspiration, and did indeed go on to climb El Capitan, Asgard and Everest. Tut gave a more intimate and irreverent take - "Describe his organisational style? Bull in a china shop, there's a reason Bonington did that stuff" - in recognising Doug as both peer and peerless.
Doug had many mutual connections with the John Muir Trust, from an annual shared promotional stall with CAN at Kendal Mountain Festival and Edinburgh Mountain Film Festival for many years, to longstanding individual friendships including former Trustees Rob Collister and Maude Tiso.
"Graham [Tiso] was on the 1972 Everest expedition. They all spent time at our house looking over gear" recalls Maude. "Doug wasn't just a brilliant mountaineer, but a really good and likeable person. I don't think I know anyone as strongly admired in the climbing world, especially for his empathy with the Sherpas and people of Nepal."
What's remarkable is that Doug is remembered not only for his incomparable record of peaks climbed and routes pioneered, but equally for bringing the Ogre, Everest and the Nepali people into countless lives on dark, wet November evenings. As much as anything Doug's legacy is one of care for the world's wild places and communities, and the power of storytelling through words and pictures.
Find out more about the work of Community Action Nepal and make a donation.
Image shows Doug Scott. Image credit: Keith Brame – taken as part of a series of images collected to help celebrate the 10th anniversary of the John Muir Award.