16 Jul 2019
Trust signs new agreement with West Harris Trust
After seven years working together, the Trust has renewed its partnership with the Hebridean community landowner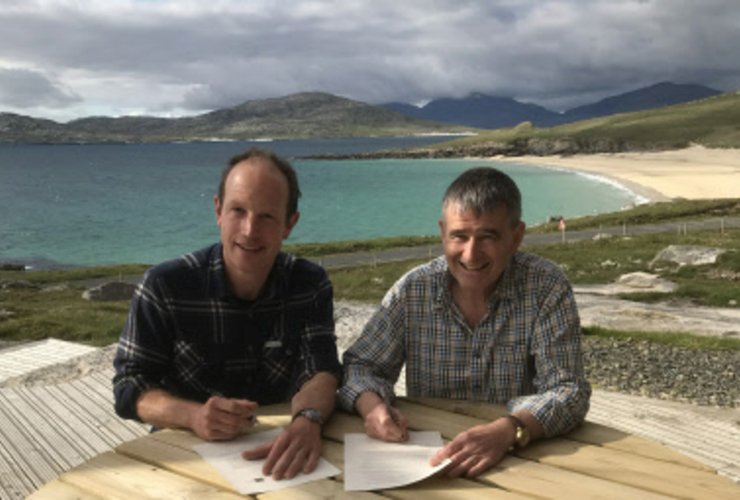 After a productive seven-year relationship, the Trust has signed a new four-year agreement with the community landowning body that manages some of the most spectacular coastal landcapes in Europe, including the famous Luskentyre beach.
Since purchasing the 7725ha estate from the Scottish Government in 2010, the West Harris Trust has focused on reversing population decline and developing a financially sustainable business model. Developments delivered to date include wind and hydro electric projects with a combined capacity of 258kw; Talla na Mara, a community enterprise centre; and (along with the Hebridean Housing Partnership) six affordable homes for rent. As a result, the permanent population of the area has risen from 119 to 151 - a 27 per cent increase in a part of Scotland which has had an unhappy history of depopulation.
In addition to ensuring the financial sustainability of the estate, WHT aims to ensure the conservation of its stunning natural environment. "The JMT have been a great support in achieving this, with regular volunteer work parties visiting the estate throughout the summer months. Previous groups have restored sections of drystone dykes, carried out beach cleans and planted trees," said Director of the West Harris Trust Neil Campbell.
The fresh agreement, which takes us to 2023, follows the expiry of a previous Memorandum of Understanding. Its purpose is to allow the John Muir Trust to support the WHT in its conservation management; and for the WHT to support the JMT in developing its own policy and management practices by learning from the experiences of community-led conservation management.
Rich Williams, Land Operations Manager for the John Muir Trust, said: "We are delighted to renew what has been a productive relationship with the West Harris community. We also have partnerships with other community land trusts in the West Highlands and Islands, and are keen to strengthen our connections with this growing sector of land management in Scotland."
Pictured are Neil Campbell, Director of the West Harris Trust, and Richard Williams, Land Operations Manager of the John Muir Trust.