Award redesign
Strengthening our engagement offer: help us redesign the John Muir Award for people and wild places.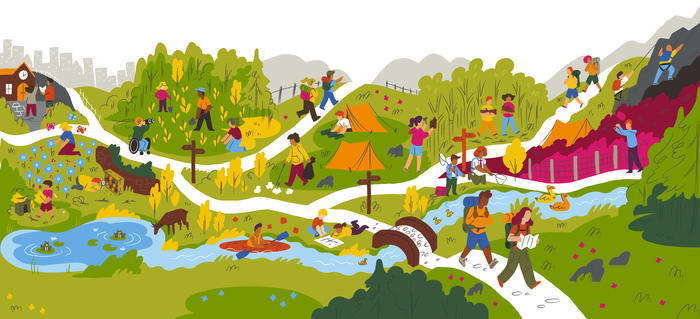 Through our engagement work we aim to expand our reach to a greater number of people and communities across the UK to help build awareness, experience and understanding of the many and varied benefits a connection to wild places can bring.
The more people value wild places and understand some of the threats they face, the more they will join us on the journey to advocate for their protection. Wild places are for all, and everyone can help protect them.
The John Muir Award remains a vital component of our engagement work, creating partnerships, connections and reach. For many it is the first introduction to the concept of wild places and the start of a vital connection with nature.
Following a review of our engagement work and the development of our new strategy, we wish to ensure that the John Muir Award has a bright future in a rapidly changing world.
You can help us enhance how progression through the Award can inspire people towards a life-long passion to experience, enjoy, protect and repair wild places.
Get involved
We're inviting past and present participants, providers, partners, supporters and funders to help us create the best redesigned version of the Award.
This could be helping the Trust by:
Co-creating and piloting a redesigned Award
Sharing insights and experience on measuring impacts (particularly on nature connectedness, health & wellbeing, action & advocacy for wild places)
Signposting or offering funding support to help us test, trial and develop a redesigned Award
Browse our Frequently Asked Questions to find more on why we are redesigning the Award.
Contact us with how you can help us redesign the Award, or/and if you have any further questions.