Our planet is heating rapidly and over 60% of all animal populations have been lost since 1970. It is an emergency - yet we still have choices. Wild nature can be our greatest ally in meeting the climate and nature crises.
Natural climate solutions
The Trust has been meeting the challenge of climate change with direct action since our launch in 1983. More trees, less grazing and less soil erosion means more carbon is stored in the ground and absorbed by plantlife. Our work to repair ecosystems protects and enhances 'public goods' like soil fertility and flood defences, as well as reducing carbon emissions.
Building resilience
The pressures of our changing climate include disease, fire and flood, but a richer, more diverse home for wildlife can help plants and animals cope with the challenges to come. More native trees improves habitat and biodiversity in a virtuous circle.
Thanks to your support, we are now planting native woodland at Keppoch on Skye. At Schiehallion in Highland Perthshire, we are extending the area of lower level tree planting up the mountain as part of a long-term montain woodland restoration project. At Quinag in the Northwest, we are conducting feasibility studies for mountain woodland restoration.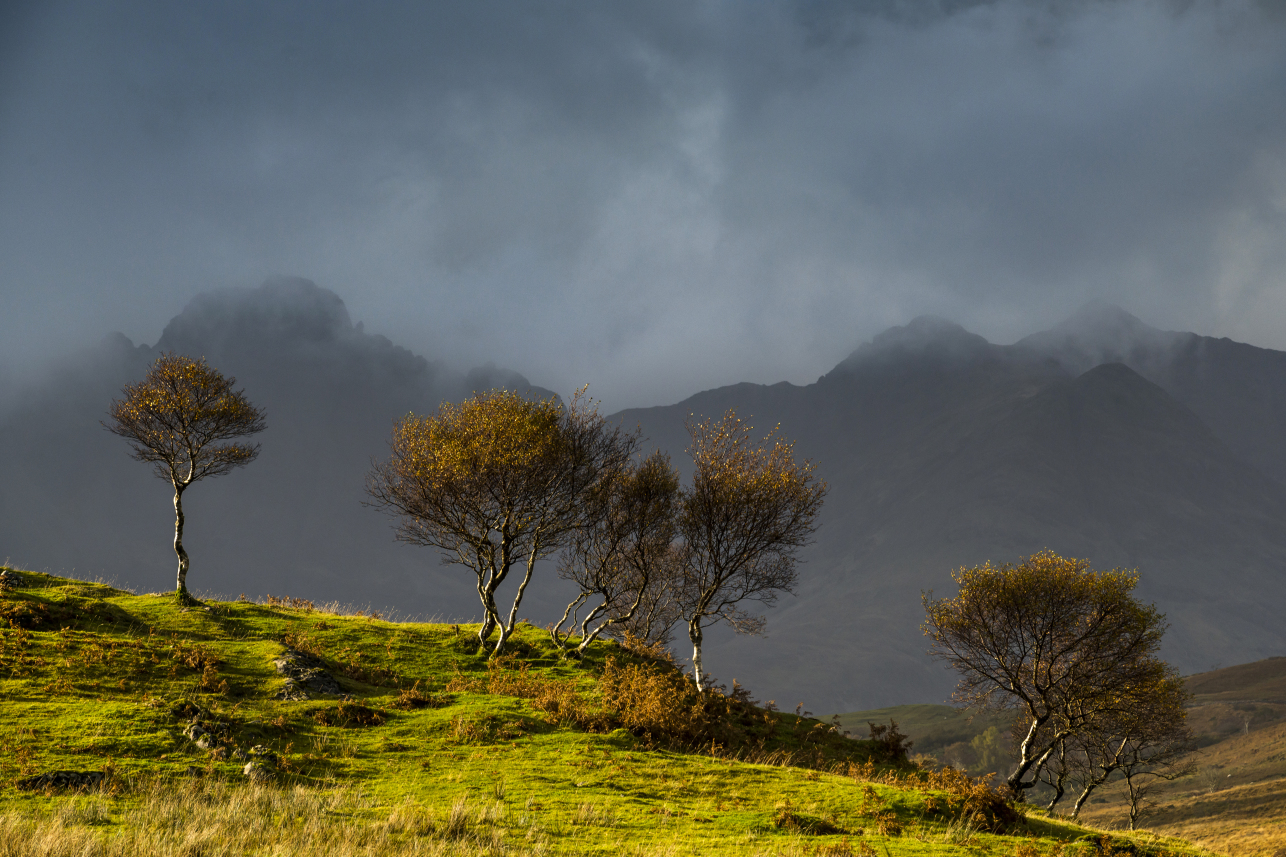 Wild Woods Appeal
Help plant thousands of trees on Skye, Knoydart, Schiehallion and Glenlude.
Peatland restoration
Peatland represents the single largest carbon store in the UK and restoring it helps mitigate the increase in flooding connected to climate change, by slowing and storing rainwater as it drains from mountain top to glen and valley.
Three sites on the Trust's land on Skye have been identified for restoration (Faoilean, Ringill and Sligachan) whilst on Nevis, Quinag and Sandwood we are undertaking monitoring, ahead of proposed restoration projects with government environment body NatureScot.
Rebalancing people and planet
We are not apart from nature, but a part of it. Remaking that connection by experiencing the benefits of wildness ourselves means we are more likely to take action for wildlife and wild places – by reducing our consumption, volunteering or campaigning to improve the environment.
Our John Muir Award staff work in partnership across the UK with around 1,800 delivery organisations, enabling 40,000 people a year to achieve an award which acknowledges their personal achievement in nature and conservation. They contribute 47,000 days in direct action for nature, worth over £1.5 million – per year!
In 2019 we helped launch the #iwillfornature climate campaign in Scotland to further increase the opportunities for young people to connect with wild nature and their environment. 
On our land and the land of our partners, John Muir Trust volunteers and Award participants take direct action for climate and nature with us: with beach cleans and litter picks, by propagating seeds and planting trees, and restoring peatlands by drain removal and dam creation.
Exemplary land management
We develop practical mechanisms, skills and expertise for exemplary land management that help keep carbon in the ground. Our Wild Land Management Standards communicate how land managers can look after land to store carbon and reduce CO2 emissions.
Central to these standards is our call to reduce deer numbers. Healthy peatlands and woodlands are key tools in climate change mitigation and overgrazing by deer inhibits woodland regeneration, while trampling erodes and destroys healthy peatland.
Improved deer control means a healthier animal population, a lower carbon footprint for landowners and managers and a positive contribution to the climate emergency.