About half of the land the Trust looks after is under crofting tenure, just over 10,000 hectares, with 121 crofters (normally the tenant of the croft) and 180 shareholders (crofters who share in a common grazing). Most of the Sandwood estate we steward is under crofting tenure, and the majority of the land we look after on Skye too.
The Trust is keen to engage in crofing policy, particularly where we can support stronger links between the rural economy and wild places. And on the land, we are placing renewed focus on being an exemplary crofting landlord.
Part of this is about recognising what we're doing well, and identifying where we could do better – and we're using the word exemplary to hold ourselves to high standards. To help us on this journey, the Crofting Commission have seconded a Crofting Officer to the John Muir Trust, who brings with her 11 years of experience working with crofters.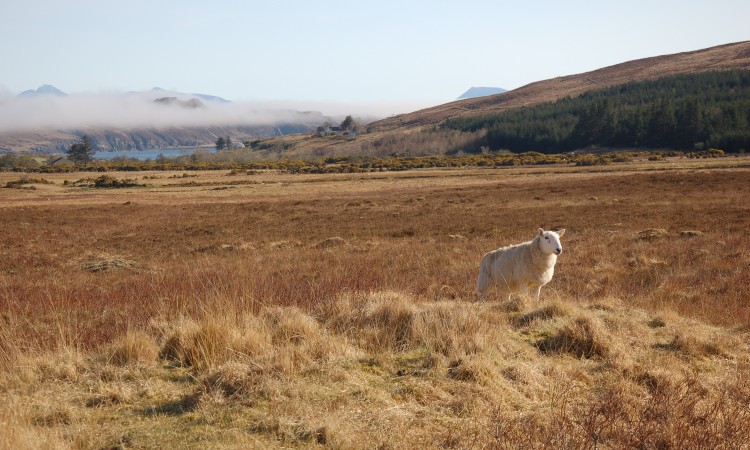 What is crofting?
Crofting is a system of landholding, unique to Scotland, and is an integral part of life in the Highlands & Islands. A croft is a relatively small agricultural land holding, which is normally held in tenancy. Crofting has had its own specific legislation since 1886. Under this, crofters have responsibilities which include a duty to be resident on or within 32 kilometres of their croft, a duty to cultivate and maintain their croft or to put it to another purposeful use. 
Crofting in a changing world
Like every area of society, crofting faces pressures, opportunities and demands in a rapidly changing world. Crofting areas include large areas of peatlands or peaty soils which are important stores of carbon and biodiversity. The carbon stored in Scottish peatland soils as carbon dioxide is equivalent to more than 120 times Scotland's total annual greenhouses gas emissions. But many of these peatlands are in a poor state. Alongside this, the financial income of many crofts is precarious.
As in most rural areas, in the Highlands and Islands there have been increased pressures on available affordable housing options with new entrants to crofting and younger people struggling to get access to crofts and housing.
As well as focusing on ensuring these issues inform the way Trust operates as a crofting landlord going forward, the Trust's Crofting Officer will also lead on an innovative new 'crofting carbon' project.
Crofting Carbon
'Crofting carbon' could provide an additional income stream, examine how croft land can address climate change and biodiversity challenges, and further support fragile rural communities. The Trust is involved in a pilot scheme to explore options to sequester carbon through land restoration, and utilise carbon financing to provide income for crofters. It would be the first carbon crofting scheme in Scotland.
Resources