Published:

27 Apr 2023
Wild Moment: Alla
"We all live in this world, so we all need to look after it." Ukranian national Alla explains why she joined the John Muir Trust after hearing about it from her host in the Malvern Hills.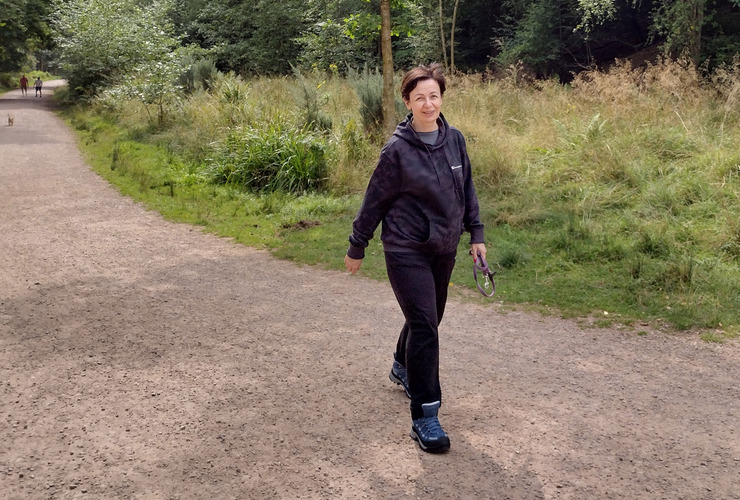 I heard about the John Muir Trust from the family who have been hosting me and my son. I looked at the website and signed up for the newsletter and made donations while still in Ukraine. I recently became a Member of the Trust because we all live in this world, so we all need to look after it.
My home is in the city of Cherkasy in central Ukraine, but I have loved nature from an early age. I have always been fascinated by walks in the forest, the singing of birds, wild animals - the majesty of the wild world. As a psychologist, I understand the benefits of nature to the human spirit. Also, when your own world is falling apart it's therapy to help preserve the natural world.
Ukraine is similar to Britain in many ways, but it is much colder in winter! Also, the wildlife in Britain is different. For example, here I have seen birds that I never knew of, such as the robin, a very people-oriented bird which fascinates me!
Ukraine has many wild places, in particular the Carpathian Mountains on the western side, where there are wolves, lynx and bears, although I have never been there myself. I think that many wild places in Ukraine are under pressure from urbanisation; also, there are many factories that work without treatment facilities. Unfortunately, in my city, Cherkasy, there are chemical factories that pollute the air and I have seen a lot of dead fish on the shores of the Dnipro River. Also not many people in are trained to protect nature.
I did not participate formally in nature conservation in Ukraine, as I had not heard of such a thing and in my city there were no groups to join. However, I used to pick up rubbish in the forest where I walked and near the house where I lived. I have always taught my children not to drop litter.
Alla and her son have been in the UK since August last year and, with hostilities still ongoing, are unlikely to be returning home any time soon. Although a city dweller, Alla wanted to be somewhere peaceful in UK with stability so her son could finish his secondary school education. The family in the Malverns fitted the bill and she says "we all feel very fortunate that fate brought us together".
Inspired to submit your own Wild Moment? Find out how here.