Published:

14 Apr 2016
Path work - the Trust's approach
The Trust takes a pre-emptive approach to keep trails wild and costs low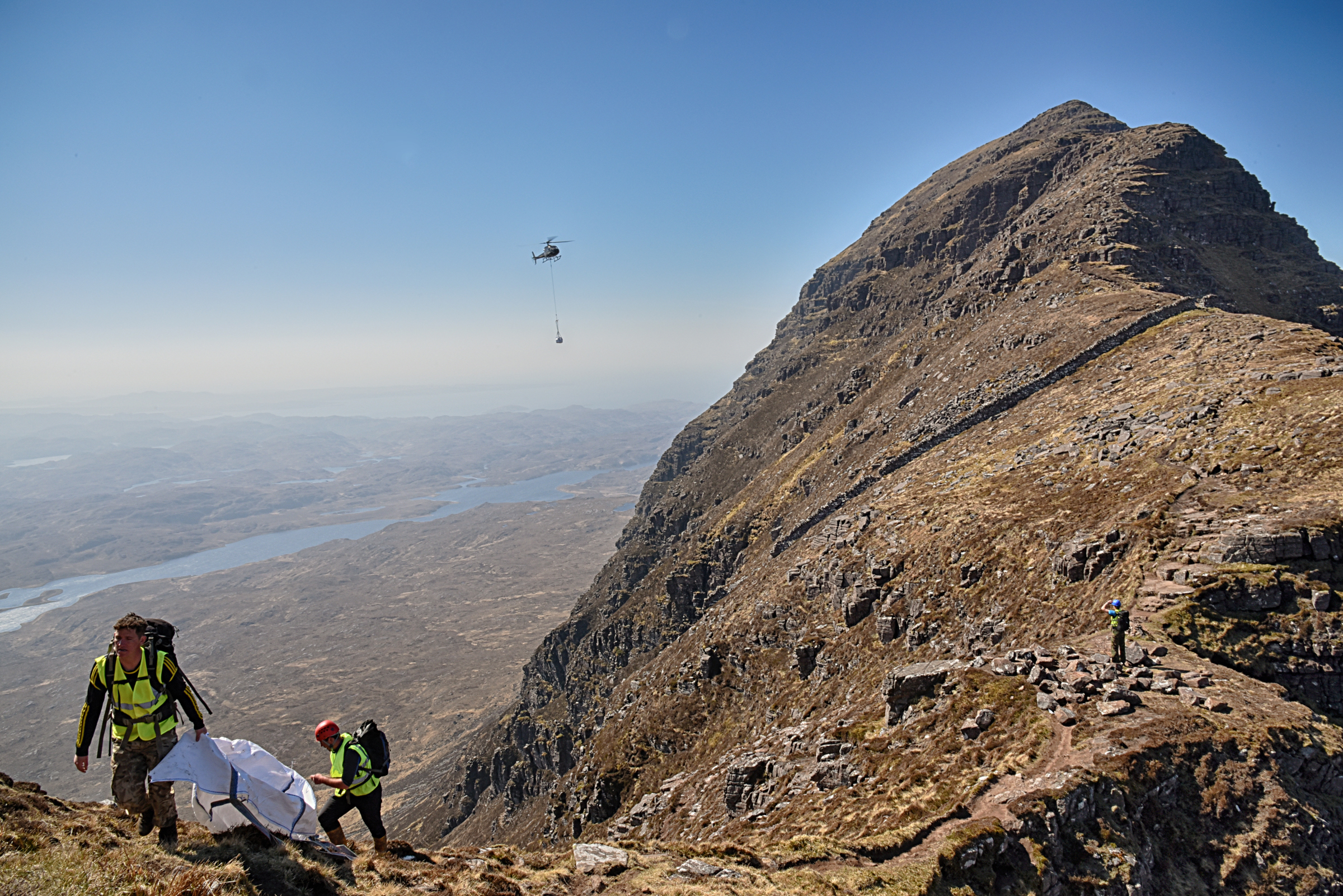 We repair and maintain 120km of paths, from the coastal trails of Skye and Sandwood to world famous mountain routes on Ben Nevis, Bla Bheinn, Schiehallion and the wild and rocky Steall Gorge path in Glen Nevis.
While the Trust is delighted that increasing numbers of people are going out to enjoy wild places, we recognise that there is a corresponding need to look after the areas where footfall is increasing. The result can be a loss of vegetation, drying out and loss of peat (with associated carbon release), erosion of underlying soils and increased sediment in water-courses.
Badly eroded paths can have a significant visual impact, becoming scars on the hillside. The condition of the path also greatly influences the user experience and visitors are less likely to return if a path is in a poor condition.
It is vital that path erosion is not allowed to harm biodiversity or detract from the appeal of our renowned landscapes. The John Muir Trust's approach to managing paths on wild land aims to strike a delicate balance between maximising users' enjoyment and protecting the wild land and habitats they visit. While we want to maintain paths in an appropriate condition, we do not want to sanitise or urbanise our wilder landscapes with over-engineered paths.
The Trust maintains an 'access-neutral' approach to path management – we maintain what is there rather than extend access. We achieve this through sensitive low-key works on existing paths to prevent excessive wear and erosion of surrounding habitats, while keeping visual intrusion to a minimum.
Erosion often reaches a tipping point where loss of soils suddenly accelerates and leads to much greater damage to the path, the area adjacent to it and often a larger area downhill or downstream. If measures are not taken in time, the impact on the landscape can be significantly greater, with the scale of the repair work and costs reflecting this.
In 2012-13 the Trust carried out a full audit of all paths on Trust land, resulting in full mapping and surveys of paths on John Muir Trust properties. This allowed a strategic plan and a prioritised list of repair work to be put in place. Within the next few years we aim to complete major work on the most badly damaged sections and bring the paths up to an acceptable standard, both to the user and to desirable wild land standards. Once repaired, pre-emptive maintenance will be much less costly and able to be carried out by a combination of staff and volunteers, with small contracts where required.
The cost of major upland path work can be particularly high due to the remote locations, labour intensive work and the need to air-lift stone in if there is very little naturally on site. This can bring the cost of the work to over £200 per metre of path repaired. Other site-specific factors can also come into play. For example, on Skye the presence of breeding eagles – a symbol of the land's importance for wildlife – means that airlifts are not permitted from January to August in some areas, and so this work needs to be carefully timed to take place in the autumn.
We work closely with local councils, the Scottish Access Forum and Scottish Natural Heritage to make sure that we comply with best environmental practice. We also liaise with other conservation bodies such as the RSPB to ensure best practice for birds and wildlife.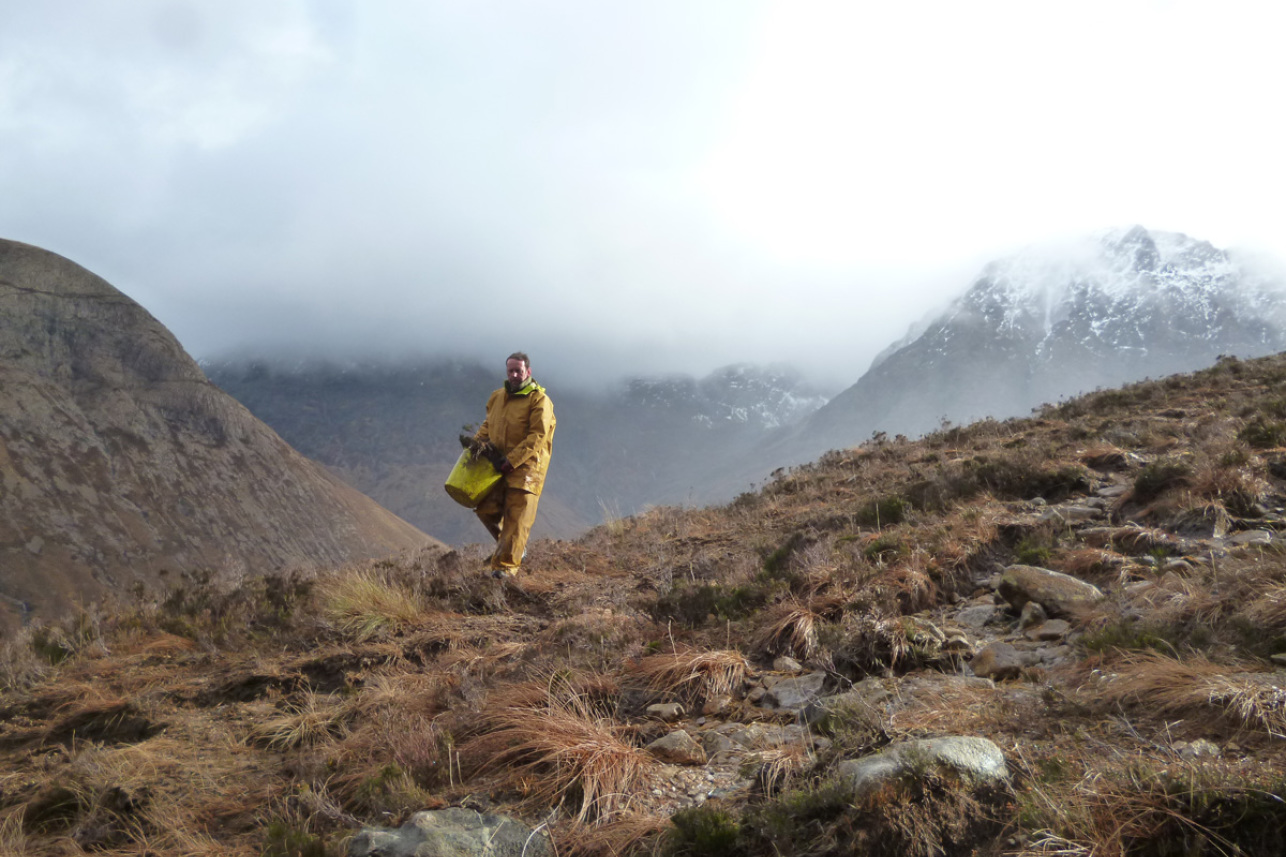 Support our path work
There is no statutory funding available for upland path work, so it can only be funded through private donations
Volunteer with us
Interested in helping with path repairs? Learn more about our conservation work parties
Volunteering