Published:

19 Oct 2017
Invisible barriers
Artist and poet Alec Finlay reflects on the limits of the right to roam and seeks new ways to explore physically inaccessible places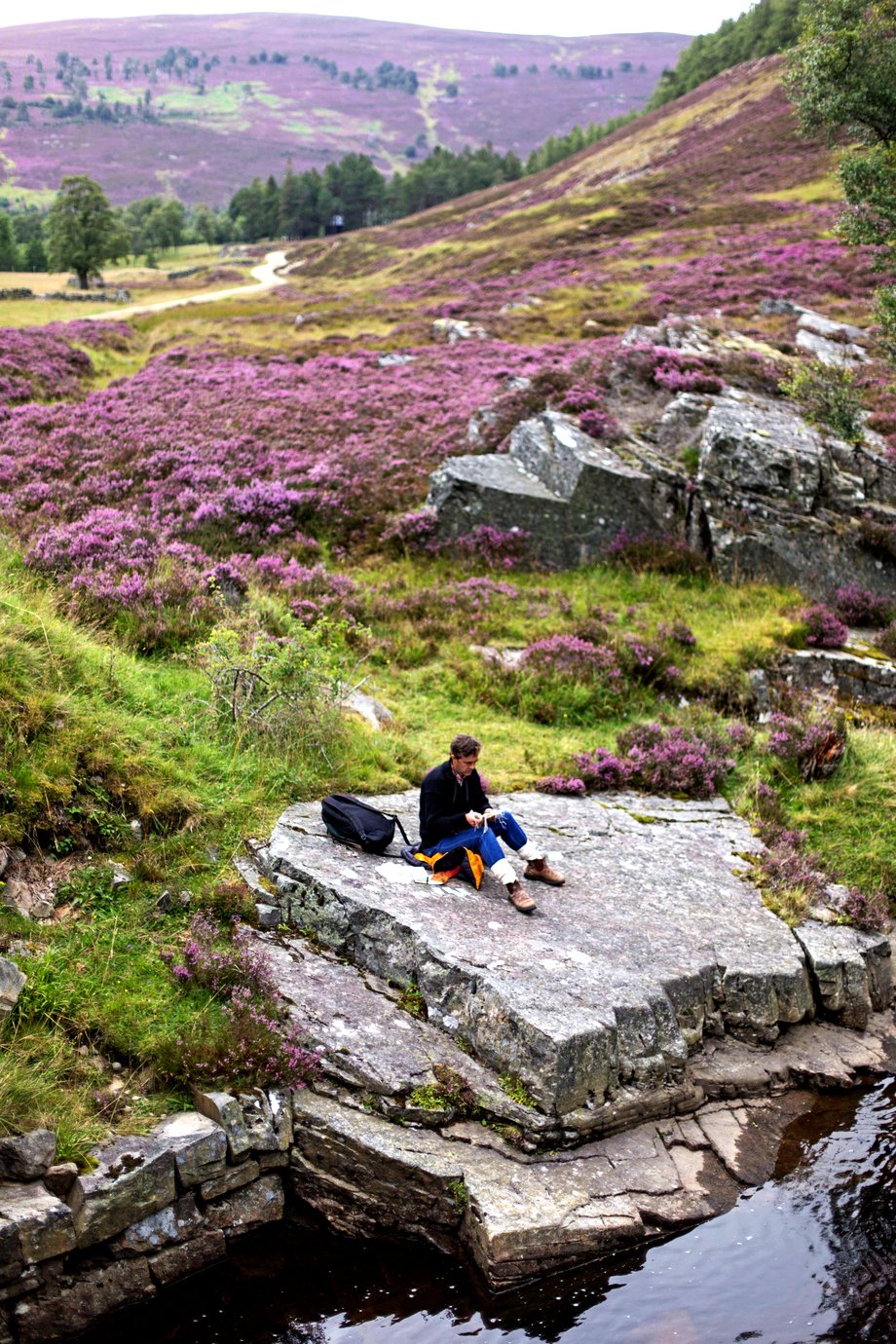 Last summer, I met Liz Auty who manages Schiehallion for the John Muir Trust. Embarrassing as I found it, I had to explain that, due to an old muscular condition, I couldn't climb the mountain – that I had never climbed one.
We opened the map and settled on an old sheep fank as our X. My familiar summit is the lower slopes, like the fond walkers in John Anderson, My Jo whose hiking days are done. When the path widened enough to walk side-by-side, she told me about the months after she gave birth, when she found herself in a wheelchair. For the first time in her life she couldn't access the hills. Those months were still vivid for the frustration of feeling the hills becoming strangers.
Being confined to one square of the map I know the feeling well – worried by distance, factoring in the closeness of contours, and rehearsing what I'm due to be doing in the next few days.
Whenever I go for a walk I calculate the likely effect, based on incline and terrain. If I go to that copse, or as far as that burn… or even, could I make the waterfall? Enthusiasm often gets the better of me, but if I am being sensible then the last day of a trip is the one to walk furthest. I can rest in pain at home.
It's not that I can't go further – the temptation is always there – but what I call the lag in my legs would be disastrous. Aches pass; what causes lasting hurt is when beautiful places become tangled up with the wrong kind of suffering. Knowes, cnocs, and toms are my thing. Sometimes I refer to my anti-summitism – mountains are there to walk in and around, as Nan Shepherd said, as well as up.
This enforced love of knowes held true until the last two years when I had three runs up on the hill in a landrover – once with a local guide, once with a gamekeeper and once with an estate factor. It's hard to explain to a non-hiker what this access feels like – being on Cùlardoch looking across to Ben A'an, picking out the Leabaidh an Daimh Bhuidhe; taking in the relic pines of Glen Derry; or pootling around the ruins of the old lodge at Loch Builg.
But here's the conundrum: my access depended on roads built by lairds. That brings another question trailing behind it: how rare is it for people with limited walking, or with a disability, to gain access to the mountains? I know of no scheme that allows it.
Why? Is this a failure of land access campaigns, driven as they are by boots on the ground?
There's a disconnect between the new tracks pushed into the hills by estates and the Forestry Commission, and any sense of the access they could provide. The roads are for shooting, timber, or wind-farm access. Whether publicly or privately owned, most have a locked gate blocking the way. This limits boy-racers and keeps the top for 'hill pursuits'; nevertheless, I'm struck that there are very few access schemes.
There are always logistical issues. Access would need to be planned. Well-made tracks allow wheelchair use, and there could be arrangements for electric-powered buggies, or the odd horse-drawn carriage. Best of all would be a Landrover trip with a local guide. Why not?
The funicular railway up Cairn Gorm to the Ptarmigan Restaurant is an exception – it is fully accessible for wheelchair users – but I've never felt like going as it seems such an imposition on the mountain. Maybe someday.
Instead of every trip being a walk too far, with the ache that follows, I started to use maps as ways to extend my looking into viewing. Simple enough to walk a wee way, sit down, and then try and understand where you are – and perhaps compose a poem
there and then, and photograph it.
Gradually I understood that place-names – especially Gaelic names – and their meanings were another way to access the landscape, closing distances imaginatively, moving the eye and thought rather than feet. I had the help of friends who spoke Gaelic, and then I began to read the likes of William J Watson, author of The Celtic Place-names of Scotland, ecologist and Cairngorms expert Adam Watson, place-name scholar WFH Nicolaisen, and John Murray who wrote Reading the Gaelic Landscape.
that must be such-and-
such a burn…
and there's the ruins
of the farm called…
and those hills are….
Rather than walking a line, reeling in distant points of interest until they grow into the detail of up-close scale, I accepted what seeing, naming, and joining places together could offer. Meaning settled into colours, textures, and stories in the faraway. It was touching to look for a name – to find the pale patch of grass, stony field, crook in the river or stand of juniper that a name had predicted would be there, like sewing a button on a shirt and making it whole again.
In the past couple of years I have devised walks, composing by way of paired names
rather than real terrain – these remain imaginative routes, or, at least, eccentric ones.
And I've composed poems drawing on eye-witness reports, from books, maps, flickr
photos, walking and climbing websites.
For some years, my condition worsened into what I called LWI, my Long Winter Illness.
Months were spent mostly in bed. The loss of lung capacity and stamina meant that May and June were a time of beginning over, when every path leading off from a car-park
was an invitation that seemed blocked with gates. Physical illness takes our habitual measure of pace – which, being so familiar, is also invisible – and dissects it, irradiating the surrounding landscape with a kind of vertigo-for-legs. There is that fear: will I
get home from here?
Standard measures of distance fall down. A walk of a few hundred yards might be possible, but each hundred yards less reduces the view exponentially. In the Cairngorms my beginner walks were along the gravel track by Felagie, among the pines beneath Craig Leek and, a little further along the line of the burn, by Creag na Spaine, the Spoonlike Crag, walking back down the glen towards Aberarder.
This is the heart of access: to feel a sense of belonging, to settle into a landscape, despite the strangeness that illness or limit brings. There can never be too much access, too much closing of distance, as long as it furthers care for the earth.
First published in the Spring 2017 (62) issue of the John Muir Trust Journal. The John Muir Trust is a membership organisation. Find out more