Published:

26 Mar 2021
Journey for Wildness: Ross Brannigan
Taking on a Journey for Wildness, to raise funds for wild places, is Ross Brannigan who plans a 1000km bike ride for wild places.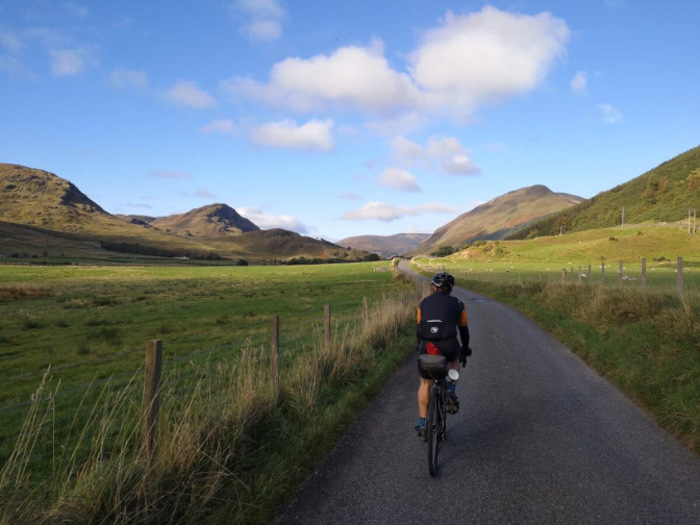 Who are you?
I am Ross Brannigan, the John Muir Trust's Engagement Officer. I am 25 years-old and love wild adventures.
What are you doing?
I am cycling 1000km from my home in Kendal, Cumbria, and visiting each of the sites cared for by the John Muir Trust – Glenridding Common, Glenlude, Schiehallion, Nevis, Knoydart, Skye, Quinag and Sandwood Bay.
The plan is to bikepack the route in around 10 days, so cycling around 100km each day, carrying all of my own camping kit, food and clothes. I am hoping to do some filming and photography on the route, highlighting how special our wild places are and the need to protect them.
Why are you doing it? Who inspired you?
The idea has been in the back of my mind for a while, after one of my former colleagues at the Trust talked about walking the perimeter of each of the Trust's properties. After moving to Cumbria, I found I was perfectly positioned to work my way from south to north.
I am also just excited by the idea of a self-powered journey over a long distance. I have done a few running and cycling trips which involve camping, and find there is a simplicity in getting up each day and knowing all you have to do is keep moving in a direction and be absorbed into the landscape.
It will be exciting to be mostly self-sufficient and just be guided by nature. I guess people like Jenny Graham, Lee Craigie and Al Humphreys inspire me to do adventures like this.
Why do you want to help wild places?
Since joining the Trust as the Engagement Officer, I have spoken to so many inspiring people who care for wild places and learned just how vital they are to the health of our planet.
I have always loved the wilder places, having hiked, ran and cycled in many of Scotland's remote areas. I want to do a little bit to give back.
When are you doing it?
The plan is to set off in the first couple weeks in May and finish in around 10 days.
How can people support you?
I am trying to avoid anyone making any unnecessary travel while I am on the route. You can check out my route here. If I am passing by, you can ride with me for a time if you like!
I am also excited to have the guys at Outdoor Provisions supporting me on this trip. They make great nosh in environmentally-friendly packaging!
Where's your favourite wild place?
I love Torridon and the surrounding area. So many excellent trails and hills to run and climb, roads to cycle and lochs to swim in!