22 Dec 2021
Field Notes: Gone in a flash
"All of a sudden it's end of the year - it feels like 2021 has gone in a flash." Quinag Conservation Officer Romany Garnett shares some highlights of working with the community to care for a special wild place.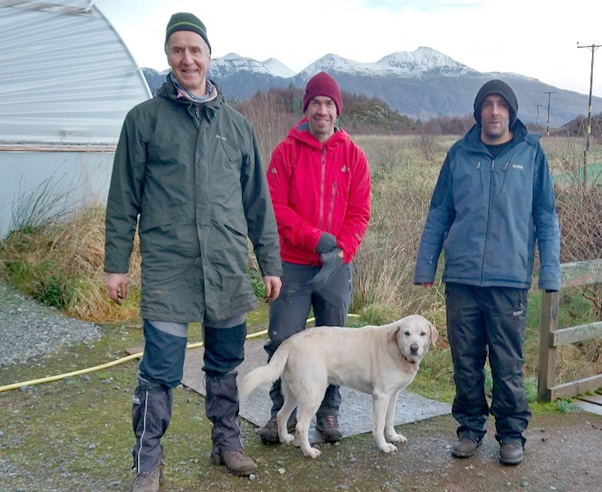 Volunteers give their time for a range of reasons: from health and well-being, to learn some new skills and to mix with different people.
Our regular volunteer days continue to be popular with 54 people contributing over 16 days. They help with a variety of tasks - including bracken bashing, surveying, footpath maintenance, and growing trees at Little Assynt nursery - and make a huge contribution to our work on Quinag.
In 2021 we worked with younger members of the community in a structured way through our Junior Ranger programme, piloted in Ullapool and Lochaber High Schools. Sessions run fortnightly throughout the year and are focussed on environmental education and training the young work force. Five Lochinver pupils have been enjoying taking part in the programme.
Pupils are enjoying Junior Rangers
The community is also helping to gather information about the landscape and wildlife of Quinag. Working with the Assynt Field Club on the Quinag Wildlife Project has unearthed some real gems - like all six of Assynt's reptile and anphibian species occur, i.e. adder, common lizard, slow-worm, common frog, common toad and palmate newt.
Major repairs on the main Quinag path continued this autumn. Thirty tonnes of stone was flown in by helicopter to enable contractors to repair a 70-metre section of the badly eroded path. Further work was carried out on a lower section, with 600 metres of path restored and upgraded.
We measured 155 tagged seedling trees on Quinag and Kylesku, to compare their height to previous years. Our results showed that there was a decrease of 1cm in the average height compared to 2020. The likely reason is browsing by deer.
In September, over 40 people attended the formal opening of the Assynt Community Larder, enjoying burgers, music and a chance to catch up. The larder will be used for butchery demonstrations, educational classroom sessions and for practical deer management uses as well.
Situated at Glencansip on the site of the former chiller unit, the larder is open for anyone to use - as long as they do a short induction and agree to the terms and conditions of use. The larder will also be used for a women's stalking group that is starting in 2022. This joint initiative with Assynt Foundation was made possible through funding from Coigach & Assynt Living Landscape partnership.
With all best wishes for a happy festive season and hope to see some news faces at events and activities through 2022.
Photograph shows volunteers helping at Little Assynt tree nursery.