3 Oct 2022
From water tower to thrift shop
How one enterprising couple in south Skye upcycled a water tower and several tanks from the Trust's newly acquired former fish hatchery in Strathaird.
In early 2022, the John Muir Trust bought a non-crofted land holding in Strathaird in south Skye. The site currently hosts a disused fish hatchery, several underutilised buildings, and a former church building which carries historic and cultural significance. It is also the start for a popular walking route to Camasunary Bay that connects with the Skye Trail.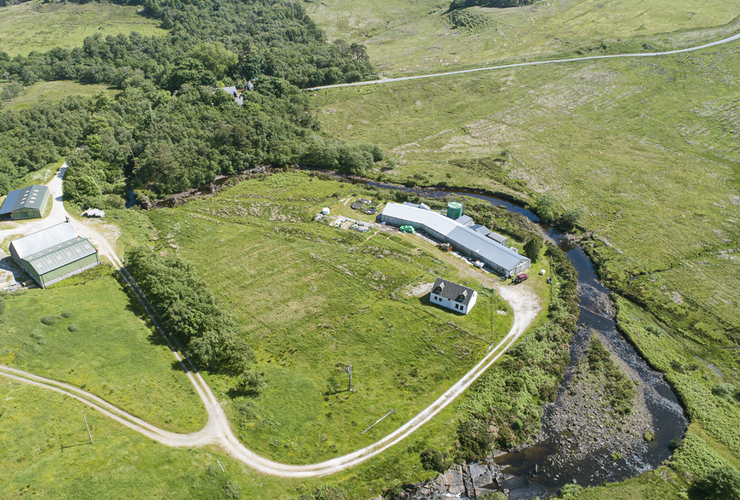 Why? The site sits within the larger Strathaird Estate that the John Muir Trust has stewarded for many years, along with adjoining land in Sconser and Torrin. We now have an exciting opportunity to develop the site in collaboration with the local community – an engagement hub, community allotments, shared office spaces, cultural centre, field centre – the possibilities are numerous!
Before any work can start however, there is a lot of old hatchery equipment to shift. Loathed to automatically assign it all to landfill, our Skye estate manager John MacRae and seasonal ranger Ali Watt got in touch with a local couple down the road.
Paul and Becky are part of Skye Climate Action, and also run their own self-catering accommodation business in the village of Torrin. Last year, they started 'Waste Not Wednesday' - a weekly gathering of folks from across the island wanting to recycle unwanted items. Originally intended to run for just one month, Waste Not Wednesday was so popular that Paul and Becky kept it going.
"We never turn anything away," says Becky. "There's usually always someone who needs something for a project. We have regulars who come with lists of things they're looking for – from pan lids to glasses cases. There are so many stories of people finding things they've been looking for."
There quickly arose a need for a storage shed. Enter – the fibreglass water tower from the Trust's newly acquired Kilmarie hatchery.
"It was a monster job," says Paul. "But I knew we could do something with it."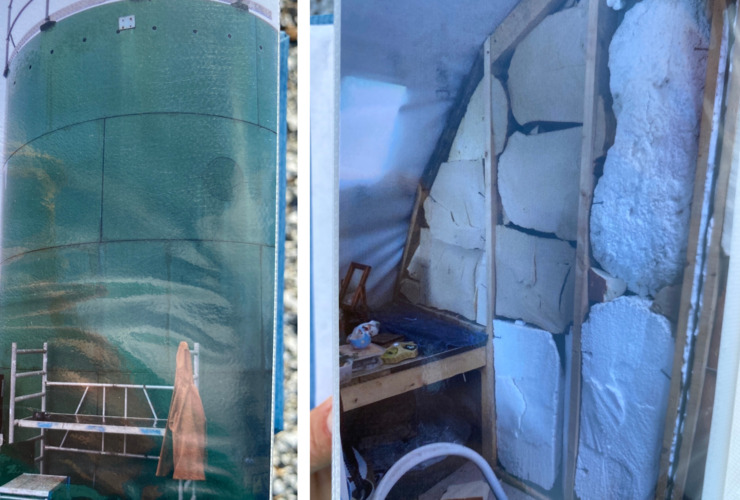 Splitting the tower in half – Paul and Becky fashioned two semi-circular storage sheds. Fronted by recycled double doors and windows, and insulated with material found on the beach.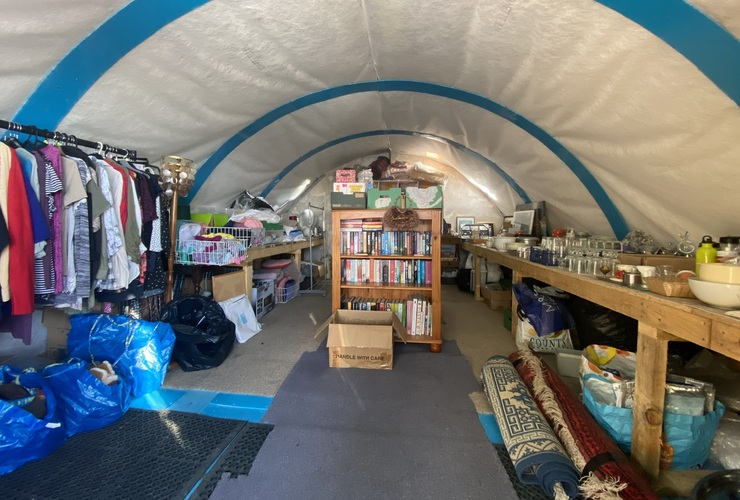 One of the newly formed sheds now very much feels like the inside of a well-organised charity shop, with second hand crockery, clothes, furniture and books. The other shed is an electrical workshop, where Paul (who is a qualified PAT tester) fixes up broken electrical items if he can, or strips them for parts to be recycled elsewhere.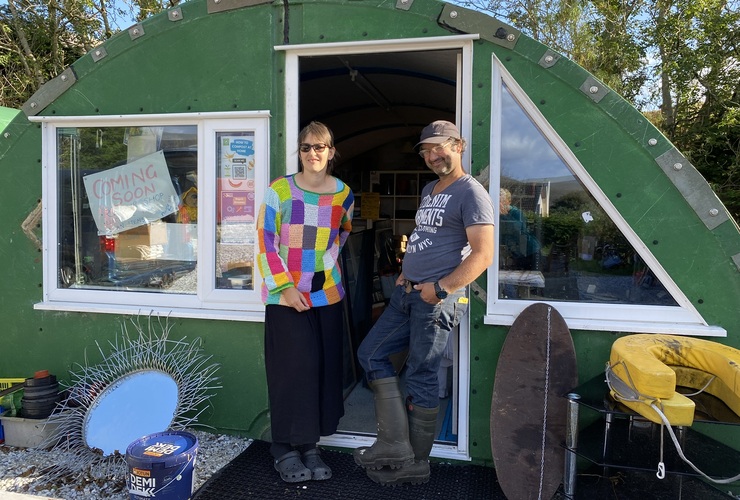 Each week, Paul and Becky open their doors for Waste Not Wednesday, which is as much about enjoying the community and the social element of recycling as it is about keeping unwanted items out of landfill. "We love having a joke and a laugh with our regulars, and love finding out what inventive ways people use the things they pick up."
"There was a gentleman down the road who had a stove door. He brought it here, slightly apologetically, thinking it wouldn't be any use to anyone. But we knew of a person who had that same stove in a rental property, and asked him if he wanted it for a spare in case the glass ever needed replacing on his stove. He was delighted!"
Paul managed to find a use for two old fish tanks from the Strathaird site too.
With some clever cutting and welding, he formed one tank into an out-of-hours drop off hut that sits by the entrance to their croft and is open 24/7. One of the shelves in the hut is stacked neatly with empty jars of different shapes and sizes. "You'd be amazed at how many people realise, halfway through making jam, that they haven't enough jars," Becky says. "But it doesn't matter – they can pop down here and pick up some recycled jars any time!"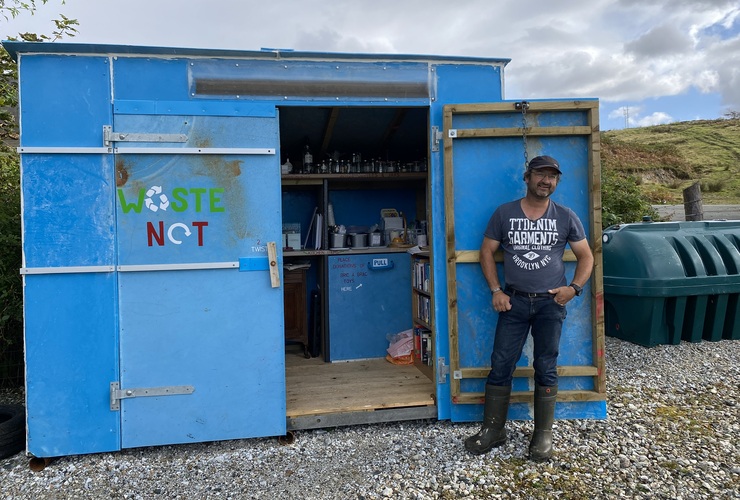 The other fibreglass tank is now a shower unit that serves the self-catering 'hobbit houses' run by Paul and Becky; so-called because the rooms are sunk into the ground and covered with grass roofs. The upcycled shower unit follows this same concept – the shower fed, of course, by water heated from a system made of recycled radiators.
But surely not everything can be recycled? Paul and Becky must inevitably end up with a load of junk that no one wants?
"Yes, there is a bit of that," says Becky. "Usually once a month we'll take things to the mainland as part of a trip we're doing anyway and drop things off at a household waste centre. But at least that's saving ten people driving to the mainland to drop things off."
Find out more about Skye Climate Action here, check out the Hobbit Houses, or find out more about the Strathaird project.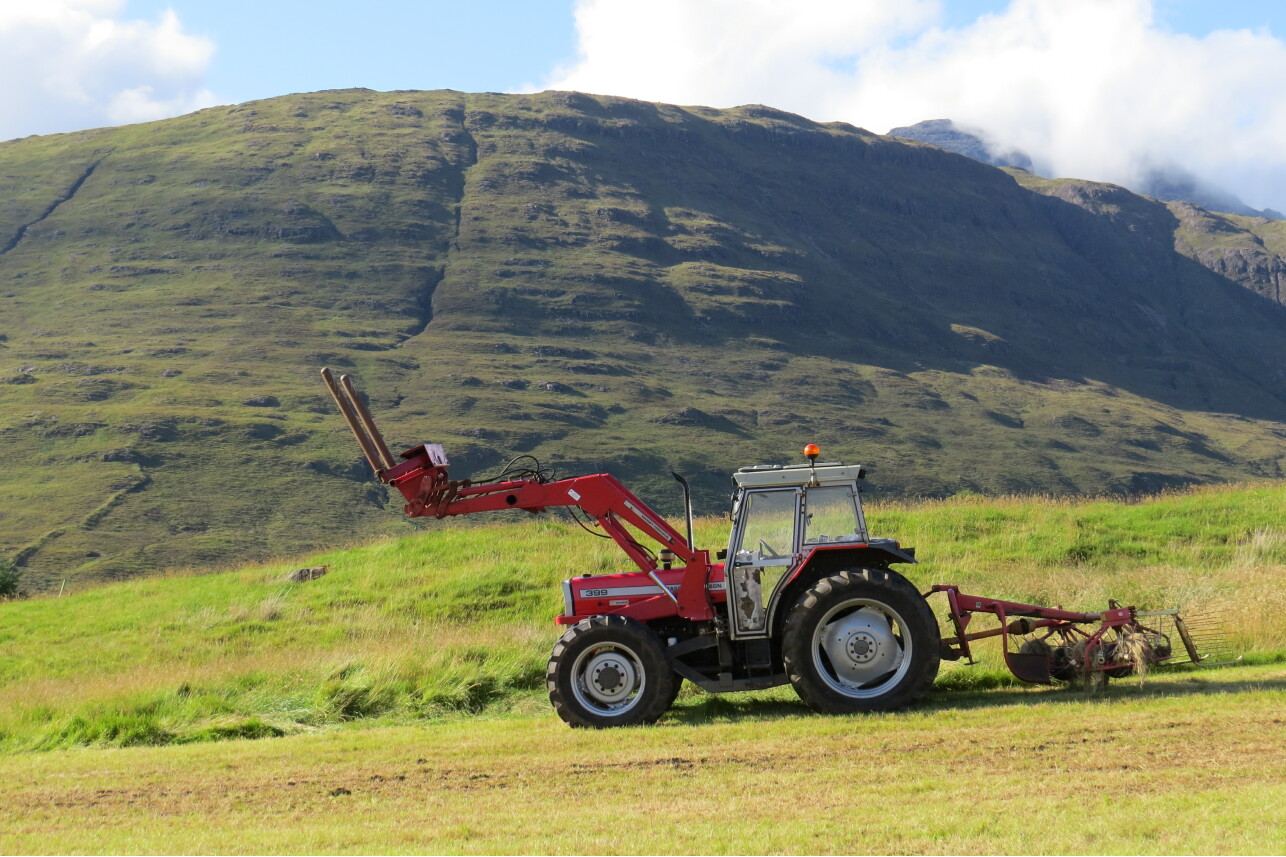 What are we up to on Skye?
Find out more about the Reimagining Strathaird project