21 Apr 2023
Land to take centre stage in new theatre show
Trust partners with Community Land Scotland to commission new play from acclaimed theatre professionals.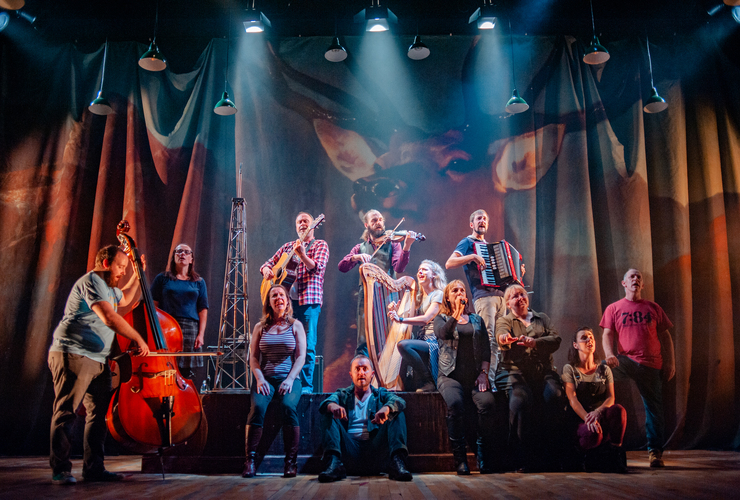 Those of a certain vintage will remember The Cheviot, the Stag and the Black, Black Oil, a polemic piece of Scottish theatre written in the 1970s by John McGrath. Telling the story of the exploitation of Scotland's land and its people over the centuries, it was performed in a touring production in community centres across Scotland.

More recently, the play was given a makeover when Joe Douglas directed the Dundee Rep Theatre's acclaimed remake of the play in 2015 (pictured above).

Now, together with theatre maker and author Jenna Watt, Joe is working on a new piece of touring theatre that has The Cheviot as a cultural reference point.
Commissioned jointly by the Trust and Community Land Scotland, with funding from Creative Scotland, the play will explore different views around the future of Scotland's land through a mix of drama, comedy and original music.

As part of their research for the work, both Joe and Jenna have spent the past few months meeting with communities around Scotland to better understand the issues affecting them today – with a trip planned to Assynt in August.

"We're getting a strong sense of peoples' connection to land, whether practical, physical, emotional or just part of their heritage," explained Joe. "The piece of theatre that we create will be a response to that."
Photograph of The Cheviot, the Stag and the Black, Black Oil at Dundee Rep Theatre by Tommy Ga-Ken Wan