1 May 2023
Field Notes: On the hunt
The Trust's Director of Communications Kevin Lelland reflects on his first moose hunt, part of a week-long exchange visit to Norway to gather insight on its wildlife management.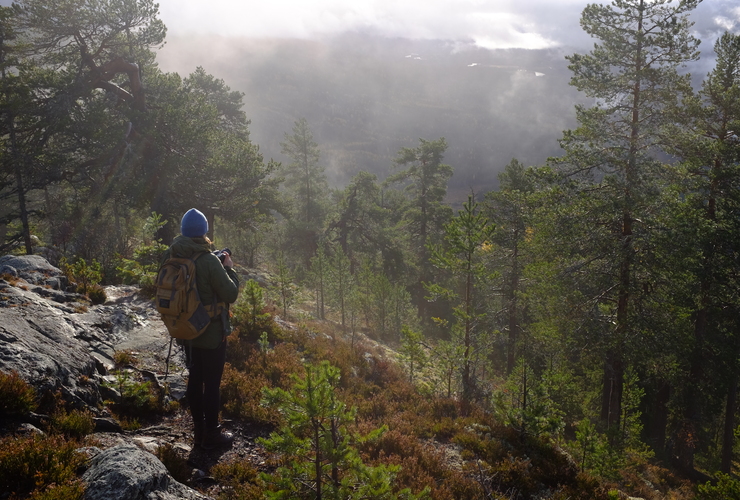 Before we start walking, Jan Even Lomundal, a wildlife management student at the Inland University of Applied Sciences in Norway, tasked with guiding me on a moose hunt, confirms his gun is empty. "Very important everyone confirms an empty gun," he tells me. I am part of a client group of eight conservation professionals from Scotland on a visit to learn more about wildlife and visitor management in Norway.
Having had a pre-brief as a collective we're heading in pairs to one of 11 'stances', where shooters sit and wait in the hope that a trained dog drives a moose into their view. Despite altitudes of up to 680 metres, we are surrounded by native trees and the ground is covered in a thick blanket of moss. This at a latitude of 61 degrees north, compared to Scotland's 56.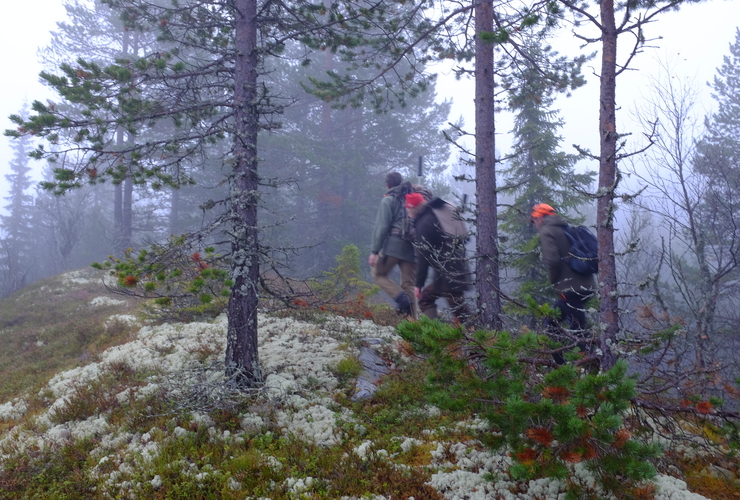 The stances we are using today are within one part of a 3,000-hectare hunting area. A century ago moose had been hunted to the edge of extinction, so hunting quotas were established: one moose per 250 hectares. These days hunting moose is expensive and the students feel fortunate to be part of a university team granted quotas as part of their study. In contrast, other forms of hunting, especially for game birds, is cheap and accessible.
Within half a kilometre we see signs of moose: fresh tracks and scat on the ground. The temperature is around freezing as we arrive at our stance at the intersection of some telegraph poles. We have a clear view along two man-made alleys.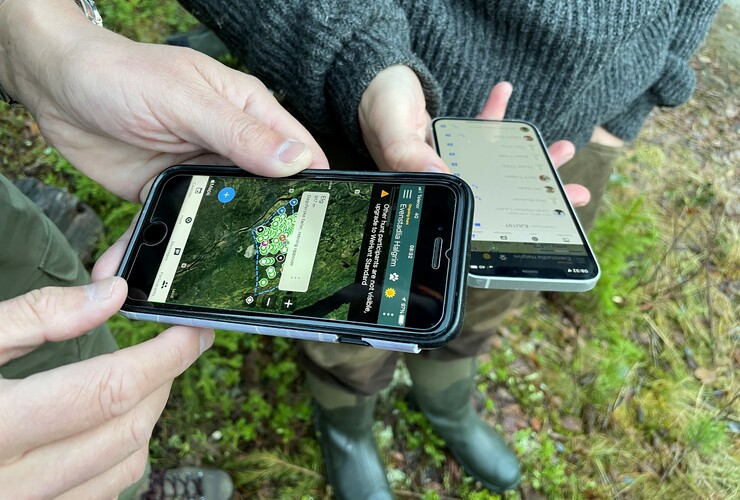 I am surprised at how much technology is at play. A mobile app called WeHunt, a Garmin Global Positioning System (GPS) device, a radio with earpieces and small microphones clipped to lapels are all being used congruently. Everything is done at low volume. While we can't see the other shooters, there's a real sense of team in what is happening.
Jan Even keeps me appraised: "The dog is here, if it goes too close to the road it'll need to be leashed and rereleased." Eventually, he moves to his gun and clips in a magazine of bullets. We know from radio chatter that the dog is tracking a moose cow and calf. They're now 500 metres away, coming in our direction.
Within a minute Jan Even is steadied against the telegraph post ready to shoot. After a short period he sits again and checks the GPS. The cow and calf came within 200 metres. The 'slop, slop' noise was feet padding in the marshy ground in the tree line just beyond.
A few minutes later we hear a single crack of gunfire. Christian, another of the student guides, has shot the young calf at a stance within a kilometre of ours. One of the Scottish team was with him.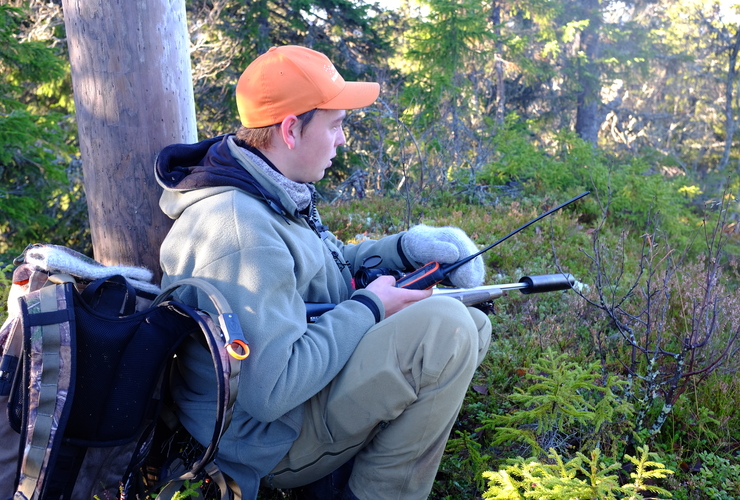 As we trek back out, Jan Even (pictured above) explains that last year the student team didn't see a moose until the last day. They have now had three kills in four days this season.
Later that night I explain to one lecturer that I'm trying to get to grips with the hunting culture in Norway and its relationship to caring for the habitat; how people are trying to balance the global issues we are facing with local needs. What in the UK we might call in different shapes or forms conservation for climate crisis and biodiversity loss.
"I'm not sure most of our students understand what you mean by conservation," the lecturer surmises. It's a small epiphany to me. Moose. Lynx. Wolf. Wolverine. When you are staring into a wood (often through a rifle scope) and what looks back is a diverse range of species, it's difficult to believe you might be on the verge of a nature crisis.
Home to 41,000 multicellular species Norway is, on the face of it, a relatively diverse habitat. Of these, 21,000 been evaluated with 4,599 classified in a red list category. The science says biodiversity depletion is happening across all biomes in Norway.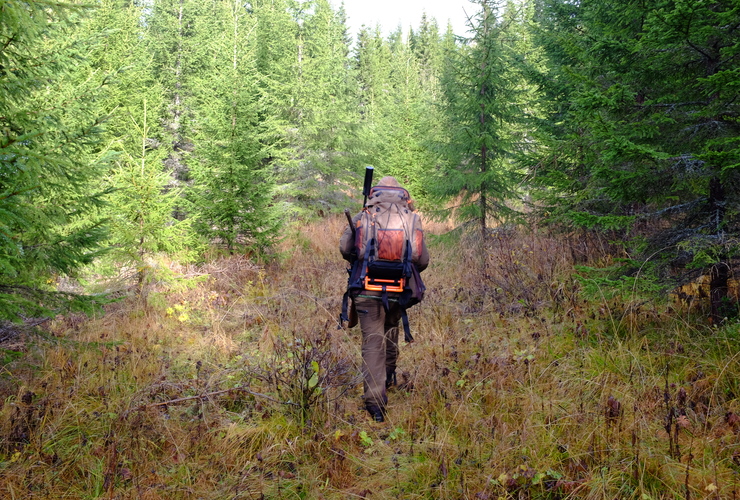 And yet my experience of nature in Norway is in stark contrast to my lived experience in the Cairngorms. As someone who walks in Glen Gueshchan (glen of the little pine wood), I see few trees, never mind the animals that should shelter in them and look back at me. Hunting has widespread support in Norway with 80 per cent of people believing it is acceptable. There are some 115,000 hunters in a population of five million, spread across a land mass five and a half times that of Scotland. The size is important, with the country divided into areas for priority species management: wild reindeer in the north, wolves in the southeast.
Every hunter has to report on wildlife sightings and the data goes into a national index, handing figures back down into local groups to then set cull targets. We hear different views on the success of this model. The criticism being that while monitoring of species is done as robustly as possible at a national level, there are clear political and cultural filters, including that the local committees tasked with adjusting cull quotas are often made up of those with private land management interests rather than wider public interests.
In visiting Norway I realise I'd like more people from Scotland to see the potential of our own landscape for repair, and to see the ways hunting can act as a community asset. At the same time, the Norwegian model isn't perfect. I'd also quite like to invite some of those I have met to see what can happen if you over manage a landscape for a single species across several generations.


Kevin was taking part in the Erasmus+ staff education
course on Wildlife, Carnivore and Human Management,
hosted by the Inland University of Applied Sciences
at Evenstad.


This article first appeared in the spring 2023 edition of our Members' Journal. Keep up to date with news and views relating to wild places - and help protect and enhance them - by becoming a Member of the John Muir Trust.