21 Jul 2020
Hidden Helvellyn
How well do you know Britain's most popular mountain? David Lintern met local fellsman Pete Barron to find out more about its hidden depths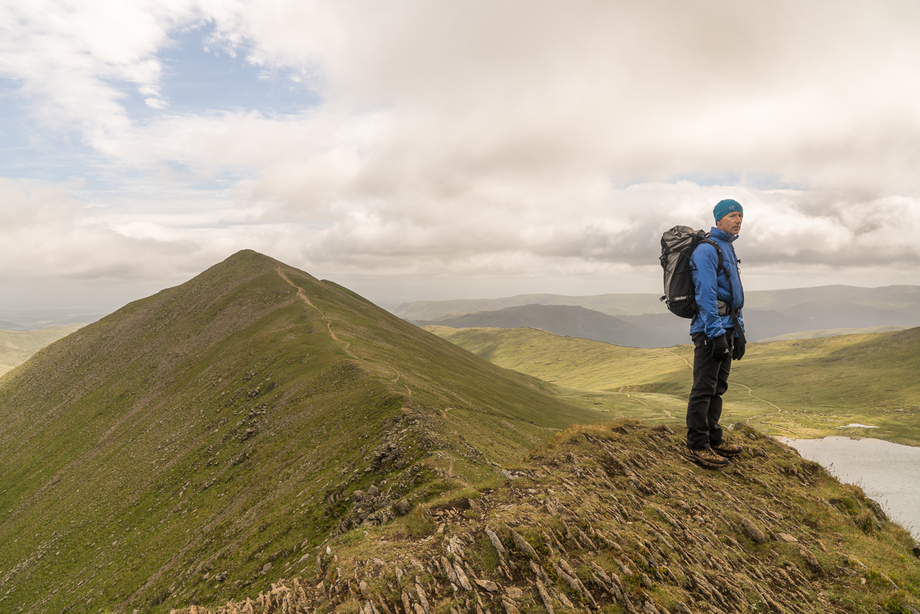 A brown wing tip flash, banking fast against gusty plumes, arrow tail trimmed and feathered faster than my eye could track. The small hunter settled, now stilled and disappeared even though it was close. Two trills. "Hawk or kestrel?", I ask. It took to the wing again, flitting and darting across the closely cropped grass, in and out of the cloud base. Kevin saw it then, but neither of us were sure. The moment passed, and the bird was sucked back into the mist drenched headwall of our home cove.
We were there to find another Lake District, the unfamiliar in the well-known, the wild within the tamed. As it turned out, it was already here, and had been all along. I'd just not been paying enough attention.
Kevin and I had travelled down from Scotland to meet Pete Barron, the new land manager for Glenridding Common. In December 2017, the John Muir Trust signed a three-year lease to manage this patch, bordered by Stybarrow Dodd in the north, Striding Edge in the south, Helvellyn top on the west and Ullswater in the east. It's an area many of us come to cut our teeth as novice hillgoers, including two of the best-known (and easier) scrambles in the UK, lower level walks to and from Red Tarn, and a high plateau that Julia Bradbury reckons is the country's most popular mountain – Helvellyn itself. It's a place we think we know.
Kevin and I walked in as most were coming out. Past Greenside, once the largest lead mine in the world, its massive spoils still shifting now. Past the eerie Anthropocene wreckage of Kepple Dam, its straight lines cutting across the curves of fells smeared into charcoal sketches by the drizzle. Past the pens and dips for the black faced sheep that helped to carve out this landscape, and work on it still. We tucked ourselves away in a quiet spot off the beaten track and saw no-one. The rain came, went and came back again, before we toasted our seclusion with some highland moonshine and went to our beds. A wild and windy night followed.
Expert hands
After a night of broken sleep, we were woken by a softly spoken man. Pete was once a pacer for Billy Bland, the Bob Graham Round record holder, and he's still got that whippet thin physique. He worked for 23 years as a National Park ranger, involved in everything from raptor protection, footpaths, erosion control, replanting and education, before joining the Trust to care for Glenridding Common. As the cloud began to lift from the upper valley and we made our way up the back of the cove, it was clear we were in expert hands.
The next hour or so were quietly mind blowing. We dropped our bags and went up where the sheep can't eat. A few things I was more or less familiar with: starry saxifrage, a dainty white five pointed star, and purple thyme, which Pete tells us feeds the local population of rare mountain ringlet butterfly. But that was just the start. Alpine ladies mantel, brown polytrium, acres of floaty parsley fern and outposts of mossy saxifrage, rosefoot, Alpine saw-wort, water avens and wood cranebill. This was a Helvellyn I knew nothing of - an exotic alpine jungle, right at my feet. Like many others, my younger self had been focused on the scrambles, the personal endeavour.
Expanding the 'ledge veg'
Pete calls this luxuriant display 'ledge veg' – that's the understated genius of Cumbrian vernacular for you, right there - and it's a great place to start from. The Trust's presence here is a chance to expand the range of these species beyond these crags to other places on the Common. I learn not to make too many assumptions about sheep grazing, too. This is common land, so farmers have a right to raise their animals here. There's an ongoing conversation about impact, but it's acknowledged by all that there's a balance to be struck, and numbers are restricted. We also need to look to Victorian botanists for the scarcity of these plants, who furnished their arboretums to the detriment of the uplands.
There is a precedent for the work to come. Over many years, Pete and colleagues from Natural England have carefully re-planted over 1,000 downy willow to repair Helvellyn Crag itself, right above Red Tarn. "The seeds and cuttings are tiny, very fragile and particular about how they are grown on", says Pete. "Is it rewilding? No, I wouldn't call it that. But it is improving things for the future. There's a natural value in repairing these things for everyone here in the valley, as well as visitors."
The plan is that the Trust's volunteer work parties will join the alpine planting effort, as well as the organisation's conservation and education scheme – the John Muir Award. The Award has a strong presence in the area already, recently celebrating it's 10,000th Award with the Ullswater Outward Bound centre, but further invites have been extended to the local school. Pete bubbles over with other ideas for the future. No doubt there's a place for big manifestos and slick presentations, but hearing Pete, it sounds like how real change happens; slowly, piece by piece and face to face.
Sharing best practice
The Trust aren't just investing in place - they have sought and found funding for people, too. Local lad Issac Johnson had a proven passion for environmental work and is now employed full time. "Creating a long-term knowledge base – that's the next generation of land manager coming through. It's important not to lose that knowledge that the elders have got, and pass it on", says Kevin. "Issac is a young Padawan to Pete's Jedi Master!"
Part of Issac's and Pete's role is to promote best practice for wild camping, survey paths, and reduce the erosion caused by footfall. Pete has developed a technique called Stone and Seed Scatter, whereby stones from cairn stones are returned to the fell, with seed sown inbetween. Uneven ground reduces footfall from humans and sheep alike, allowing vegetation to slowly take hold. It's a proven way of reducing the width and number of braided paths. Pete has employed the same two footpath engineers for years, and has their help, alongside Fix the Fells volunteers, for Glenridding Common. He's clear about the priority, though: "We don't fix footpaths to make them easier, we fix footpaths to repair the landscape." The take away message for readers is equally obvious: "Please don't move stones to make cairns, or eventually we'll have to helicopter it all up the hill again!"
Rare treats
As we walk and talk over Catstye Cam, there's yet more to learn. A second sighting confirms our agile hunter as a kestrel, and we hear a ring ouzel, too. Red Tarn is home to one of Britain's rarest Arctic fish, the schelly, as well as the nation's highest population of sticklebacks. The newly revived Helvellyn crags are protected by a weather station, so that climbers can track online when routes come into condition. The places that are busiest with people are among the most important from an environmental perspective – hence the area's designation as a Special Area of Conservation (SAC). Lower down the fell, the mix of people and nature continues. A huge (and very rare) juniper woodland flourishes alongside the old mine ruins. It might seem counter intuitive, but it's literal evidence of hope in the rubble.
For Pete, it's all about diversity: "There's so much special interest here from a wildlife point of view: Mosses and ferns that don't grow anywhere else; something called river jelly lichen in one of the tarns. We've just found a moss that hasn't been recorded anywhere since 1952. I think there's still stuff to find to be honest. And that's as well as it being a nice place to go for a walk, a good place to raise your sheep if you're a farmer, and an interesting place for industrial archaeology."
Kepple Dam was originally part of an innovative hydroelectric project which powered the mine, and the Common also includes two scheduled ancient monuments. Is that a conflict for the Trust? "Not at all," says Kevin. "It's our role as an environmental charity to prioritise ecology, but there's plenty of room for all here. We're hoping our volunteers can get involved with careful restoration of some of that heritage."
That derelict dam acts as a reminder of the wider backdrop to the Trust's new presence here. In 1927, it was partially destroyed by upland flooding. In 2015, the village of Glenridding was flooded again. The people in this valley have always lived close to the elements, but climate change means that floods are more frequent and their effects more serious. The village is currently reviewing and expanding its flood defences, just at a time when statutory funding for National Parks is being reduced. Pete: "We have an opportunity to bring a higher level of investment into the area. The Trust have practical experience that can help both local people and the land become more resilient to global warming. It also saves the Park money it would otherwise be spending."
Are the Trust in for the long haul? "Yes, if the community want us here" says Kevin. "To make a difference in three years is difficult, but we can start the ball rolling, and build on things that are already working well. What form our tenure might take is up for debate, but we are listening."
Life's work
In some ways, Glenridding Common feels like a return to the Trust's beginnings, back to when Chris Brasher and friend Paddy Buckley ran over the Knoydart hills to quiz tenant crofters about a community buyout. Another founder of the John Muir Trust - Nick Laird – wrote about the Kalahari, but it might apply here too: "...there is in reality no wild at all. The wilderness as we conceived of it did not exist. There was only life, and life was indivisible. We were [destroying] not merely the records of the past but the survival manuals of the future – our future."
In this context, repeopling the uplands with experts like Pete and apprentices like Issac makes perfect sense. Climate change and a sharp downturn in wildlife diversity means we can't be passive about the places we go to re-create ourselves. If we value these places, we must be actively engaged in their re-creation. Glenridding Common is a complex place, a collage of wildlife, people and history, but that complexity means lots of potential to improve the standard of living for plants, animals and humans. That's got to be worth supporting.
This article was first published in the October 2018 edition of TGO Magazine
All photographs by David Lintern