Glenridding Common
Glenridding Common is an area of exceptional beauty and popular destination for walkers, comprising around 1,100 hectares (equal to 1,540 football pitches) of common land, including the summit of Helvellyn, along with Striding Edge and Swirral Edge. It sits within the Lake District High Fells Special Area of Conservation.
The Trust took on management of Glenridding Common in 2017 via a lease agreement with the Lake District National Park Authority, following a positive consultation with local and national stakeholders. We work with our neighbours to protect and enhance the ecosystem while respecting the area's cultural traditions - including farming practices - recognising this is a key aspect of the Lake District World Heritage Site status.
2022 update: Caring for Glenridding Common - what happens next?
It has been nearly four years since the Trust took on the lease at Glenridding Common from the Lake District National Park Authority (LDNPA). The LDNPA is undertaking an open tender process for a long term lease on the land.
We invited the local community, partner organisations and our Members to contribute to our Glenridding Common consultation. NB the consultation is now closed.
What we're doing
At Glenridding Common our work includes vital footpath maintenance and repair, litter collection and the re-establishment of rare arctic-alpine plants and mountain woodland species including downy willow, aspen, rowan and silver birch. This work is carried out with the invaluable support of local, green fingered volunteers and partners including Fix the Fells.
Wildlife and species monitoring
We have carried out extensive survey work to establish baseline information for a variety of species on this nationally important upland site. Alongside partners and the local community, we're monitoring the Common's rare species such as mountain ringlet butterflies and arctic-alpine plants. We're also working with the British Mountaineering Council and Natural England to advise on suitable climbing conditions.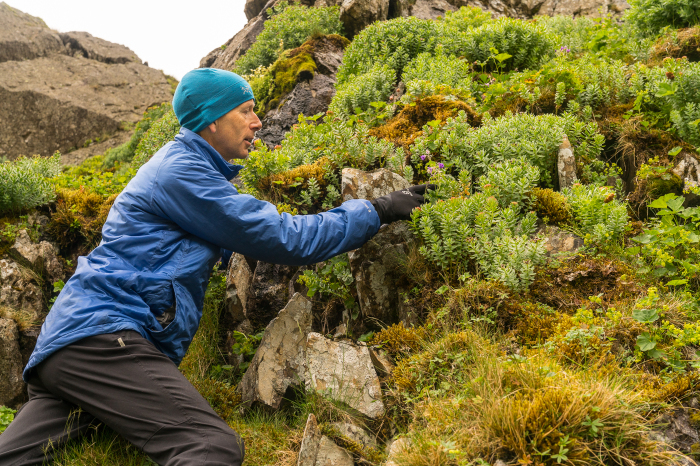 Volunteering and engagement
We are committed to making Glenridding Common a key hub for conservation activity, ensuring that people of all ages and backgrounds can become involved in enriching the natural environment of this beautiful landscape.
We support residents and visitors as they enjoy and care for the Lake District's special qualities through the John Muir Award. Our engagement scheme has been firmly established in Cumbria since 2003 and in partnership with the Lake District National Park since 2011.
Volunteer with us
Learn more about conservation volunteering at Helvellyn and our other properties
Find out more
Wildlife at Glenridding Common
Helvellyn's high altitude crags and coves provide a refuge for rare arctic-alpine flora such as alpine saxifrage and alpine mouse-ear, which grow nowhere else in England. We're also working to restore a viable population of Mountain avens. The area also holds significant stands of juniper scrub woodland, plus a variety of montane and upland heath, grassland and flush communities.
Red Tarn holds a population of schelly, one of the UK's rarest species of fish, plus England's highest population of stickleback. Bird life is also rich, with snow bunting found on the high tops in winter, while upland species such as raven, wheatear and the red-listed ring ouzel all breed here in the summer. Butterflies spotted at Glenridding Common include the green hairstreak and the mountain ringlet.
Countrystride #57: Helvellyn
The Countrystride Podcast celebrates the landscapes, culture, heritage and people of Cumbria and the Lake District.
Listen to episode #57 and hear our England & Wales Development Manager Tom Hayek chat to presenters Mark and David, as they tackle one of Lakeland's most iconic fells via the rocky arête of Swirral Edge.
Visiting Glenridding Common
At 950 metres (3,118 feet), Helvellyn is the third highest peak in England. The main routes to Helvellyn summit from Glenridding and Ullswater run along Swirral Edge to the north of Red Tarn and the more challenging Striding Edge to the south. A circular route ascending along Striding Edge and descending via Swirral Edge is popular among experienced hill walkers. To avoid the steep 'edges' a route to the summit can be taken via Greenside Mine and Whiteside.
From Thirlmere in the west, there are shorter, steeper routes to the summit, which offer a magnificent view across Glenridding Common, with its plunging cliff-line and steep arêtes that connect a chain of lesser peaks and glacial tarns nestled beneath imposing crags.
Please follow the Countryside Code if you are visiting.
More information about Glenridding Common