22 Oct 2019
Wild Words: Reading the Land
Kate MacRitchie explains how an understanding of Gaelic place names can help reveal the full richness of Highland landscapes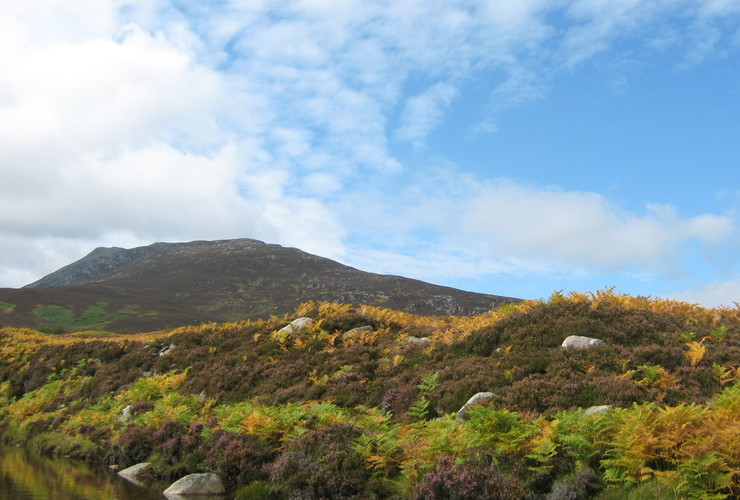 The following is taken from The Journal - the John Muir Trust's membership publication - published October 2019.
---
OPEN a map of Highland Scotland and non-Gaelic speakers would be forgiven for
feeling bamboozled by the wealth of beguiling yet unpronounceable place names. It's possible to get along fine without learning what these names mean but, given the inseparability of Gaelic language and landscape, does blissful ignorance lead to landscape illiteracy?
Surrounded by hills, lochs and rivers with names that are not always understood, lovers of Scotland's landscapes are excluded from a rich store of knowledge and lore. Enshrined in mystery, a part of these beloved landscapes will remain forever inaccessible without the language that links people and place.
To demystify the Gaelic place-names of Schiehallion and the Trust's Skye properties, I spoke with Ruairidh MacIlleathain (Roddy MacLean), a Gaelic author, broadcaster and educator, who acknowledges a missing connection. "After experiencing the Aboriginal heritage in Australia, where people and language are closely linked to the landscape they inhabit, I realised we were in danger of losing the special relationship Gaelic has with the Scottish landscape," he says.
This is unfortunate considering Gaelic's specific and varied stock of nature words, rich in visual poetry. Within ten minutes of speaking with Ruairidh, I learn that Gaelic has "well over 100 words for hill or mountain".
Beinn ('ben') is a good starting point as the common word for a big hill. Meall, ubiquitous on the map, is a rounded, lumpy hill, while sgùrr denotes a high, pointed peak. Other common hill words are càrn (commonly seen as càirn) meaning a heap of stones, and creag, meaning a rockface. Cnoc and tom denote smaller, rounded hillocks, while stob, meaning pointed stick, is a high, rocky hill.
A hill can be mòr (big), beag (small), àrd (tall), riabach (speckled), or maol (bald). Coire (corrie) and bealach, meaning pass, are also common hill features.
Landform is often qualified by colour. But just as the one-size-fits-none word 'hill' is inadequate to describe the varied landscape of the Highlands, so too do primary colours fail to express the mutable shades present in our natural world. Gaelic colours often take inspiration from nature itself. Ruadh is the russetty shade of autumnal bracken or a fox's pelt, while dearg ranges from arterial red to heather. Glas denotes a greyish-green colour while gorm – blue – is interchangeable with green. Odhar is a dun or sallow colour and there is a clutch of words for white (bàn, fionn or geal).
It is these subtle nuances in the Gaelic landscape which standard English fails to express. Gaelic place names provide a specific intelligence useful for hill walkers and climbers, providing an alternative lens through which to view familiar landscapes, and a surer means of orientating oneself.
TRUST PROPERTIES
Such toponymic diversity is evident at Schiehallion and around the Strathaird Estate. At Schiehallion there is a proliferation of mealls, càrns, cnocs (hill or knoll) and creags, while in Skye the prominence of sgùrr, storr, and beinn reveals the altogether rockier, rougher nature of the terrain.
While the landscapes of Schiehallion and Skye vary dramatically, Ruairidh points out that the Gaelic words used to describe those landscapes are "amazingly similar". Both use parts of the body to describe landform. Hill formations are distinguished as breast-like (cìche), nose-shaped (sròn), or ridged like a spine (druim). There is even Creag an Eàrra – the tail-end of the crag – on the south slope of Schiehallion.
Though it is worth noting a key difference; on Skye there is a distinct Norse influence in names such as Blà Bheinn (Blue Mountain, from the Norse blà-fjall) and Harta Coire (Corrie of the Harts), a lasting echo of Viking invasion. Meanwhile, at Schiehallion, Pitkerril tells us about the mountain's former inhabitants – 'pit' being a Pictish word for farm, and Kerril a Christian missionary from Galway.
Wildlife also flourishes in the place names of both properties. Golden eagles leave their mark in Cnoc na h-Iolaire (Hillock of the Eagle) at Schiehallion and Nead na h-Iolaire (Nest of the Eagle) in Glen Sligachan. Red deer hinds (Cnoc nan Aighean), stags (Creag an Daimh), ptarmigan (Meall nan Tarmachan), and ravens (Cnoc an Fhithich) thrive in the Gaelic place names of these areas, suggesting the diversity of species the Gaelic landscape supported, and still supports today.
Near Schiehallion there is also possible evidence of a more maligned animal in the names Creag a' Mhadaidh and Allt a' Mhadaidh – the crag and the stream of the wolf. Ruairidh cautions, however, that mhadaidh can also be translated as 'fox'. Without the prefix ruadh (red) or allaidh (wild), it's impossible to know for certain, though wolf place names are numerous across Perthshire.
Tantalisingly, north of Schiehallion there is An Catachan, a possible reference to wild cats. John Murray, author of Reading the Gaelic Landscape (an indispensable book for anyone seeking to better understand Gaelic place names), points out that a person from Sutherland is also called a 'catach'. However, there is the puzzling '-an' suffix.
"There's a Coire Chat-achan (Corrie of the Cat Fields) of Johnson and Boswell fame near Broadford in Skye and I wonder looking at that if we are dealing with another field name," he reflects. "If so, correctly An Catachan is a compound noun and would be An Cat-achaidhean. Cat Fields."
Gaelic's inextricable link with nature could therefore aid conservation efforts by providing insight into the species the land supports. "If people like countryside rangers and mountain guides are reliant solely on anglophone sources of information, often understandably, linked to England, then they will struggle to fully understand our landscape and how it was named," notes Ruairidh.
Gaelic place names reveal a diverse environment that can be as fragile as it is beautiful, so ignoring their subtleties could come at a cost to our increasingly frail ecosystem. At Schiehallion, Allt Coire Cruach Sneachda (Corrie of the Stacked Snow) is a sobering name in times of global warming. Glen Sligachan comes from sligeach, which translates to a 'shelly' place – in other words, a place abundant with shellfish.
Schiehallion's Coire nam Fraochag (Corrie of the Blaeberry or Whortleberry) and Malnanoirag (Meall nan Oighreag – Rounded Hill of the Cloudberry) show the diversity of native plant life – vital food sources for vulnerable species.
In Gathering: A Place Aware Guide to the Cairngorms, Scottish-born and internationally recognised poet Alec Finlay gives evocative insight into the importance of being 'place-aware' when he writes:
Linguistic and botanical biodiversity go hand-in-hand
A culture that is considering the reintroduction of wolf, lynx and boar may wish to consider renewing their place-names
Meaning is as local as the condition of the soil
Renewing a language can empower the will to build or plant
Place-names are allied to habitat restoration
REINVIGORATING THE LANGUAGE
Continued enjoyment of wild places is dependent on nurturing fragile habitats, a demanding challenge that could be aided by a language rooted in the natural world, providing a framework for how we might enjoy and manage the landscapes we care about. However, with native Gaelic speakers dwindling, this knowledge base faces an erosion of its own.
John Murray notes the vital role those most familiar with Scotland's natural environment could play in reinvigorating the language: "A lot of my work is about trying to encourage people to use the Gaelic that's on the maps even though their knowledge of the language is minimal. At least if they gather a basic toponymic vocabulary, which many already have, and then learn how to pronounce the words, then their use becomes possible.
"This is really important in most of the Highland mainland where Gaelic is absent. Since we're not making up new names for landscape attributes, it makes sense to use those which are already recorded. Walkers and other recreationalists are now the main users of Highland landscape, so there is a great potential for them to reinvigorate mapped Gaelic."
This estrangement from land and language has not always been the case, with mapped names revealing the presence of people living side by side with nature. There is evidence of dairy production in a corrie below Blaven (Choire a' Caise – Cheese Corrie). Abhainn Cille Mhaire, a river running into Loch Slapin, suggests a nearby site of worship – cille means cell/church and St Maolrubha was a patron saint of southeast Skye.
At Schiehallion, Allt Ruidh nan Coireachan (Burn of the Shieling of the Corries) points to the practice of transhumance, which saw people migrate to upland slopes during the summer months to produce cheese, butter and milk. Evidence of whisky distillation has often been found near shieling sites, as Alt Brachain (Burn of Fermentation) possibly Skye's Sgurr na Stri (Sharp Pointed Hill of Strife); a map of the Trust's Skye properties shows a landscape rich in Gaelic place names attests to. Evidently, we were once on more intimate terms with the landscape.
Time and time again, Gaelic place names reveal a rich seam of culture and history that connects people to the land they inhabit. Sgurr na Strì (Sharp, Pointed Hill of Strife) is a reminder of a boundary dispute between MacKinnons and MacLeods. Clach Oscar (Stone of Oscar), at the north end of Loch Slapin, is an echo of Fingalian legend, with Oscar being the grandson of mythical warrior Fionn mac Cumhaill.
Schiehallion too is rich in legend, its name derived from the Gaelic Sith Chaillean – The Fairy Hill of the Caledonians. The cave network running along Gleann Mor (the Big Glen), on Schiehallion's south side, adds an air of mysticisim. One of the caves, Uamh Tom a' Mhòr-fhir, can be translated as Cave of the Knoll of the Big Man.
In 1845, local minister Reverend Robert MacDonald recorded that this cave was said to be full of chambers from which no-one who entered could return. Fuaran na h-Inghinn (Spring of the Young Woman) references the young women who bathed there at daybreak on May Day.
STORY OF PLACE
Munro Gauld, a traditional flute player from Perthshire, is leading a musical project with local musicians, storytellers, artists and poets to tell "the story of place" at Schiehallion. "It helps if you can be creative in allowing people to access place name information as not everyone finds lists of direct translations interesting," he explains.
"But when you are actually in a landscape looking at physical features on the ground and can relate the place name to what you are seeing, then that is particularly powerful. Especially with Gaelic place names which are so descriptive.
"For Munro, art is a powerful vehicle for understanding our place within the Gaelic landscape. "It helps the story to come alive and actually touch people emotionally, rather than only at a cerebral level. How could you not be moved by the story of the old man from Leachd nam Broilag bathing in the waters of the Tay. It brings the place to life, allows you to connect emotionally to someone who lived there 250 years ago."
In understanding Gaelic place names, we interpret the landscape differently, discovering links between communities and land that have existed for generations. However, as native Gaelic speakers wane these vital links are being lost.
"I think the loss of any language results in the loss of one way of seeing the world," believes John Murray. "Gaelic has distinct ways of defining landform, water and colour for example. Since most place names in the Gàidhealtachd are in Gaelic, without knowledge of the language we cannot access Gaelic's interpretations of the landscape, even though these would be perceptions made at the time names were applied."
Demystifying Gaelic place names transforms a mapful of daunting words into a landscape resonant with birdsong, bellowing stags and voices of the past. As we 'rewild' our depleted vocabulary, new connections with places we love will emerge, sharpening awareness of landscape and our place within it.
As Ruairidh MacIlleathain asserts, "Gaelic is the language of the land," and as walkers, climbers and conservationists we profit by learning it – not only boosting our enjoyment of Scotland's Highland landscapes but learning how to care for them so that they may be enjoyed for generations to come.
About the author
Kate MacRitchie is a writer and Gaelic learner, based in Blairgowrie
---
The Trust is dedicated to the experience, protection & repair of wild places.
Celebrate our Wild Words month with this special offer: 25% off for your first year of John Muir Trust membership* if you join us during October 2019. Use the promo code: WILDWORDS (*Ts & Cs apply).
Image credit: Liz Auty. Picture shows Schiehallion (Sith Chaillean – The Fairy Hill of the Caledonians).