26 Nov 2020
Interview: Neil Kitching on 'Carbon Choices'
"Education is the first step..." We talked to a writer who's offering common sense solutions to our climate and nature crises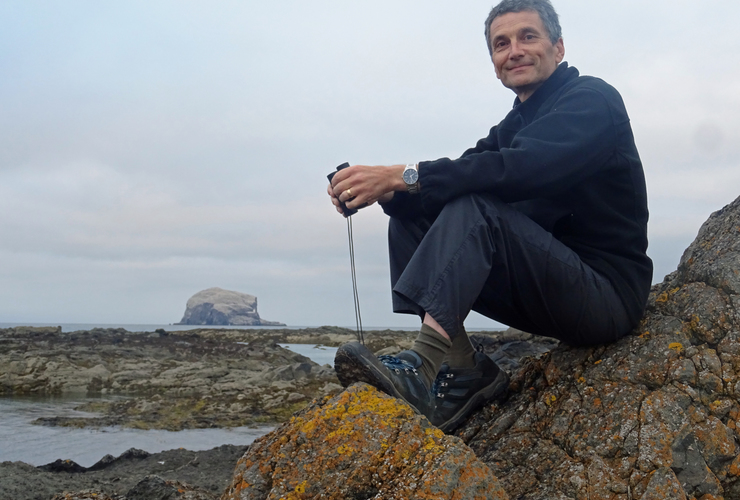 Neil Kitching is a geographer and energy specialist for a Scottish Government Agency, where he promotes opportunities for business to benefit from low carbon heating and water technologies. His first book, Carbon Choices, arose from his frustration that so many people lack a basic understanding of climate change and its serious impacts.
Who would you like to read Carbon Choices?
Carbon Choices focuses on the common-sense solutions to our climate and nature crises - because nature and climate are so closely interlinked. The book tackles these complex subjects in a straightforward manner. It is ideal for university undergraduates and older pupils at school with an interest in the environment; and also for older people who were not taught about climate change and nature loss at school.
What do you think stands in the way of behaviour change?
Lack of education and knowledge is an issue, but also peer and social pressure is very strong. This can be overcome, an example being the 'flight shaming' movement in Sweden where the number of flights fell even before Covid-19. Thinking of the Scottish landscape, people simply don't realise that our beautiful mountain scenery is mainly human made and that it is ecologically impoverished. We need to change and regenerate (or rewild) to encourage more biodiverse rich landscapes including more woods. Here, education will help.
Have you tried and tested the five principles?
My book introduces five principles that are a prerequisite before we can tackle climate change. They are: 1) be fair across generations; 2) price carbon pollution; 3) consume carefully and travel wisely; 4) embrace efficiency and avoid waste; 5) nurture nature.
Points 1) and 2) are mainly for governments to lead on. 3) I try to only buy what I need and buy second hand where possible. 4) I have insulated my house, bought solar panels and recycle. 5) I do some voluntary conservation work and will donate one third of the profits from my book to rewilding projects.
What would you like to see come from COP26?
COP26 is the United Nation's climate change conference to be held in Glasgow in November 2021. I would like to see pressure on governments to increase their level of long-term ambition and to take short term actions too. We need a sense of urgency. Also, it is an opportunity for Scottish people to really understand climate change and for us to tackle it alongside our nature crisis.
Which rewilding projects will your book be supporting?
I am a strong advocate of regenerating nature, or rewilding, whatever you want to call it. Humans have destroyed much of nature, with developed countries like the UK with less than one per cent of their natural woodland cover and we have lost most of our wetlands and raised bogs. We have a moral duty to restore much of this and actions such as protecting peatlands and planting trees will remove carbon dioxide from the atmosphere. It seems likely that large companies, with their recent 'net zero' promises will need to offset their remaining emissions by investing in nature based projects.
For myself, I haven't yet decided on my priorities! I am torn between supporting native Scottish projects, such as the John Muir Trust* where I will be able to see the benefits, and the clear need for rewilding and conservation in developing countries too. Probably bit of both.
*I was brought up in Perth and from a young age enjoyed hillwalking, sightseeing and nature. I climbed Ben Nevis and Schiehallion at a young age and have fond memories of family walks to Sandwood Bay. It is great to see that these special places are now managed by the John Muir Trust.
How can people find out more about your book and order it…
There is more information and testimonials at carbonchoices.uk. It is available on Amazon or email me at carbonchoices@gmail.com. An ideal Christmas gift.