21 Dec 2020
First footing
Head of Land and Policy Mike Daniels reviews the Trust's recent steps to keep wild places open for all to enjoy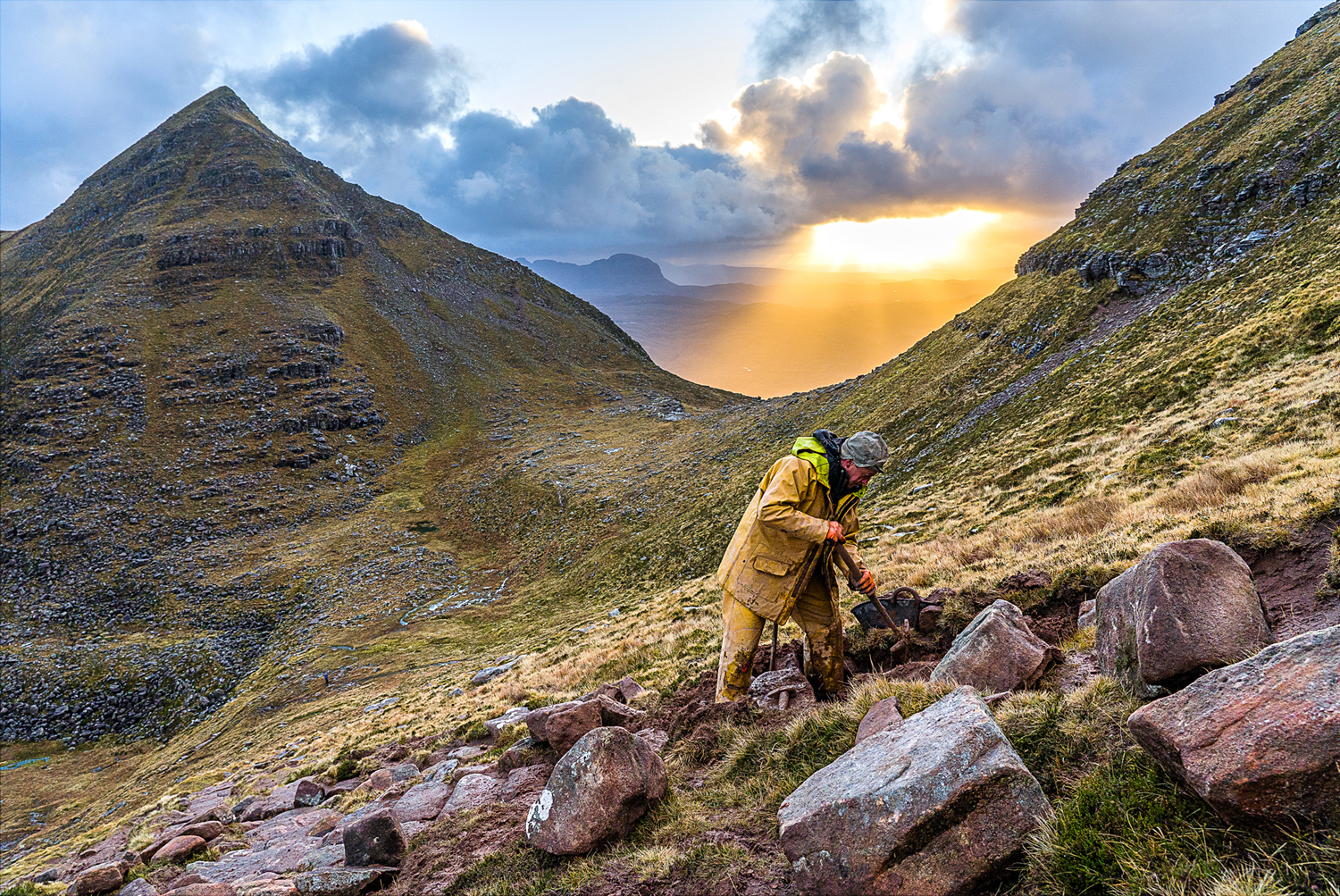 As we look forward to a new year and the opportunity to 'first foot' our favourite wild places at some point in 2021, it is worth taking stock of the huge amount of work carried out on the Trust's footpath network in 2020. Despite restrictions and lockdowns, local contractors were able to maintain, repair and rebuild kilometres of footpaths, from the Lake District to Sutherland, and from Perthshire to Skye. In total the Trust invested nearly a quarter of a million pounds in this vital work during the year - all raised with the generosity of Members, supporters, trusts and foundations.
East Schiehallion
The need for this huge effort became even more apparent with the surge in hillwalkers in the summer as the first lockdown eased. Our people counter at Schiehallion recorded double the usual number of visitors in July as walkers took advantage of their re-found freedoms and cracking weather to get back to the hills we all love so much. Fortunately, Thomson Landscapes were able to carry out urgent repairs to the new low level, accessible Foss Loop walk just in time (see below picture), where flash flooding in February had gouged out part of the path and washed off a section of the top surface.
In the summer, hand build contractors Arran Footpaths and Forestry, managed with the excellent oversight of Chris from Walking the Talk, also bagged 240 sacks of rocks and aggregates, for a helicopter to fly for 11 hours to place them strategically all along the damaged sections on the mountain path. The funds for all this had all been raised in 2018/19 thanks to the amazing response by members to our Schiehallion Path Appeal. We also received a very welcome grant from the Network for Social Change. In the autumn, just before the first snow falls of winter, Alec, Beth (and Dougie the dog) hiked daily up the path to fix and build pitching and cross drains that had finally succumbed, 15 years and hundreds of thousands of Munro bagging boots later, after the Trust built the 'new' path.
Nevis
Meanwhile in Glen Nevis, Allan and Martine of Stonescape carried out 36 days of work between them maintaining and repairing the Steall Gorge path. Keen local volunteers also helped in two work parties over the summer to clear drains on the main path up the Ben, which saw a huge upswell of walkers over the summer.
Glenridding Common
The Lake District also proved immensely popular with summer walkers. Our two local contractors, Neil and Ian, who between them have more than 50 years of experience in upland footpath work and are now in their third year of working on Glenridding Common on behalf of the Trust, were able to deploy at short notice as soon as lockdown eased. Among other things they fixed a major new short cut developing (we think due to GPS identifying this as the route to the summit) which threatened to deteriorate rapidly. The Fix the Fells volunteer programme were also able to carry out their important drain clearing runs on the paths throughout Glenridding Common.
Skye
Stonescapes' Allan and Martine carried out work on the Elgol coastal path on a very narrow and steep section. About 150 m of the path was widened and a small amount of stone pitching, stone edging and an aggregate surface was created. Meanwhile five Rural Skills course students from Broadford College signed up for a four-day course in Torrin. In wet and windy conditions the students worked on the Strath Beag path building water bars, a drain, steps and pitching. They also dug a borrow pit to resurface the path once it had been widened and edged with weathered stones, landscaped the edges, placed blocking stones, filled holes where stones were taken with turfs and re-landscaped the borrow pit.
"I thoroughly enjoyed the path building course, it was physically demanding and really interesting. I never realised just how technical some of the work involved is, I'll never walk past a water bar again without appreciating the work that has gone into it!" - Sarah MacInnes, UHI student
Davey and Megan from Arran Footpaths and Forestry carried out a further 30 workdays across our footpath network on Skye. Multiple areas of braiding and water damage were tackled on the Bla Bheinn path. Firstly fines, gravel, and vegetation were dug out from all blocked water bars and cross drains. Surface material was topped up, anchor bars built, top drains cleared, the path de-roughened and the correct line of the path more clearly defined. On the Glen Sligachan, Druim Hain, and Loch Coruisk paths drains were cleared, sections of stone pitching were added, surfacing topped up, ditches dug, cross drains built and re-landscaping carried out.
Quinag
Meanwhile on Quinag a 70-metre section of very badly eroded path on the final ascent to Sail Gharbh was repaired and upgraded in December 2020, with stone pitching now providing walkers with a safer and more robust route to the summit. The work which, involved an airlift of 30 tonnes of stone from the opposite face, was undertaken by a team from ACT Heritage, led on site by Donald, and made possible with funding from the National Lottery Heritage Fund, through the Coigach & Assynt Living Landscape Partnership scheme and by the generosity of Trust Members support through the Wild Ways Path Appeal.
Lower down the hill a small team of local volunteers, led by the Trust's Quinag Conservation Officer Romany, have been resurfacing sections of the stalkers path with imported material to bolster the original work done over ten years ago. Quinag's accessibility and location on the North Coast 500 route make it a particularly popular hill for walkers and we plan to continue with a programme of repairs and upgrades as funding allows.
Sandwood
Our Sandwood property received huge numbers of visitors this year, once lockdown restrictions were eased in July. This placed extra strain on the main track running from the car park at Blairmore out to Sandwood Bay. The Trust has invested heavily in upgrading the path over the past ten years, so this year we undertook a comprehensive maintenance run along the whole path which involved clearing all drains and ditches, rebuilding two damaged water bars and scoping out what further work might be required in the future.
The work was undertaken by Assynt resident and former Trust Footpath Officer, Chris Goodman who noted; "The nature of access to Sandwood Bay has changed, especially recently due to the NC500 and Covid. The number and demographic of visitors means the path needs to be in really good condition or visitors will soon take to the grassy path edge." Chris produced a short report highlighting the priority areas for repair and action.
While hugely important and immensely satisfying, footpath work is endless. No sooner has one contract finished than another needs be tendered. By employing local footpath workers on maintenance contracts we can minimise the impacts and react quickly to small problems before they become major repairs.
All of our footpath work relies heavily the generosity of our members through our Wild Ways Path Appeal. Why not make it a New Year's resolution to visit a section of newly repaired John Muir Trust path this year and make a donation? Every pound raised helps us protect, repair and maintain the paths that allow us to access our favourite mountains and wild places.
Images with our thanks to various volunteers and pathworkers, header and footer images of Quinag by Chris Puddephatt