26 Aug 2019
Field Notes: Travelling the North Coast 500 by public transport
Trust members call for help as they aim to raise awareness of traffic congestion in the Highlands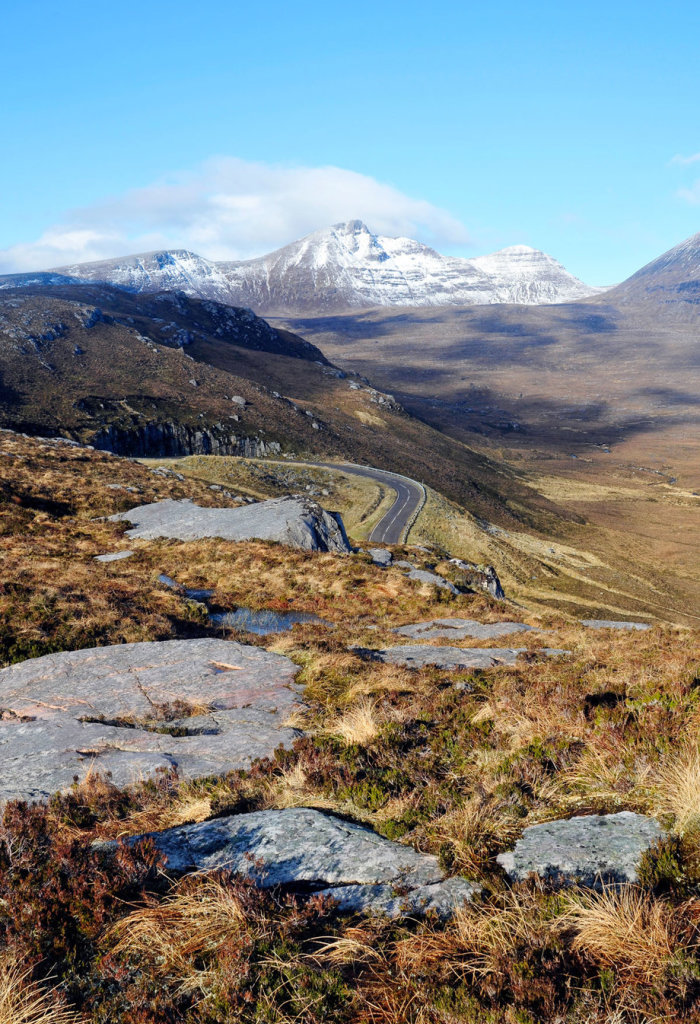 John Muir Trust members Michael and Jenny Willmot have resolved to explore the North Coast 500 route in September, using only public transport, in a bid to highlight severe traffic congestion on narrow roads never designed to carry such high volumes. Here Michael explains their thinking and appeals for help in making the journey a success.
----
Tourists so often travel round the Highlands in private vehicles. Convenient? Yes. Climate friendly? No. Isolating? Sometimes. Yet before the era of mass personal transport, from the days of Chaucer's Canterbury Tales, travel was recognised as a social occasion. Sharing the trials and tribulations of a journey and the sights and smells of a passing landscape has the capacity to stimulate conversation between fellow travellers. Travelling together can be a great leveller and a contributor to social cohesion.
The North Coast 500 has been a marketing success. Some say almost too successful when traffic on narrow roads is slowed by a procession of camper vans or made hazardous by those who are eager to travel dangerously fast. With these thoughts in mind, my wife and I have resolved to explore the North Coast 500 route in September, using public transport only.
Our route starts in Inverness and follows the east coast on the Far North Line to Wick and Thurso. We'll encounter two problems once we reach the north coast: the first is that the bus from Thurso to Durness runs just once a week on Saturdays - it's fairly important not to miss it! The second is that over the 545 miles of our route, there are 19 miles between Scourie and Inchandamph where there is no public transport and we will need to find a lift or a local taxi. We estimate that the journey will take a week as we will also stop at places that interest us such as Balnakeil Craft Village, Cape Wrath and Inverewe gardens.
There are four reasons that we have chosen to travel in this way:
It's environmentally friendly and cuts CO2 emissions, not just in driving round the route but also, for many people, in the added miles of driving north from their starting point to Inverness.
It supports rural transport services: the more these carry tourists, the more likely they are to be maintained or even strengthened for the benefit of local residents.
It assists local communities since all provisions and accommodation are purchased en route.
Lastly it exemplifies slow tourism, offering the opportunity to absorb the culture and heritage of the communities set in this landscape through meeting local residents.
After the journey we'll produce and share a report that we hope will encourage others to enjoy the same experience and in which we will advertise both accessible attractions and businesses which have helped us on the journey. We're hoping that our experience will go some small way towards highlighting the current gaps in transport provision that will need to be filled if this travel option is to be seriously promoted.
We've published our itinerary here. We ask anybody who can suggest attractions accessible en route or assistance for such travellers (eg shelter if wet; baggage storage; accommodation near to bus stops; community transport that could assist side visits etc) to drop us an email at PublicTransportNC500@gmail.com. All messages will be acknowledged. It's a chance to promote your interest and to help as we aim to reverse the decline of public transport around the NC500 route!
Kind regards,
Michael and Jenny Willmot
Photo credit: The Trust's Quinag property aside the A894 by Kevin Lelland