15 Feb 2021
Field Notes: From loch to mountain to sea
Quinag conservation officer Romany Garnett reports on a new project to map the wildlife on North West Scotland's most accessible mountain.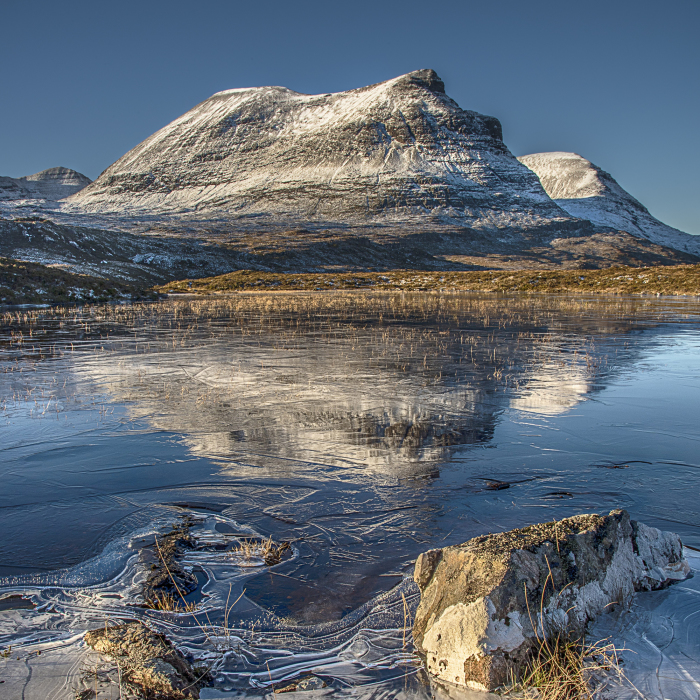 The boundary of the land the Trust looks after at Quinag stretches from middle of Loch Assynt (the seventh largest freshwater loch in Scotland) to the mountain tops and down on the northern side to where it meets the sea.
This unique blend of ancient geology, human history and archaeology, and wildlife has attracted the interest of many naturalists and ecologists over the years. However, until now, their records, surveys and reports, many unpublished, have been dispersed in a variety of different places.
The Quinag Wildlife Project - a collaboration between the Assynt Field Club and John Muir Trust - seeks to make them more readily available. Funded by a grant from the Coigach and Assynt Living Landscape Partnership (CALLP), the team - facilitated by Eilidh Summers and supervised by Ian Evans of the Assynt Field Club and myself - started gathering the information late in 2020.
Quinag has had the benefit of two comprehensive vegetation surveys, that of R.E.C. Ferreira in the 1980s and of Ben and Alison Averis in 2006-2007. The higher plants were surveyed at tetrad level by Pat and Ian Evans and Gordon Rothero in the course of fieldwork for the Flora of Assynt (2002), and a number of visits have been made since.
Our aim is to assemble and make available as much information as possible about the landscape and wildlife of the hill, and also the human activities, past and present, that affect them. Where possible, we plan to summarise the lengthier surveys and add common names by the scientific ones, so that the information is accessible to a wide audience.
The results of this partnership, the Quinag Wildlife Project, will be lodged initially on the Assynt Field Club's website. Although the CALLP grant only covers part of 2021, it is hoped that work will continue well into the future, concentrating on aspects that have so far received less attention.
This project is proving to be very exciting as more information becomes available and some of the best qualified experts in their field are getting involved. Professor Xavier Lambin of Aberdeen University has provided extensive data from his research on water voles and other mammals over the last 20+ years. Gemma Smith of Glasgow University is compiling, from her current research, a gazetteer of the Gaelic place names of Quinag. This will give a unique human dimension to the mountain and how it was used in the past.
We have approached a local historian for an account of the past ownership of the estate, its historic land-use and the scattered structures and enclosures on it. A local geologist is also providing a guide to the rock formations of the mountain and their place in geological education.
Chris Puddephatt, a local photographer, has recently set up a Facebook page for contributions by visitors and locals, which is proving very popular. Stories emerge and pictures past and present are shared. It can be accessed at Friends of Quinag
There is a lot more to Quinag than is first evident and this project is a rare opportunity to bring together an exceptional body of work that will shine a light on the mountain from all angles. The evident interest of the local community in this project is a one-off chance to uncover Quinag's mysteries. We are grateful to all those who have contributed so far.
If you have any information that you think might be useful, or know of anyone with an interest, please get in touch.
Photo of Quinag by Chris Puddephatt