30 May 2021
Bla Bheinn car park reopens
Temporary closure of the car park due to our work restoring 36.5 hectares of degraded peatland at Faoilean is lifted.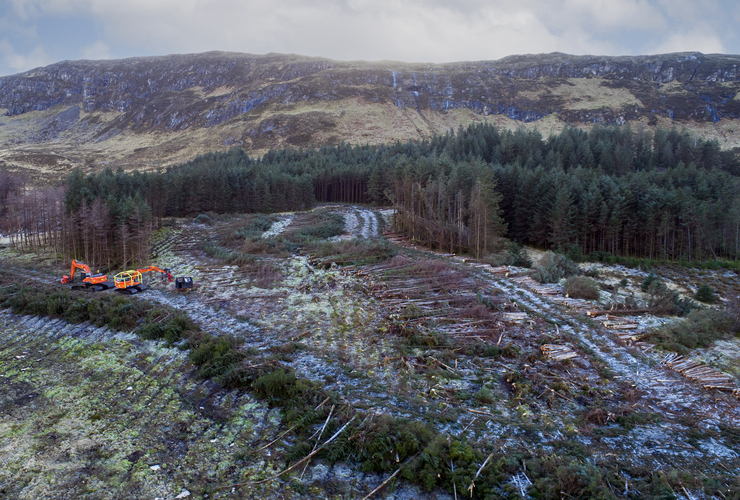 An area of Strathaird - part of the land cared for by the Trust on Skye - was planted with conifers in the 1990s but, as an area of deep peat, it wasn't suitable for growing a timber crop. Our work to restore this bog to its natural state will be hugely beneficial in the fight against climate change and biodiversity loss.
Restoration of the blanket bog involved harvesting and removing 17 hectares of Sitka spruce plantation. The resulting timber was stored in the Bla Bheinn car park until it was picked up, with the facility closed to visitors until the end of May.
Richard Williams, the Trust's Land Operations Manager said: "The site was clear of timber by the middle of May, following which we needed to undertake some remedial work to repair the damaged car park surface.
"The car park was opened at the end of May and we thank everyone for their patience and understanding."
Why restore peatlands?
Keeping peatlands healthy is vital for tackling climate change. Here's what the process involved:
Specialised machines helped to minimise damage to the surface - and protect and preserve the deep peat beneath - by moving across the blanket bog on brash roads.
Once all the timber had been removed, the focus shifted to smoothing the ground and raising the water table. Tree stumps and conifer saplings were buried, and drains and furrows were blocked or reprofiled to slow the flow of water.
These ground smoothing techniques help to discourage Sitka regeneration, raise the water table of the bog and encourage the growth of peat forming vegetation like sphagnum moss. Once recovered, this blanket bog will support a wide variety of life from the tiniest insect larvae to the iconic golden eagle.
Work to restore 36.5 hectares of peat bog at Strathaird is taking place thanks to funding from NatureScot's Peatland Action Fund.