13 May 2021
Field Notes: Creating places where people are encouraged and welcomed
Conservation Officer Romany Garnett welcomes back her fantastic local volunteers as workparties restart at Quinag.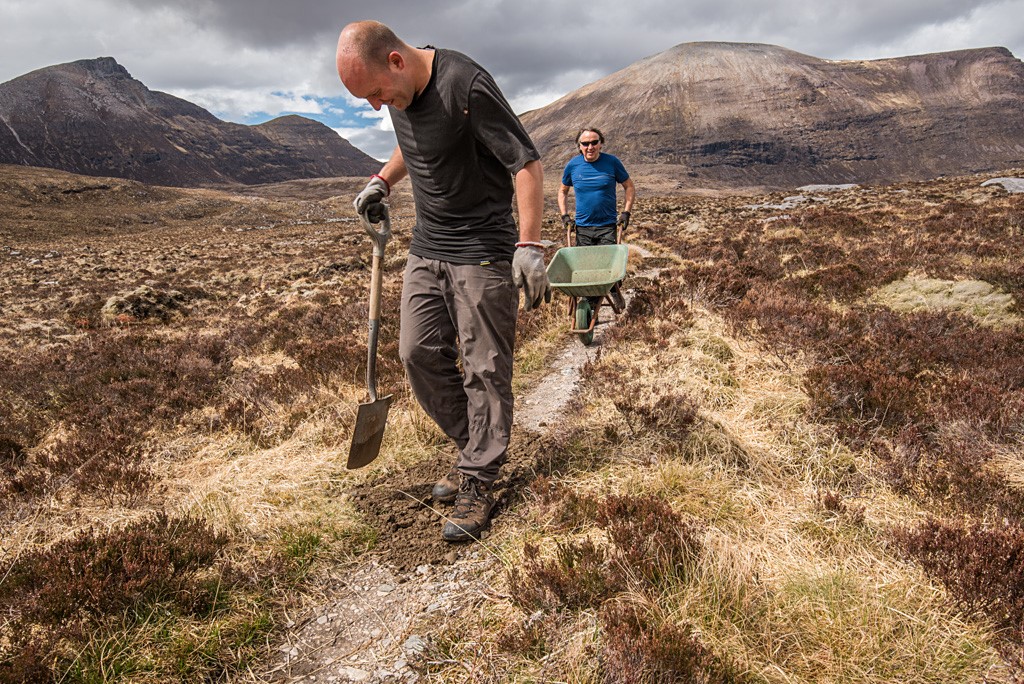 Fortnightly volunteer sessions are underway at Quinag again, after a long break during Covid lockdown.
The mornings are spent at Coigach & Assynt Living Landscape's (CALL) Little Assynt tree nursery. Wheel barrowing and moving boxes of alder trees outside. Next to the alders are rows and rows of young holly trees - a wonderful sight to see!
We work together while chatting, something that has been sorely missing during lockdown. Another volunteer lines out saplings into a nursery bed. Coffee breaks are a popular feature and home-baking is sometimes involved. Rue the nursery dog, watches out keenly for stray crumbs.
A few new volunteers have joined the team which is great as there is lots to be done. In the afternoon, I head off to Quinag car park where a different group of volunteers are waiting.
We put on our work gloves and set off up the path with wheelbarrows to shovel gravel on to the more eroded parts of the path.
Next jobs to be tackled are clearing out all cross drains up to the Bealach and painting the footbridge. It is a busy time of year and very helpful to have these extra pairs of hands.
A worthy cause
I asked one of my regular volunteers - talented local photographer Chris Puddephatt - why he comes to help out: "For me, it isn't about getting outside into the countryside. I do that anyway.
"Yes, I like the chat and the company, of course - but mainly I do this because I believe it's a worthy cause. Two strands to that, which ultimately will become one...
"Firstly, caring for the environment: a good footpath will invite people to use it (because its easier), and divert every footstep from mushing up the peaty, boggy bits. Win-win for visitors and wildlife.
"Secondly, and this is a bit deeper, I think more people need to be able to appreciate the planet that we all rely on. I feel that far too many are so disconnected that they have absolutely no idea what its all about. Without buy-in from the wider public, the outcome looks less rosy, doesn't it?
"There needs to be places where people are encouraged and welcomed, otherwise they'll never be sympathetic to environmental issues. Some good paths provide arteries for this to happen.
"And thirdly (I know I said two strands), but thirdly, Romany brings biscuits."