25 Jun 2019
The Attraction of Mountains
Trail Magazine short story winner spends a day on Schiehallion

Charmaine Biggin, overall winner of 'The day a mountain changed my life' writing competition, recently spent a day on Perthshire's pointiest peak with John Muir Trust staff and key supporting brand Mountain Equipment.
Charmaine aimed to discover more about the Trust's work on and around the mountain, as well as to improve her navigation skills, ahead of her upcoming feature in the UK outdoors magazine Trail. And where better to learn about the value of accurate navigation than the hill where contour lines were first devised?
In 1774, this prominent and relatively isolated hill was the obvious choice for a series of experiments to 'weigh the world'. Astronomer Nevil Maskelyne established two observatories either side of the hill to calculate its mass, using the gravitation pull of the mountain and measuring plum-lines against a starry night sky. The resulting phenomena was known at the time as 'the attraction of mountains' and helped to prove Newton's theory of gravity. As part of this experiment, mathematician Charles Hutton devised the height measuring system still used by map makers and hill goers today.

Back in 2019 and led by mountain guide Richard Talbot, Charmaine soon realised the value of these contour lines when travelling off trail to find the site of one of the original observatories, tucked away on the wilder southern side of the mountain. Along the way, Trust conservation officer Isobel Filor pointed out flowering Cloudberry, Golden Ringed Dragonflies, as well as describing the work the Trust is doing to improve woodland cover and habitat corridors for wildlife, partnering with neighbouring community, charity and private landowners to provide enough scale for landscape change to take root.
Charmaine heard about the ongoing challenges of high deer numbers – illustrated by a 30-year-old but heavily browsed 'bonsai' Rowan tree no higher than 5cm – and the fencing to protect the new native woodland planted by volunteers as part of The Heart of Scotland Forest Partnership. Richard explained a different type of partnership; the natural fit between the Trust and his brand and corporate supporters Mountain Equipment.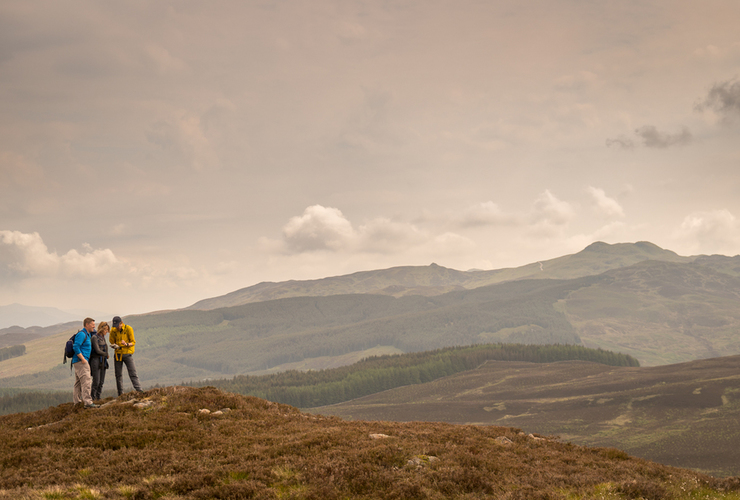 Schiehallion's name derives from the Gaelic, Sìth Chailleann, meaning 'Fairy Hill of the Caledonians'. Its lower flanks are dotted with hut circles and shieling remains, and its ancient mythology is laced with tales of wild winter witches, ghostly goats and caves full of mischievous faeries.
It retains a hold over the modern consciousness too, as a popular Munro for old timers and newbie hillwalkers alike, offering spectacular views over the southern Highlands. The car park soon overflowed on a warm and sunny Sunday, but there was plenty of room for everyone once on the mountain. More than ever, Schiehallion is a place that weighs both access and conservation and aims to find a balance, for people and wildlife.
Read Charmaine's moving short story for Trail magazine (here).
Words & photos: David Lintern