5 Aug 2021
Scotland's biggest landscape-scale partnership hosts conference
A landscape-scale partnership in north-west Scotland - of the Trust is part - hosted a conference to show how rural communities can work together to achieve positive change for the landscape and its people, setting the tone for the future of partnership working.
The online conference was organised through the Coigach & Assynt Living Landscape Partnership, and took place on 18 August 2021. It aimed to attract delegates from across the UK and beyond.
Coigach & Assynt Living Landscape (CALL) is based in the far north west of Scotland and works across the largest area of any such partnership in the country. At its heart is a group of community and private landowners and charities working together to improve both the economic and environmental prospects of this very remote part of Scotland.
Over the past five years, with Scottish Wildlife Trust as the lead partner, it has been delivering a programme of over 30 projects, supported though the National Lottery Heritage Fund and a range of other funders. Projects have so far included upgrading and creating almost 13km of paths; nearly 600ha of native woodlands planted and managed; innovative training programmes for deer management and crofters; the excavation and restoration of the Clachtoll Broch; and an outdoor learning project that has worked with every school in the area. As this programme comes to an end Coigach & Assynt Living Landscape planned a final conference to showcase what has been achieved, and share its experience and knowledge, as a way to take its legacy forward.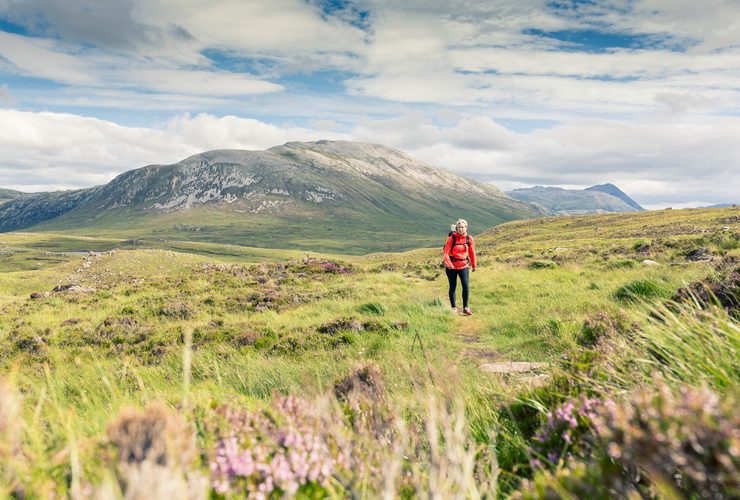 At the John Muir Trust, we know making an impact takes teamwork and time. That is why we've been delighted to be involved in the CALL partnership over the past 10 years. During that time, we've been supported to maintain, repair and upgrade the footpaths in Quinag for people to enjoy, and have extended our technical expertise and fundraising abilities to help the Assynt Foundation realise their ambitions for the major upgrade and restoration of the path on their work in Suilven. The Partnership has also enabled 200 young people from five local primary schools to connect with nature through the John Muir Award since 2016.
Commenting on the conference Boyd Alexander, the Partnership's scheme manager said: "Since its inception in 2009, Coigach & Assynt Living Landscape's vison has been of thriving communities within a healthy landscape, who work together to celebrate and protect their unique natural, historic and cultural heritage now and for the future. The work that we have been able to deliver through the NLHF-funded scheme over the last five years has helped us move closer to achieving that – and as the funding comes to an end it's time to share what we've learnt, and look to the future. This is a unique opportunity for other communities and organisations who would like to follow a similar path to share in our journey so far."
The conference was opened by Jo Pike, CEO of the Scottish Wildlife Trust, CALLP's lead partner. This was followed by sessions on land management, paths and access; people, wildlife and heritage; and learnings and legacy.
The presentations included accounts of the amazing woodland expansion work that has been going on from Peter Lowe of the Woodland Trust; new approaches to sustainable crofting, from Anne Campbell, CALLP's Sustainable Crofting Co-ordinator; an award-winning archaeological rescue project at Clachtoll Broch, from Gordon Sleight, of Historic Assynt; outdoor learning that has reached every school in the area, from Kat Martin and Fiona Saywell, CALLP education managers; and new guidebooks and interpretation that will help visitors and locals alike discover more about the area, from Laura Hamlet, of the North West Highland Geopark.
There were also presentations on the major path works from Rich Williams of the John Muir Trust, and Mark Foxwell and Michelle Henley of Scottish Wildlife Trust; Sam Black of Nature Scot talking about the importance of the High Value Open Habitat Survey; Holly Watson of the National Lottery Heritage Fund on why NLHF believe landscape-scale partnerships are so important; and Sarah Robinson of Scottish Wildlife Trust looking to the future.
Boyd Alexander, CALLP's Scheme Manager introduced some of the many smaller projects that have benefitted from CALLP's Community Grants Scheme, and told the story of how CALLP came into being.