23 Aug 2021
Field Notes: The great Glenridding Common moth hunt
Tom Hayek, our England and Wales Development Manager and resident moth enthusiast, searches for the Mountain Marble moth near Helvellyn.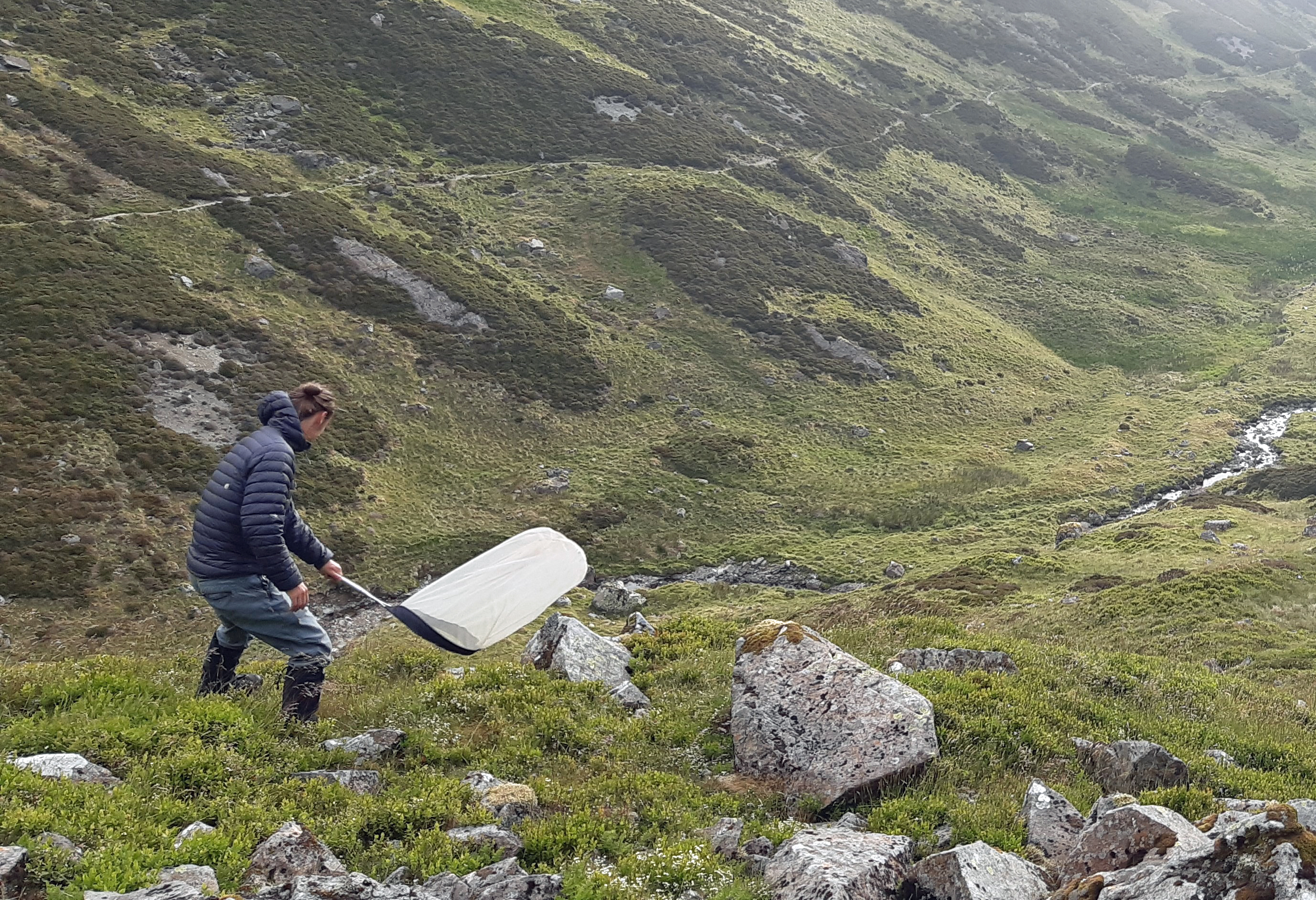 When I first met the Glenridding Common team - Pete and Isaac - a couple of years ago, I mentioned that my great passion was surveying and recording moths. Pete's eyes lit up and he said: "We've got something pretty interesting you can help us look for up here then."
In the 1980s, a record of the moth Phiaris obsoletana (also known as the Mountain Marble) was submitted for this area and Pete had seen this record when he took on the job of managing Glenridding Common for the Trust. This moth is mainly known from the Scottish Highlands where it generally only occurs above 650m altitude! No-one is quite sure what the caterpillars feed on but the adult moths are usually found around bearberry, cowberry and bilberry so that is the most likely.
The adult moth flies in June and July so, in early 2020, I started doing some research but found that the 30+ year old record had disappeared from the National Biodiversity Network web page. During a review, the record had been deemed to be 'unverified' (no photo or specimen had been provided) and was removed from the database. This only served to make finding one even more enticing.
The planned search in 2020 was cancelled due to the Covid pandemic. But this July - with permission from Natural England to survey within a SSSI - we targeted two areas with a good amount of bilberry alongside Sticks Gill and on Sheffield Pike.
Pete, Isaac and I were joined by Dom and Jude from the Trust's North-West England Members' Group for two days of light trapping and sweep netting. Our target moth is known to fly from dawn until just after sunrise, so having both methods gave us the best chance of finding it.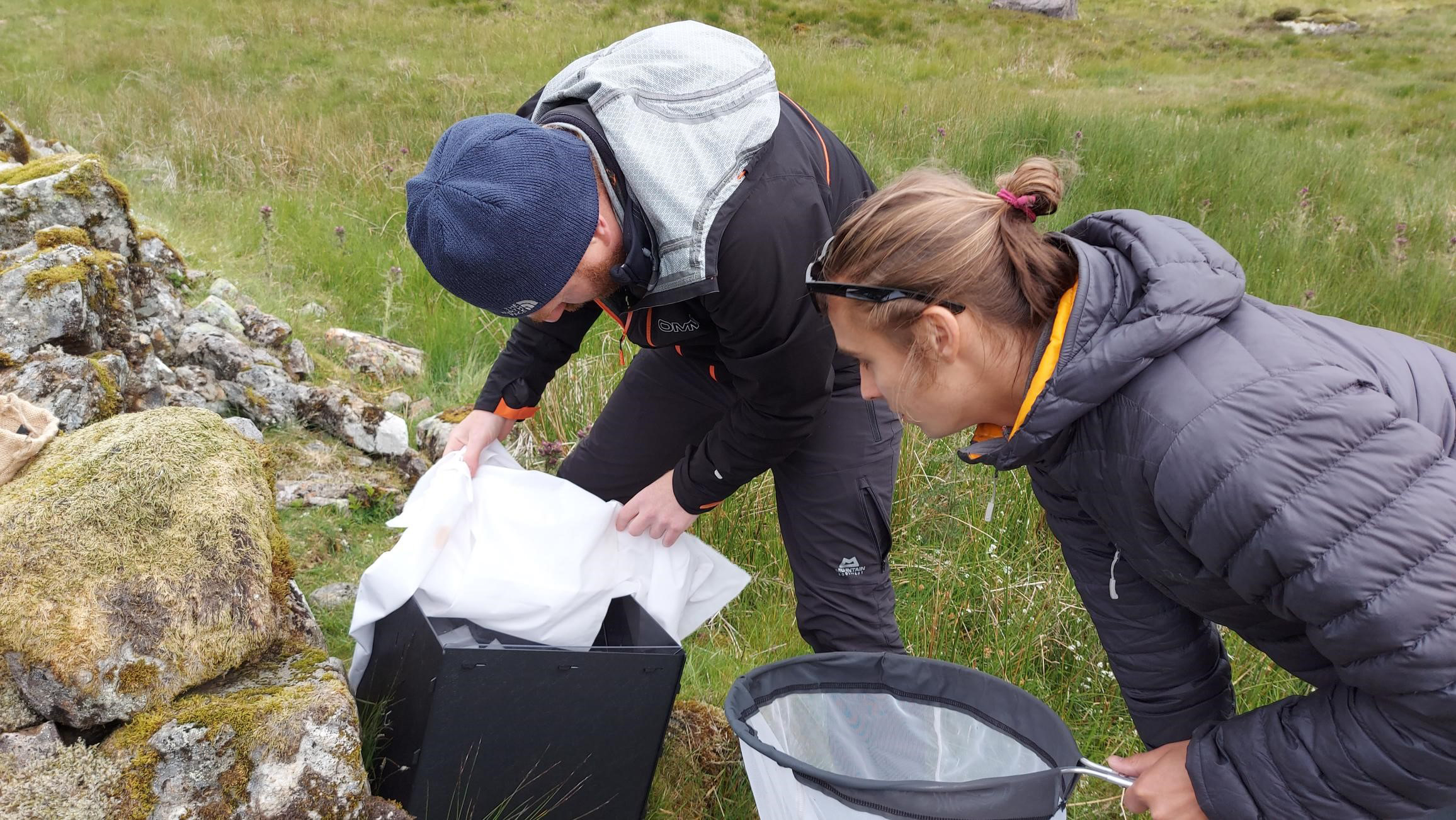 On the first morning of sweep netting over the bilberry, I spotted something of roughly the right size and colour flying just above the vegetation. Leaping over the clumps of vegetation (moth surveying can be very good exercise!), I just managed to catch it as it dived back down into a stand of bilberry. As I transferred it into a glass pot and peered through a hand lens, I thought it looked like a very good candidate for P. obsoletana! Could we be that lucky?!
With other very similar moths, this could only be decided by a national expert and unfortunately this is where the Hollywood ending fades! The short version of much deliberation is that it was confirmed that we had caught the very closely related Phiaris palustrana (Northern Marble). Further conversations with local moth experts in Cumbria suggest that this has probably been recorded fewer than 10 times in the county, so still a satisfying find.
It was great to get out and do some recording in a new habitat for me and to add to the data we hold for Glenridding Common. In total we recorded 26 moth species over the two days (see list below); 10 of which were entirely new for me and took my lifetime species total past the 700 mark.
We have shortlisted a number of other possible places that the elusive P. obsoletana might be found and we will be back in summer 2022 for another go!