29 Sep 2021
Interview: Mary-Ann Ochota
Broadcaster, anthropologist and Trust member Mary-Ann Ochota chats with Julie Gough about her love of the UK's wild landscapes and why equitable access to the outdoors is so important.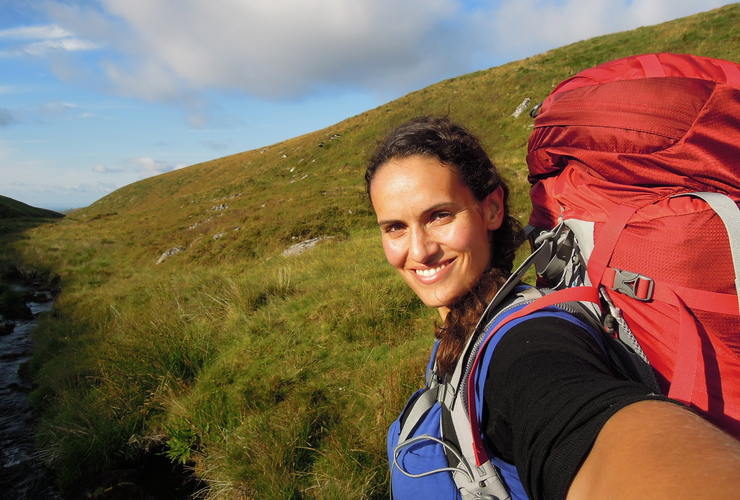 When did you first realise that mountains were for you?
I've always enjoyed spending time outside, but we weren't a family that went hiking and camping as I grew up. My mum was a single parent and going walking in the Lake District or Snowdonia without knowing anyone else who did that kind of activity wasn't really on the cards.
I joined the Air Cadets when I was 14 and really enjoyed the outdoor activities, but it was only in my mid-20s, living in London on a pretty meagre salary, that I really started keening for adventure. I couldn't afford to go abroad, so I decided to go backpacking in the UK. One birthday, my brother sent me a navigation handbook and Ronald Turnbull's The Book of the Bivvy, which is a drily humorous guide to sleeping under the stars in a bivvy bag. Sold, I bought a bivvy bag and spent my first wild camp on Dartmoor. It was slightly terrifying and totally exhilarating.
Since then, I've done some winter walking, scrambling and mountaineering, plus spent lots more time sleeping under the stars. In 2016, I was invited to become a hill walking ambassador for the British Mountaineering Council, to represent 'normal folk'.
What do you love most about the UK's wild places?
The variety. Britain has been permanently occupied for 10,000 years or so, and even in seemingly wild places you can often spot details that reveal the human history of the landscape. Add to that the complex geology and weather and you have a rich tapestry of habitats and terrain.
And do you have a favourite spot?
There are still many places that I want to visit, so I'm not going to pick one yet. I've wanted to walk the Cape Wrath Trail for some years now, so that's definitely on my bucket list. I thought that maybe I should wait until my kids are old enough to walk it with me, but by then my knees might be a bit past it.
How did you get into broadcasting?
I studied archaeology and anthropology at university; I enjoyed it but knew that I didn't want to be an academic. After a few years of doing other stuff, I wanted to go back to the subjects I'd enjoyed, but perhaps share that information with a wider audience. TV seemed the obvious place to do that, so I did work experience as a junior researcher on factual programmes and then a friend helped me record a showreel so I could approach agents. Fast-forward 12 years and I now write books and articles, host radio documentaries, podcasts and TV shows. It keeps me on my toes.
Any particular career highlights?
I co-presented series 19 of Time Team which was pretty special – I grew up watching the show so to be part of such a national institution was great. Watching field archaeologists interpret what they're excavating in real time is fascinating; it's both art and science, with the very best having an encyclopaedic knowledge of comparable sites, artefacts, geology, technology and history.
How has your heritage informed your work and interests?
My mum is Indian, my dad is Polish, and I grew up in northwest England. I think that international heritage – experiencing other ways of being and understanding the world – has been a huge influence.
It's also a basic tenet of anthropology: identify your own quirky cultural worldview and never assume it's true for others. What you do and believe is just as 'odd' (and in need of explanation) as what the people you're studying might do. It's a helpful approach when looking at the modern world and the challenges we face – everything from vaccine hesitancy to climate change denial. Generally, rational arguments based on facts don't get you very far. You have to try and get into peoples' heads before you can really understand their perspective and priorities.
You visited Chernobyl in 2016. What did you learn while there?
Researchers are looking at the way organisms have responded to the genetic damage caused by radiation from the 1986 disaster – it's affected everything from birds' feather pigmentation to the ways spiders weave their webs. Understanding those mechanisms is crucial. It can also offer potential mitigation strategies – like feeding voles 'superfood' supplements to see if it can help them absorb free radicals and suffer fewer genetic mutations and cancers. If it works on voles, then maybe it could work for the wildlife in the Fukushima zone, or even for people undergoing clinical radiation therapy to reduce side effects. The region is actually very beautiful and is home to lots of wildlife that are avoiding the human pressures outside the exclusion zone. It's quite easy to forget that the soil and dust is deadly – until the Geiger counter goes crazy or your dosimeter starts beeping.
What inspired you to join the Trust?
A family friend died from Covid at the start of the pandemic and his family requested that donations be made to the John Muir Trust in his honour. I'd been following the work of the Trust for some years before that, but this was the prompt I needed not just to honour my friend, Grey, but to do my bit to support the Trust's work financially. Being a member of the Trust is something I'm really proud of – and Grey would definitely have approved.
Why is equitable access to the outdoors so important?
When you are in a bubble surrounded by like-minded people, it's easy to think that there aren't any barriers – you just get up and go. But what if you don't know where to go or what to do when you get there to be safe and responsible? What if you don't own waterproofs, spare shoes and have to rely on patchy public transport networks? And what if, when you do go, there's no-one who looks or talks like you, and you don't feel particularly comfortable or welcome?
It is important that everyone has a stake in feeling like they belong. You care about what you know. So, more people having positive experiences with our wild places will mean more people care about what happens to them. It means we have a more powerful voice to demand protection and restoration of our landscapes, and policies that support that. The more people who understand the role of wild landscapes in tackling the climate emergency, the better our future looks. And equitable access gives everyone a chance to benefit from the health and wellbeing advantages, the sense of adventure, the opportunity for personal challenge or healing.
One of the things that's most striking about the Trust's approach is that people – local communities and visitors – are centred in the solutions and the vision for a better future.
How can diversity and inclusion in the outdoors be improved?
It's about building partnerships over the long-term so that under-represented communities can actually develop their own leadership, skills and knowledge to make the outdoors part of the fabric of their lives. One-off projects or adventure weeks at the end of the school term might give a child a taste for the outdoors, but what do they do with that when they get back? Short-term projects won't necessarily transform lives, but long-term investment and support will.
We also need to work way harder at breaking down the practical barriers – cost of kit, accessible transport and information resources that are welcoming and clear. Every one of us who already loves the outdoors can do our bit too: by supporting grassroots groups who are encouraging wider access; by inviting someone to join you next time you head out; and by being friendly to everyone you meet on the trail.
We also shouldn't position 'the outdoors' as something that is remote from everyday life, just for holidays or special events. We need to help people connect with the outdoors on their doorsteps – whether that's community gardens, investing in better park maintenance or urban birding.
What's next on the horizon?
I'm currently pregnant with my second child so that's one project for the next few months!
We've just launched a new podcast for the BMC called 'Finding Our Way', where I interview diverse walkers, climbers and mountaineers about their adventures. There's also lots of food for thought on improving inclusion in the outdoors. You can find it on all the usual podcast platforms.
I'm also working on my next book, which is a brief and readable history of humans – from our evolutionary ancestors through the big cultural changes, such as agriculture, to the impact of modern western life on our Homo sapiens bodies. Plus, I hope to keep working with the CBI (Confederation of British Industry), hosting their conferences for business leaders on achieving net zero, decarbonisation strategies and embedding the green revolution into all levels of society.
This is a full version of an interview that ran in the autumn 2021 issue of the John Muir Trust's Members' magazine - the Journal. Find out more about Mary-Ann's work.