Published:

5 Feb 2023
Wild Moment: Dennis Smith
"At the end of one day's work, my wellies were so sodden I had to lie on my back and get someone else to pull them off." A long-standing Member of the Trust shares (mostly) happy recollections of our early work parties from 1989 onwards.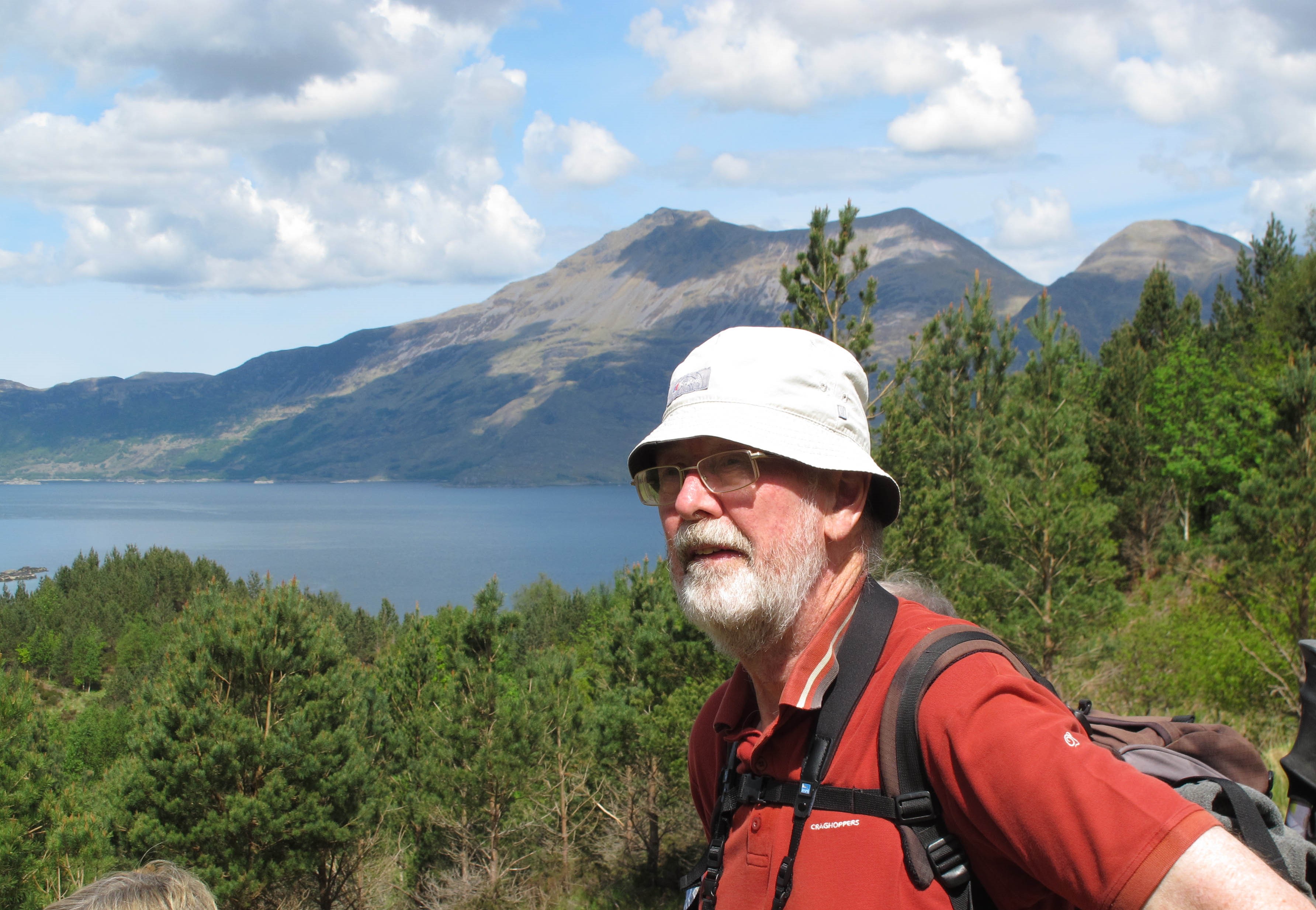 Having joined the John Muir Trust not long after it was founded, I spent some years waiting on tenterhooks before the news finally broke that we had acquired Li and Coire Dhorrcail - so I was keen to join one of the first work parties there, in August 1989.
We were fortunate to avoid the long walk in by getting a lift from Kinloch Hourn to Barrisdale on the estate boat, on a brilliant sunny day. Since I had already climbed the Knoydart peaks I could anticipate the delights ahead, but for some newcomers the sail was truly eye-opening and uplifting - an idyll only broken when an RAF Hercules transport came lumbering up the loch and roared low overhead.
Having taken up quarters in the White House, we walked up to Coire Dhorrcail to inspect the task that lay ahead. Some of us were so inspired by the glorious evening that we carried on up to the summit of Stob a'Chearcaill and one couple - realising that this might be their best ever opportunity to experience Ladhar Bheinn - carried on along the ridge. Hours later we sat in the White House watching their head-torches bob and glow as they retraced their steps. The work that followed was hard, but satisfying.
A subsequent return to the White House was equally memorable, if less enjoyable. I opted to carry a tent for my partner and myself, up and down the interminable ascents and descents of the path. We then pitched camp in the garden, which turned out to be a wise move. The White House had not yet been renovated and leaked like a sieve when it rained. And it did rain. On balance we felt drier in our tent outside.
Another memorable work party in the same area went to Camusrory, again by boat, as part of the John Muir Trust's programme of assisting with conservation on neighbouring estates. We camped on the beach outside the lodge and worked on the path from Carnoch up the Mam Meadail pass (now a major highway on the Cape Wrath trail). At the end of one day's work my wellies were so sodden I had to lie on my back and get someone else to pull them off. But the upside was that we were all invited into the lodge to chat about the owner's plans for deer management and to share his malt whisky.
Other work parties followed, including a week of camping on the beach at Torrin and another at Sandwood. But early memories stick. I was fortunate, thanks to the Trust, to revisit Li and Coire Dhorrcail in 2013 and walk through the regenerating woodland (on another lovely summer day - pictured above and below). Those early work parties were great fun – and I hope they may have done a bit of good in our damaged world.