Published:

1 Sep 2018
Bioblitz in the Borders
As part of a 10-day Bioblitz in July 2018, naturalist Chris Packham visited 50 sites around the country to gather comprehensive data sets designed to indicate the state of wildness and nature in the UK today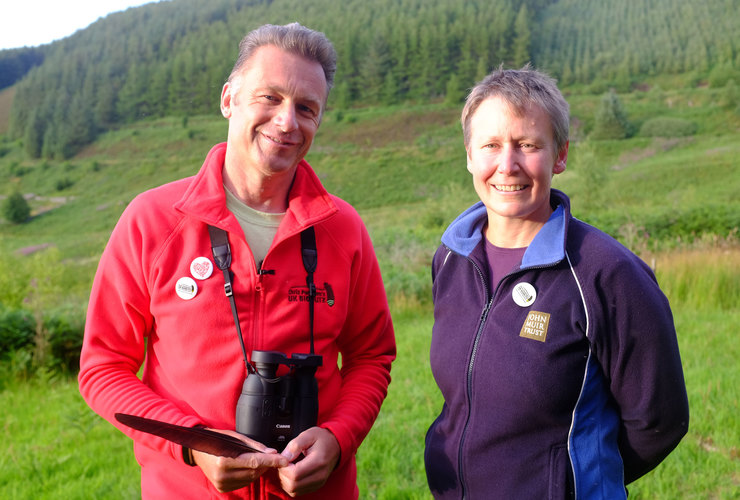 Kevin Lelland was delighted to join staff, independent experts and volunteers when the project stopped at the Trust's Glenlude property in the Borders.
MONDAY 16 JULY 2018
8pm
It's official. Chris Packham's Bioblitz 2018 is underway. A group of us gather near Glenlude's polytunnel for a photograph. As we assemble, there's a flash of blue, black and white, accompanied by a loud 'rat a tat', as at least two birds disappear into a clump of conifers.
"They make a racket," says Karen Purvis, the Trust's Glenlude Land Manager, confirming that we've just seen the latest family of jays to occupy this woodland setting. Karen, with the support of colleague Dr Liz Auty, has lined up an impressive array of naturalists to join us across the next 24 hours.
It's a testament to the fact that, under Karen's direction, Glenlude, has gradually built a reputation as an inspirational place for people as well as nature. This has been achieved both through the sensitive introduction of native tree species at the property, plus Karen's openness in welcoming people from all backgrounds to become part of the journey.
8.30pm
Liz is about to become rather busy. The 30 or so amateur and expert naturalists taking part will bring their findings for her to verify and then enter into a master list. In 2011, Liz conducted the first plant and habitat survey at Glenlude.
"We're part of a UK-wide bioblitz, but we're also excited to gauge whether Glenlude is any wilder than when we first took it on in 2010," she explains. "That was Sheila Bell's – the woman who gifted us the property – vision and it would be good to see we're doing that."
9pm
I've joined local volunteer Richard Thompson. As daylight starts to fade, he talks bats. Richard tells us we're most likely to come across pipistrelles tonight, either common or soprano, but perhaps we'll also get a noctral (recently recorded in the Tweed Valley), or a daubenton hunting across the Glenlude ponds, which "sound like fingers tapping on a match box".
10.15pm
It's dusk. We've made our way to the northern end of the property where it meets the road to Innerleithen. It's all quiet on the bat front. We take it in turns with the heterodyne receiver, keeping our eyes to the sky looking for movement, adjusting the frequency ring trying to capture an echolocation call. Finally, the frequency is dialled-in – a common pipistrelle. Now they start to take flight.
11.30pm
Bat activity has been high, but species count low – just one. We're not disheartened. We return via the road to the main entrance at Glenlude and are met by the eerie glow of a UV light. It's a moth trap – with plenty of lepidoptera attracted by its fuzzy brightness. We have one last flurry of bat-detecting activity in the neon haze above our heads, but the species count remains at just one.
Midnight
I fall into my tent, set my alarm and am asleep almost instantly. I'm pitched near the stone wall sheep fank that was recently rebuilt by Trust volunteers. It's dark and the night is remarkably still.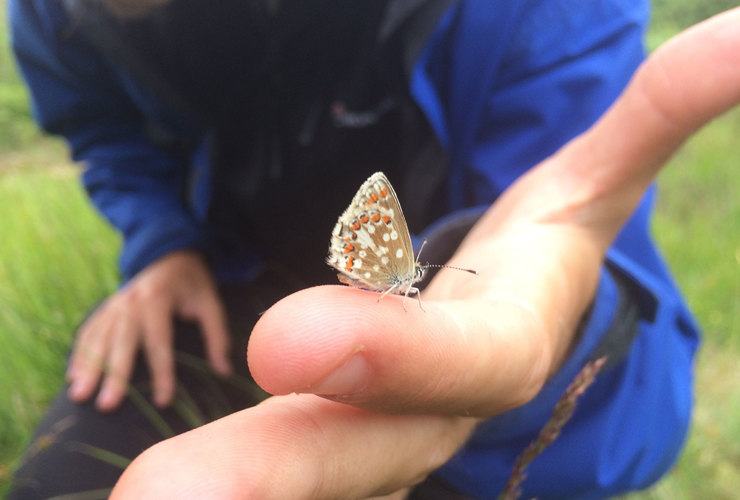 TUESDAY 17 JULY 2018
8am
Teyl de Bordes has gathered last night's moths into pots. A farm manager from Selkirk, he has been mothing for seven years. He started recording with the aim of doing grant applications but got the bug, so to speak. With 33 species so far and a few more to identify he tells me.
"Nothing hugely rare," he says. "For a site like this, it's an appropriate mix." He starts to show me some of the finds: silver wire, treble-bar, and foxglove pug, which only lives on foxgloves found in woodland clearings.
"The Victorians used to find caterpillars and raise them," adds Teyl. "They would identify species in a way that we rarely do now. It's a skill that is being lost."
11am
Andrea Hudspeth, Scotland Officer for the British Dragonfly Society, shows a group how to ID dragonflies and damselflies at the Glenlude ponds. Despite the overcast conditions, they've found five species of damselflies in the vegetation, including large red damselfly and emerald. It's only been adults so far, but they might move onto some dipping in a while.
"Dragonflies are declining in general, although some species are doing better than others," she explains. "We've got quite a few species coming up over the border. A few years ago, the azure damselflies we've seen quite a few of today wouldn't have been found in Scotland, but now they are colonising."
Recording is increasingly important, she adds: "Scotland has so much upland habitat, places can be difficult to get to. We have black holes where we don't know what's there, and that could mean there's many more species of dragonfly in Scotland that we haven't picked up on."
2pm
Karen Purvis keeps the coffee and cake coming. She is pleased to see like minds working together. Three ornithologists, who have just met for the first time, head out together.
"I could see them getting along straight away, talking their own language," she says. "They're all smiling, happy and away to explore together."
2.30pm
Sarah Eno, a recorder for the Botanical Society of the British Isles in Selkirkshire and Roxburghshire, is nearby, her head in a plant identification book. Having shared her knowledge in the morning with a Trust member and regular volunteer, they are now making certain that tawny sedge and meadow oak grass – two species previously unknown at Glenlude – can be added to the growing list of species on the property.
3.30pm
Back out on the hill, I look for the two lichen experts that have joined us from the Royal Botanic Garden Edinburgh. Dr Chris Ellis and Verity Brosnan are just about to pack up for the day when I reach them amongst a stand of rowan and aspen.
"The lichens have been pretty good today," says Chris. "We've got a good list, and right at the end of the day Verity found this ranolina fraxidia." Chris points to a long, pendulous lichen hanging somewhat like an octopus from a branch.
"It's very pollution sensitive," he explains. "When we had lots of sulphur dioxide pollution and acid rain it became extremely rare, so it's really nice to see quite a big population of it in these trees." Both are delighted with their day and are confident of reaching 50 species in total.
6.50pm
Chris Packham arrives, and flatters the John Muir Trust, saying we're "one of the more forward looking eNGOs". We head over to the Phoenix Forest, planted over the past six years by participants on the Recovery Through Nature programme run by the drug and alcohol charity, Phoenix Futures Scotland. There are filmed interviews with John Hall from Phoenix Futures, as well as Karen and Andrew Bachell, Trust Chief Executive. The discussions range from health and well-being to community-based rewilding and the need for a more joined-up approach to landscape-scale restoration.
8pm
Time's up. The surveying ends. Chris Packham addresses all those gathered and thanks us for our efforts. One goal of the Bioblitz is to investigate the extent to which wildlife species are under threat.
"It is time conservationists came together, unified to think about the bigger picture," he says. "We're not going to agree on everything, but if we agree on 60 or 70 per cent that's enough. There are things we can do today that will have an impact tomorrow."
Throughout the event, Karen has told people "everything's a bonus" and that we can all spot something new. I'd hazard a guess that everyone, expert or not, has also learnt something new over the past 24 hours. I've certainly left thinking that I'd like to know more about moths, and bats, and lichen and…
Overall, the Bioblitz at Glenlude uncovered more than 400 species, including several that we didn't know existed at the property. It seems this little part of the Borders is wilder than we thought… and is on an upward trajectory.
About the author: Kevin Lelland is the Trust's Head of Development and Communications
Glenlude
Learn more about our work to rewild this former conifer plantation in the Scottish Borders
Learn more