Published:

6 May 2021
Journey for Wildness: Laura Lyall
Congratulations to Laura Lyall for completing her Journey for Wildness during lockdown with a new baby - raising £300 towards our work in wild places.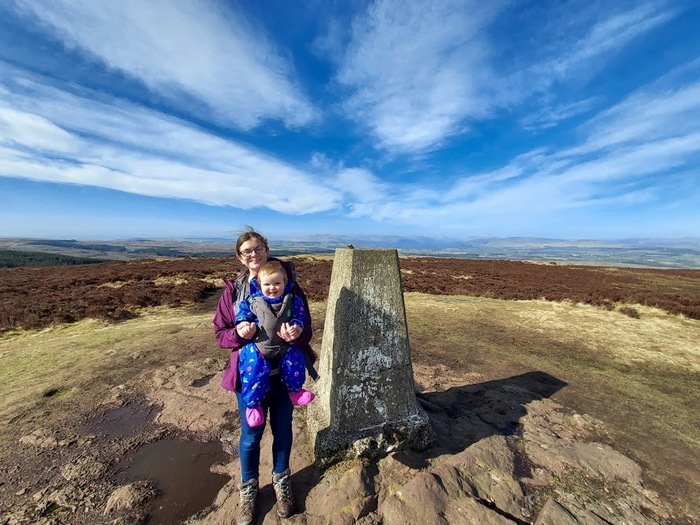 When Laura Lyall's maternity leave coincided with Covid-19 lockdown restrictions, she reined in the far-flung adventures she had planned around Scotland with new baby Emma, and changed focus to her local hills, the Kilpatricks.
The Kilpatricks run from Dunbarton in the west to Strathblane in the east. Between last December and this March, Laura ran all 23 Kilpatrick's above 300 metres - five with baby Emma in tow - raising £300 for our work in wild places, through Journey for Wildness.
She completed her Journey by running a single circuit of 29km connecting the five hills with trig points starting with the Doughnut and ending with Jesus' Thimble, before running home.
"I saw the big run as a personal challenge to show myself I'd regained my fitness after having a baby, and to remind me of the joy of running in wild places even in the midst of harsh restrictions," says Laura.
"Running in the hills and exploring new wild places are a huge part of what makes me happy, and what makes me feel like 'me'. I'm hopeful that these experiences will instil in Emma a similar love of outdoor adventures – she has taken to being lugged up hills incredibly well and has seemed to enjoy being out in the fresh air."
"It's great that more and more people have been enjoying the outdoors during lockdown, but it's sad to see that this has often led to huge increases in litter and damage to landscapes. Having Emma has made me realise just how important it is that we work to protect our wild places, so that they can still be enjoyed by future generations."
A huge thank you to Laura for raising £300 for our Journey for Wildness appeal.
Inspired? Why not plan your own Journey for Wildness?