28 Oct 2021
Field Notes: Casualties and colours of change
Quinag Conservation Officer Romany Garnett reflects on the signs of a changing season - and a changing climate - in the north west of Scotland.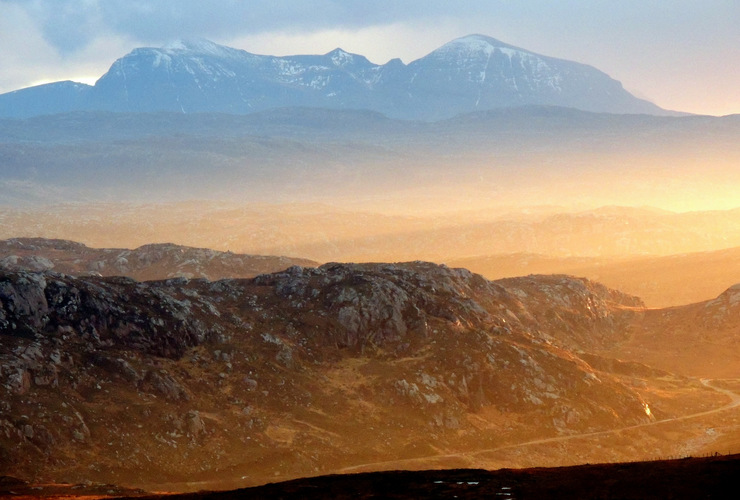 Summer seemed to disappear in a frenzy of activity. It has been an especially busy season with getting the new deer larder operational, launching the Junior Ranger programme and the usual monitoring, guided walks, visitor management and volunteer days that are becoming increasingly popular.
Autumn is a welcome change where I am able to pause briefly. Campervans are starting to thin out on the roads and the beaches have become quiet (except from the noise of waves) wild, empty places again. The recent storms bring huge walls of waves that crash spectacularly.
I take time to explore a little and fully appreciate the spectrum of colours that change from green to honey and amber. The rich russet and gold of the bracken just now is exquisite.
Stags have been roaring across the hillside and are still going despite the damp wet weather. The sound is a mixture of a growl and a moan and these become closer in the depths of night when the stags move down from the hill. Migrant birds arrive slowly from Scandinavia to strip the blood red berries from the newly leafless rowans. They are late this year. A sprinkling of snow on the tops is a reminder that winter is not far away.
Recently a golden eagle was struck by a car near Quinag car park. It was feeding on a carcass, another road accident. These casualties are a reminder of the vulnerability of wildlife here, and perhaps a caution to drivers to take care, especially when driving at night.
During a recent meal with a neighbour we discussed the plight of the guillemots. Apparently, they are starving and are being washed up dead. This is due to climate change, and the unusually long dry summer that prevented their normal food source from being available. You can find out more about this problem here.
The guillemot story is just another sign of widespread damage that is already happening due to climate change. With the upcoming COP26 the potential for change has never been more tangible. We should all consider how we can help try and reduce net emissions sooner to try to reduce global temperature rise which threatens all life on Earth.
Photo by Don O'Driscoll shows Quinag at sunset.