26 Nov 2021
Field Notes: Keystone copse
Mountain Woodlands Officer Izzy Filor reports on the premiere of 'Keystone' - a film about climbing, land ownership and mountain woodland.
Watch Dave Macleod's Keystone film
A new film by Scottish climber Dave MacLeod, commissioned by the Trust and in which I play a small part, premiered at this month's Kendal Mountain Festival to an enthusiastic response.
Not purely a climbing film, Dave used his attempt to make the first free ascent of Keystone (E8) close to home in Glen Nevis as a reason to do some digging into why our uplands are so barren. His research highlighted historic and ongoing issues in upland land management in Scotland: a lack of mountain woodland and community control exacerbated by concentrated land ownership and overgrazing by herbivores.
In the film we see Dave tackle Keystone (a route in Glen Nevis that's been aid climbed, but never free climbed) a roof on the crags of Meall Cumhann. By focusing on a project so close to home, Dave has the chance to learn more about the ecology and history of land management in a place where he has spent the last 16 years climbing.
At the end of the film, Dave has as many questions as answers to the issues he has explored. Should one person own huge swathes of land in Scotland, even if they are managing it for the benefit of the environment? Should our land be controlled by the interests of wealthy owners rather than the benefit of the majority?
At an audience Q&A after the premier at Kendal Mountain Festival (pictured below), it was brilliant to hear so many engaging questions. These were not about climbing, but about how we empower local communities and how we can change our upland landscapes for the benefit of people and biodiversity, especially when the financial incentives to do so are limited.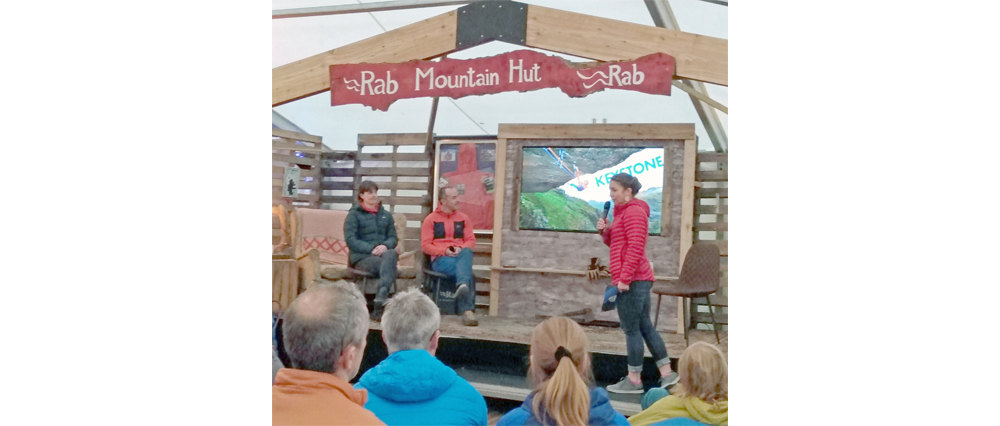 My colleague Graham Watson - an active climber - was in the audience. He had expected Dave to attract a good size crowd, but wondered if people would feel short-changed by the focus on the surrounding habitat and was pleasantly surprised by the response. "The questions and atmosphere in the room would suggest that this audience was genuinely interested in the land aspect, which is a great outcome for the Trust."
I too felt that the film fell on open ears and look forward to sharing it with more audiences at a range of mountain and adventure film festivals in 2022.
Photo of Dave Macleod on Keystone by Dave Cuthbertson and at the Keystone Q&A by Graham Watson.