27 Apr 2022
Field Notes: Trees planted at Thirlmere
Our Glenridding Common Ranger Isaac Johnston reports on a successful community effort to plant 1,500 native trees as part of the Thirlmere Resilience Partnership.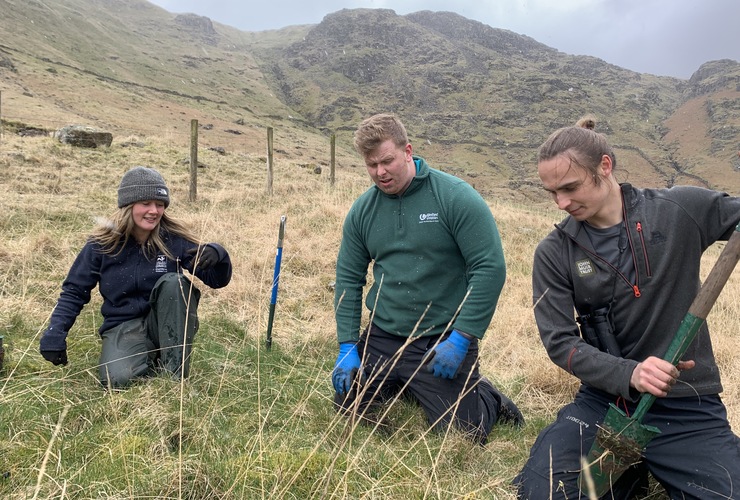 This spring over 1,500 native broadleaf trees were planted in a valley just west of Helvellyn, most of which were protected using recycled tree guards reclaimed from the local area.
The project started in autumn 2020 when we entered a working relationship with United Utilities and Cumbria Wildlife Trust, with a goal to create a more resilient catchment for water quality and improve biodiversity.
After a call for volunteers, over 60 people came out into the Wythburn Valley to plant trees and we are hugely grateful for their help. This kind of work isn't possible without dedicated volunteers, so their efforts are very much appreciated. In many cases, it was the first time our Members had directly interacted with the John Muir Trust, so it was great to make that connection.
As well as Trust Members, local school and college groups, members of the local community and Young Ranger groups all participated in the planting scheme and learnt about the partnership. Trainees and young conservationists from all three partners also got chance to learn about the project, network and take part in the planting. Overall, 37 young people came out into Wythburn and got involved with the scheme.
Conservation is such a powerful tool for connecting people with nature and wild places. Our work around Thirlmere this spring has shown just how important these places are for people and nature. This is just the start of the journey, as more trees will be planted in subsequent years.
The Thirlmere Resilience Partnership is dedicated to nurturing these trees over the coming years to capture carbon, help provide clean water and improve biodiversity in this special place.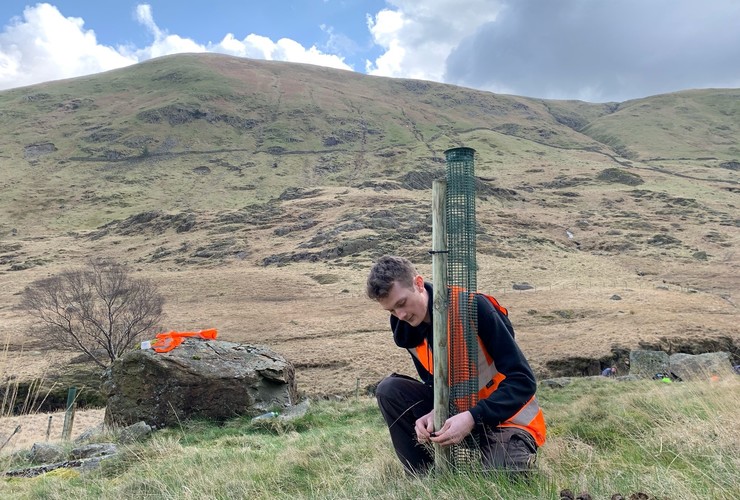 Photographs show Isaac (pictured top right) and some of our amazing partners and volunteers who helped plant 1,500 trees at Thirlmere.