18 Nov 2020
New friends in the Lakes
The Trust is delighted to begin work alongside Cumbria Wildlife Trust and United Utilities at Thirlmere in the Lake District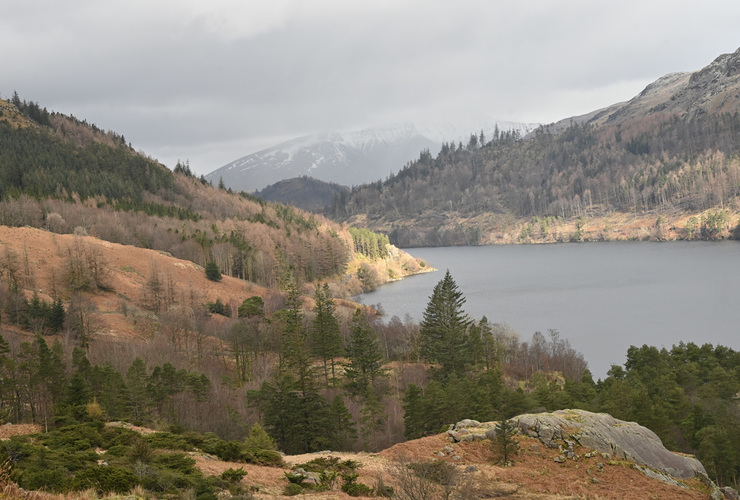 In a move that complements the Trust's existing efforts at Glenridding Common, the Trust has begun a new working relationship with its neighbours at nearby Thirlmere in the Lake District. An agreement has been reached with United Utilities, which manages the land around Thirlmere reservoir, and Cumbria Wildlife Trust to undertake survey work, with a view to long-term peatland and woodland regeneration and the restoration of natural processes.
Circling west from its most southerly point at Dunmail Raise, the area under the new agreement includes Steel Fell, High Raise and Ullscarf. Immediately to the east, it rises to Helvellyn, currently in the care of the Trust as part of the Glenridding Common lease. Overall, the area encompasses open fellside, mixed woodland, forestry, farmed and industrial heritage, with the reservoir providing water to the towns and cities of North West England.

The joint working offers an opportunity to create a healthier landscape mosaic over a wide area, with the collective effort initially concentrated on a core area of about 15 square km. The ambition is to restore peatland and scrubland, establish new broadleaf woodland, improve wildlife habitat and reduce erosion and the potential for flooding.

Initial work to gauge priorities will involve Trust land managers at Glenridding Common working alongside Cumbria Wildlife Trust in a survey of peatland, and potential sites for planting and regeneration. This builds on the Trust's previous work replanting rare alpine species on the upper slopes of Helvellyn, with the help of local volunteers in Glenridding, and Cumbria Wildlife Trust's peatland expertise.

Situated at the southern end of Thirlmere, the village of Wythburn was one of two settlements lost in the creation of the reservoir. Its name derives from the 13th century Wythbottune, meaning 'valley where willow trees grow'. There are formative plans to use the climbing expertise of Alpine Club volunteers to return these native trees to the crags.
The collaborative effort also involves West Head Farm, which grazes a reduced but high-quality stock of Herdwick sheep under the watchful eye of a new shepherd, with whom the organisations are looking forward to working more closely. In this initial phase of the project, the two Trusts will also report on access and visitor infrastructure such as gateways and stiles.
Thirlmere is rich in both conservation and literary history, providing the inspiration for writers such as Wordsworth, Coleridge and Sir Walter Scott, as well as the impetus for the formation of the National Trust. The Cairn at Dunmail Raise is believed to mark the burial place of the last ruler of the medieval Cumbrian kingdom, King Dunmail.

Within the original management plan for Glenridding Common, the Trust expressed an ambition to find opportunities to work with neighbours, extending and improving opportunities for wildlife and nature on a landscape scale, and so we are delighted to be entering this new phase of work in Cumbria.
Photo shows Thirlmere and surrounding area, by David Balharry.