23 Jun 2022
Meet our new regional managers
At the 2022 Annual General Meeting (AGM) for Members, we introduced the Trust's three new Regional Delivery Managers who are leading some exciting work across three regions of the UK.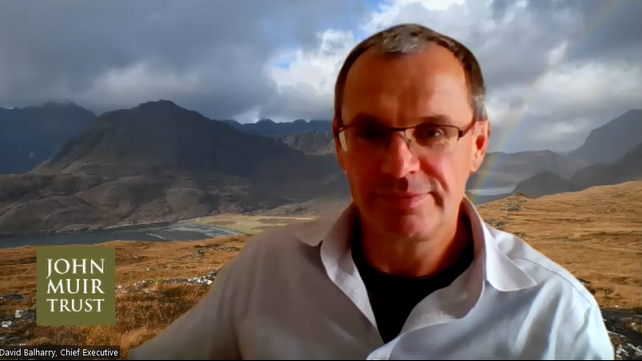 At the John Muir Trust's 39th AGM held online, our Chief Executive David Balharry (pictured above) introduced Trust Members to our new Regional Delivery Managers. Pictured left to right below are: Kevin Cumming (Central Region) and Sophie Edwards (North Region) - who will deliver against our new strategic plan; and Tim Hoogwerf (South Region) is setting up new connections in England and Wales.
Central region
Kevin Cumming oversees our impact in what we're calling the Central region, which includes East Schiehallion, Ben Nevis, Glenlude and Glenridding Common.
Kevin explained that the three regions will work closely together, as well as with the Trust's central support functions. The regions will help manage workloads and ensure that we deliver for wild places on sites managed by the Trust, through partnerships and through effective engagement. That includes the John Muir Award, the Junior Rangers pilot and potential engagement opportunities like managing the John Muir Way.
Kevin touched on a couple of key projects at East Schiehallion – giving an update on the Mountain Woodland Project and work to control grazing pressure; and introducing the Sustainable Schiehallion project that will ensure that increasing visitor pressure will not stop people or communities from having the freedom to enjoy the area.
Kevin also gave an update on our ongoing Glenridding Common lease, explaining that managing the site has helped increase awareness of the Trust in England, and created opportunities for working with partners like United Utilities at Thirlmere beside Helvellyn.
North region
New recruit Sophie Edwards is our Regional Delivery Manager for what we're calling the North region - which includes Skye, Knoydart, Sandwood and Quinag. A Highlander herself, Sophie has a background in hospitality.
She mentioned how she is working to manage grazing pressure by working with crofters to secure livestock on common grazing land, and external stalkers to significantly reduce deer grazing pressure. Woodland in the Highlands currently does not have the freedom to regenerate because of high deer numbers. We are being respectful and transparent in our approach to increasing deer cull numbers. Find out more about that here.
Expanding on this we have been looking at piloting community stalking at Sandwood with a private booking system initially limited to Trust staff and qualified local people with the intention of opening up deer management to the local community and with it access to venison.
Another pressure faced in the Highlands is high visitor numbers. This offers a prime opportunity to work with the local community to shape the interpretation and facilities we provide on the land we manage.
From 36 hectares of peatland restoration at Faolin and planting 40,000 trees at Keppoch, 2021 was a very busy year on Skye. We are currently discussing the future of Strathaird Farm with the local community and wider stakeholders.
Sophie concluded by talking about working with partners like the NorthWest 2045 and how she will be sharing our experiences with Summit 2 Sea in Wales this summer.
South region
Tim Hoogwerf – our Regional Delivery Manager (South) is planning how we are going to create our footprint in his area in line with the strategic plan. He is developing partnerships, engaging through our John Muir Award in England and Wales.
Developing business cases to identify sites, he will provide an update on that work at the Members' Gathering in October. He is also investigating how we can work in partnerships to expand the amount of wild land that we manage – whether they are in wild areas or in cities.
He is also identifying a network of wild places for engagement to diversify and increase the Trust's engagement activities and membership.
- Read more about our 2022 AGM.