28 Jun 2022
A new horizon for Nevis with communities at the fore
We have renewed our commitment to working with the community-run Nevis Landscape Partnership through a signed Memorandum of Understanding agreed last month.
For the last 20 years, the John Muir Trust and the Nevis Landscape Partnership have been working together to protect, restore and welcome people to the Nevis area.
Formerly a partnership organisation comprised of Glen Nevis landowners, relevant charities, and government agencies – the Nevis Landscape Partnership is now a community organisation with directors elected by members.
This new status has given the Nevis Landscape Partnership and the John Muir Trust an opportunity to review and strengthen the way we work together to achieve a common goal - to enhance the environmental and cultural qualities of the Nevis area whilst providing opportunities for all to enjoy and appreciate it.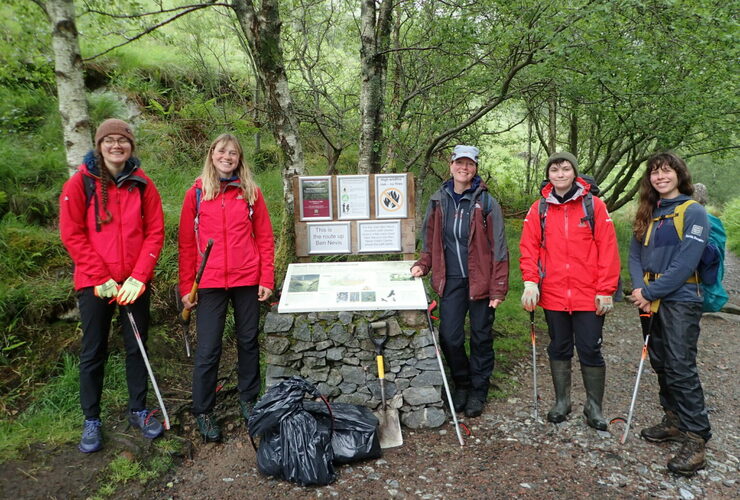 "It has been a pleasure to work with John Muir Trust over the last twenty years, and we have been able to deliver great results for the Nevis Area with our partnership working. Now, as a community company, we look forward to working alongside John Muir Trust on future joint projects as we work towards our 100-year vision," said Mike Pescod, Chair of the Nevis Landscape Partnership.
The new Memorandum of Understanding (MoU) will set out a framework for the two organisations to share resources, advice, responsibilities around visitor management, and collaborate on practical work such as footpath repairs.
"I'm delighted we can look forward with the Nevis Landscape Partnership, to connect with the community leading this organisation, build upon the successful shared projects we have completed over the years and to find collaborative solutions to address common objectives around visitor impacts, climate impacts and threats to biodiversity," said Ali Austin, John Muir Trust Ben Nevis Manager.
The Agreement was signed on 12 May 2022 on Ben Nevis.