27 Oct 2022
Local Members' Group reports on a busy year
Our North East Scotland Local Members' Group has had a particularly busy year with 19 hands-on volunteer conservation events and two evening gatherings. James Brownhill reports.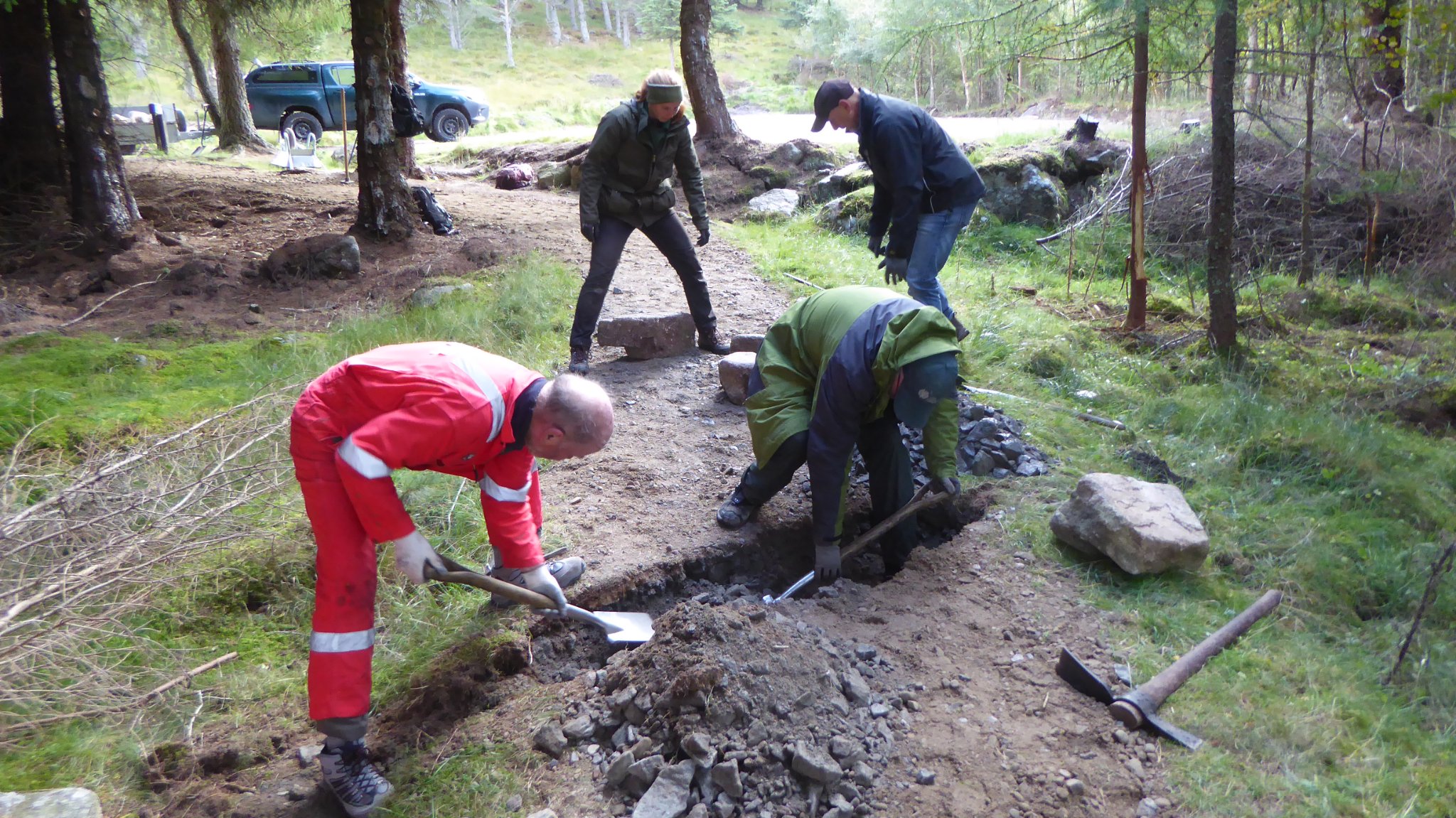 Post-pandemic average turnout for the conservation days increased by over 20 per cent with a 12-month total of over 1,300 hours committed to improving the outdoor environment of Royal Deeside.
The conservation days at Glen Tanar, run every month of the year and are approaching their 13th year. The past winter's severe storms created plenty of opportunity for volunteers to assist in making the network of footpaths safe for all to use, especially for the weekly 'Health Walks'. Windfall debris was put aside in habitat piles and footpath surfaces were repaired. Small sections of new footpath were created to improve access to the refurbished, educational 'Juniper Trail'.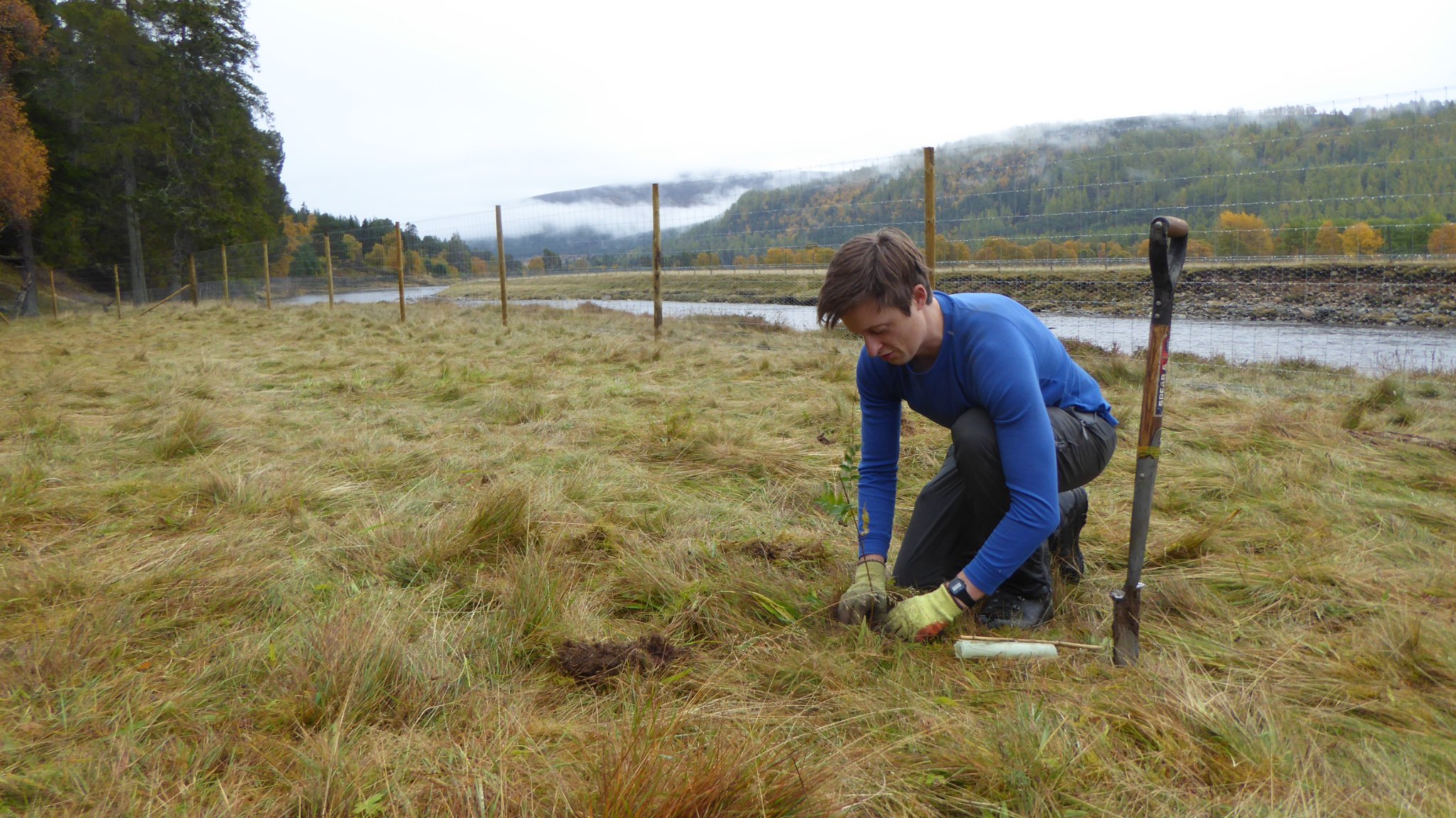 An ongoing work scope is to check over 25 riparian, three-metre square tree enclosures far up the Waters of Tanar, beyond the existing treeline. Some of these were established nearly 30 years ago, still protecting pockets of now beautifully tall, mature specimens of birch, alder rowan and willow. Many new enclosures have been built by volunteers over the years and are regularly maintained and topped up, if necessary, with new saplings.
Work with the Balmoral Rangers was exceptionally popular with volunteers, resulting in the number of conservation days increasing from three to five, all fully subscribed. Under the umbrella of the Cairngorm National Park Capercaillie Project considerable time was taken for habitat improvement - ditch blocking (rewetting) and dead-wood creation by ringbarking non-native spruce trees. Redundant fences were removed, and a storm damage deer fence reinstated. Time was also spent repairing and improving, through the construction of stone waterbars and cross drains, a short section of footpath.
National Trust for Scotland's Mar Lodge events were of two days duration with accommodation provided by the estate. Tree planting was the priority, in early spring at an altitude of around 450 metres in the glens of the Geldie and Dee over 1,000 birch were planted and later in the year, down near the lodge itself, over 500 mixed native species, which required some fence construction work.
A spring gathering was held via Zoom, a presentation by Elspeth Berry about her solo run of the Kungsleden (the Kings Road in Sweden) summarised by her as "eight huts, seven boats and 450km of running". An inspirational example of overcoming unexpected challenges along the way.
By autumn, in-person presentations were back on the agenda and the North East Group was pleased to present to the public the Scotland: The Big Picture (STBP) film Riverwoods - a 55-minute compelling story of the inextricable relationship between fish and forest. A highlight of the evening was the presence of Peter Cairns, Executive Director of STBP who very comprehensively answered a current of questions after the showing.
This is going to be a year of activity tough to surpass, but plans are underway for more conservation days and at least two members gatherings as the North East Scotland Local Members' Group heads into its 14th year of continuous activity.
Read more...