31 Oct 2022
What's the bog deal? Peatland restoration underway in Glen Nevis
In late October 2022, we worked with a fantastic team of volunteers to 're-wet' an area of degraded bog in Glen Nevis - enabling it to capture and store carbon from the atmosphere once again. The project was only made possible with the generous support of Trust supporters.
Why 're-wet' a bog?
Peat bogs make up just 3% of the earth's surface, but store twice as much carbon as all the world's forests combined.
This is because peatland plants do not fully decompose when they die due to the wet conditions, so do not release carbon dioxide into the atmosphere as plants in dry conditions would.
However, despite their powerful potential to mitigate the effects of the climate crisis, an estimated 80% of the UK's peatlands are in poor condition due to draining, burning, or consistent trampling by deer and sheep.
This causes the rich carbon soil to lose its moisture and dry up, which actually releases carbon into the atmosphere.
So instead of being a carbon sink, UK peatlands are currently thought to be a net source of greenhouse gas emissions.
The Glen Nevis bog
The John Muir Trust partnered with ACT Heritage and a team of volunteers to carry out vital restoration work on a degraded peatland site east of Steall Falls in October 2022.
To support the habitat to retain water, a series of wooden and stone dams were installed in strategic locations to help slow the flow of water out of the bog. Logs made of coconut husks (known as 'coire logs') were also used to create a series of blockers to back up the water flow.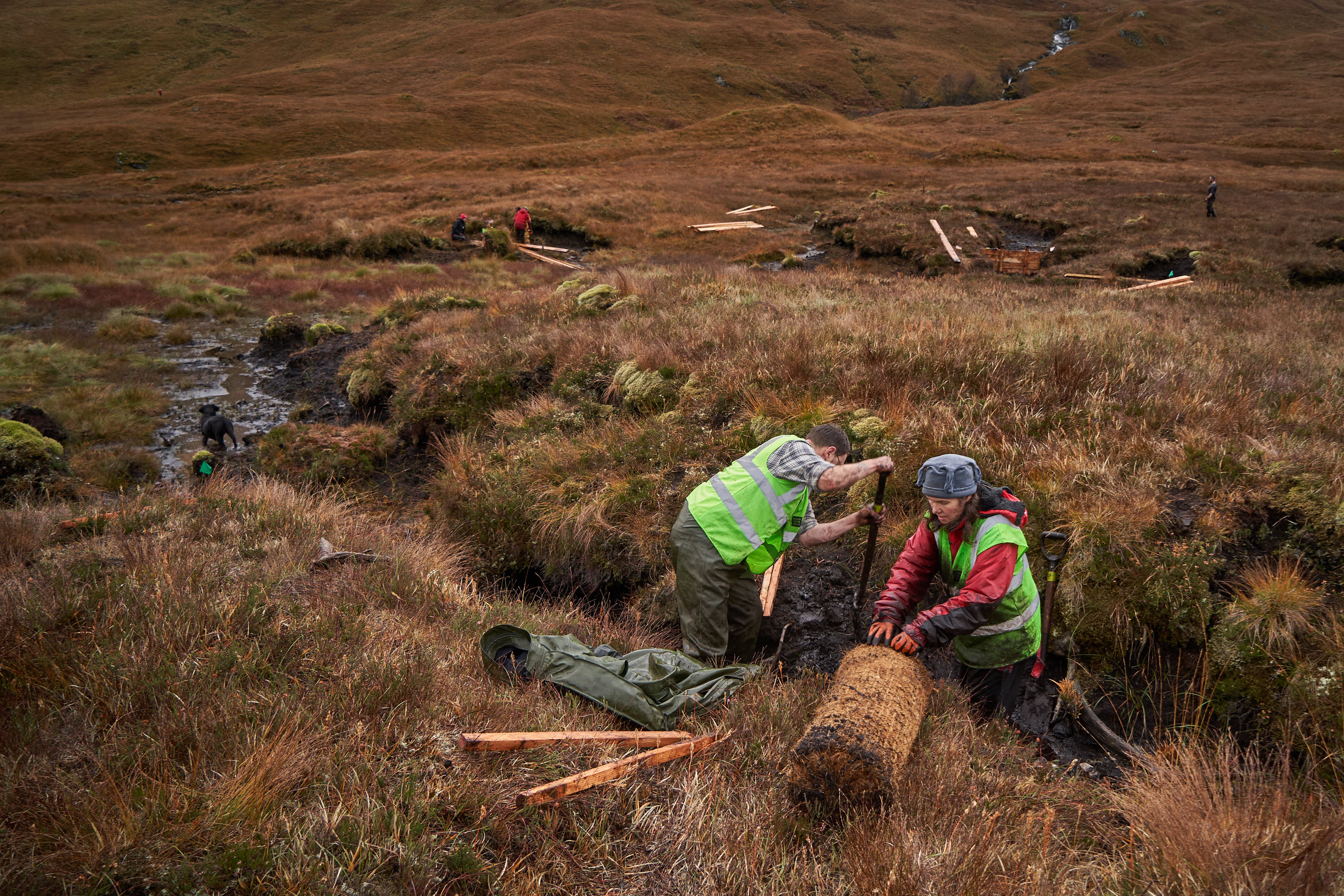 "We're delighted to have kick started this project, with the support of our members and volunteers, to protect and restore a globally important habitat in Glen Nevis," said Ali Austin, the Trust's Ben Nevis manager. "We see it as a way to 'think global but act local', giving nature the freedom to repair itself and help in the fight against climate change."
Amongst the team on the ground was 15 year-old Archie Ferguson, who took part in the John Muir Trust's Junior Rangers programme last year. This programme works closely with Lochaber High School to offer young people an opportunity to build land management and visitor engagement experience.
You cannae beat a bit of peat!
"I came out today for the experience to learn about doing this type of work which I'd like to do," said Archie, "and I wanted to learn a bit about carbon and how to do the restoration. You cannae beat a bit of peat!"
Donald Mackenzie, ACT Conservation Works Supervisor, said "this is the most remote site we have carried out peatland restoration work and it's been really interesting. It was great to see the dams starting to work with water filling up behind almost immediately as we built them and it would be nice to think migrating birds might use these pools in the future."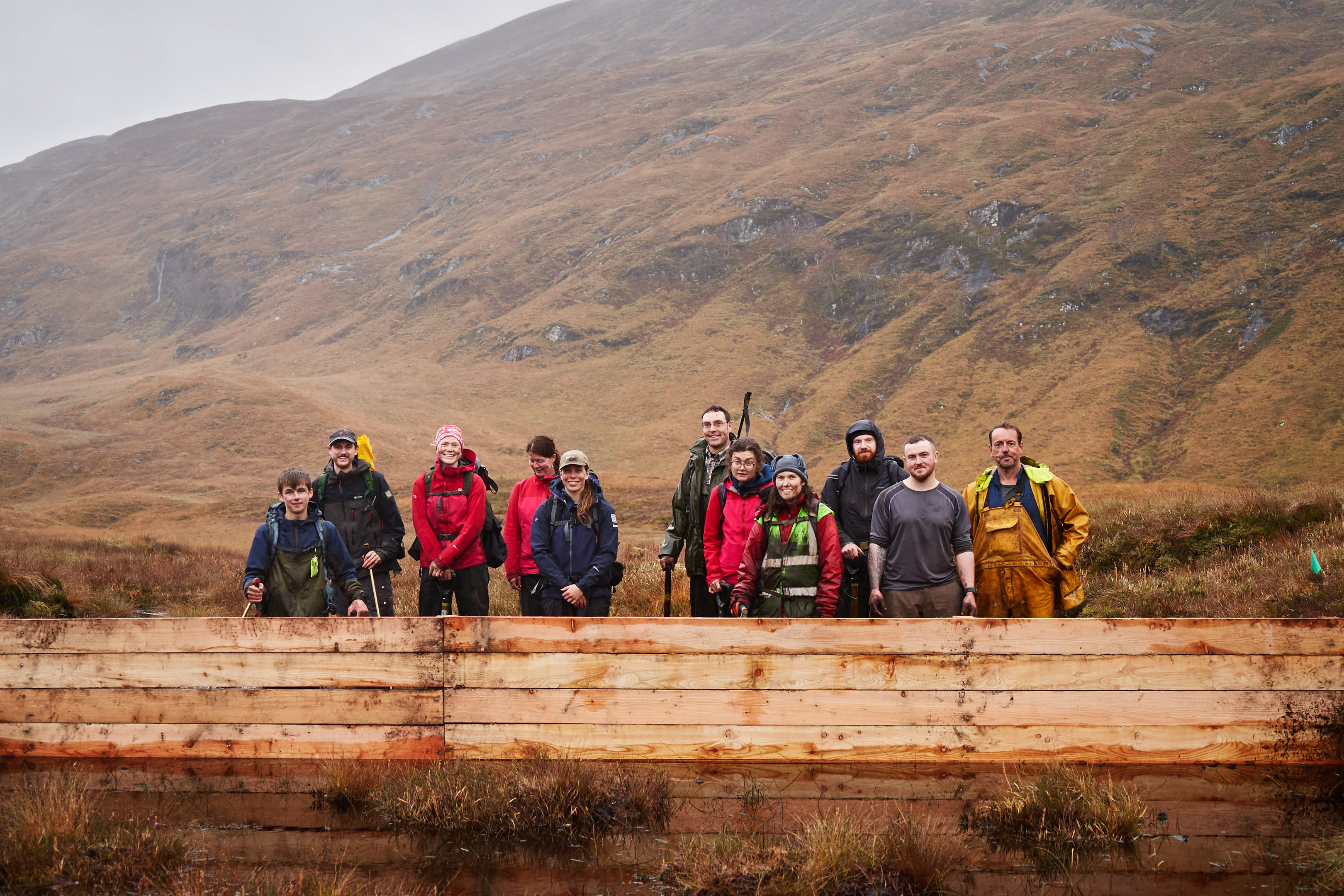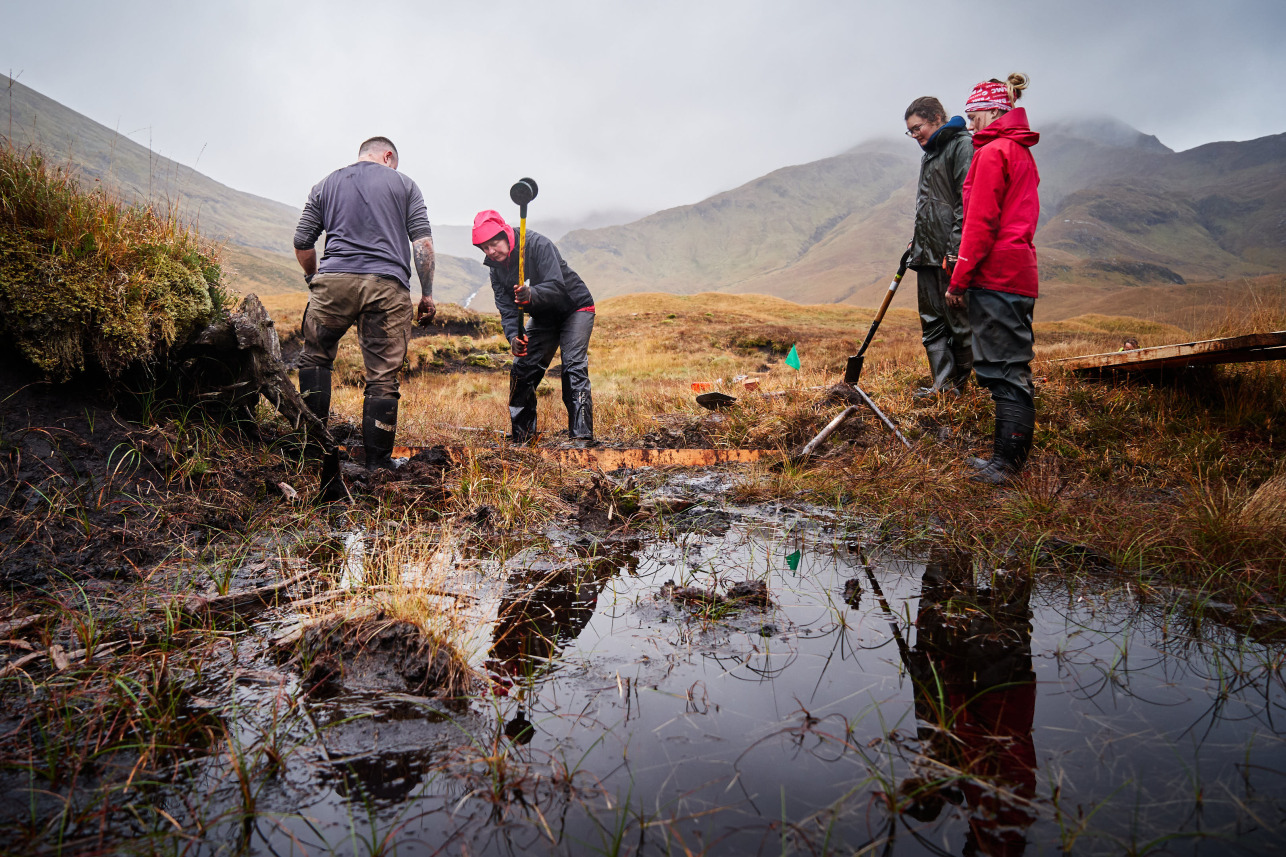 Help us restore more vital peatland
This project was funded entirely by donations. Yours could help us restore more peatland sites