26 Apr 2023
Interview: Libby Penman
Wildlife filmmaker Libby Penman answers questions about her work fronting a new Trust documentary exploring deer management in Scotland.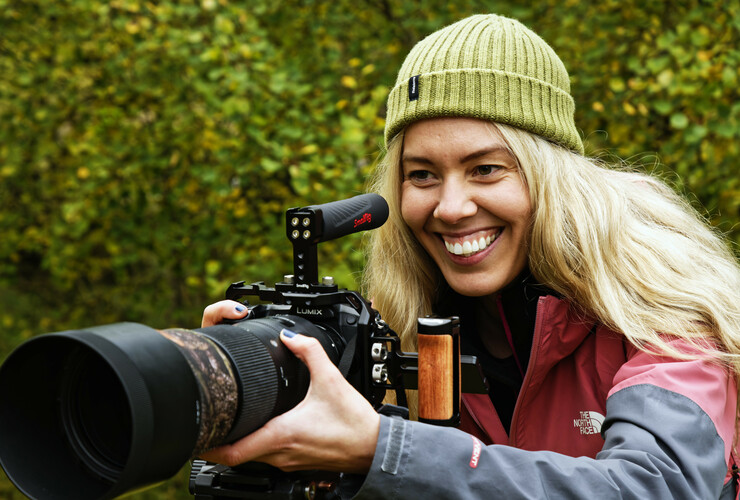 What interested you
about this project?
When I was first approached about the film, I thought, okay, filming deer – amazing, one of the most stunning animals in the country. And then as we unpacked the subject matter of the film, I began reading around it. Without that, I would easily have been one of those people outraged and upset by mass deer cull headlines but that's simply because I wasn't aware of the wider issues. It felt important to be part of a project that sought to raise awareness about the issue – for people exactly like me.

So, deer management was
new territory for you?
Despite doing my master's degree in wildlife documentary filmmaking and spending a lot of time around wildlife in Scotland, I didn't know anything about the deer population challenge. I'd spent a year studying how to film deer – learning about their biology, their behaviour – but
didn't know about the ecological damage they cause.

Any ethical challenges for you
to navigate on this journey?
Definitely. I've been vegan for at least five years and vegetarian almost my whole life. But truthfully, once I looked at the research, I started to realise there was a welfare issue here for the deer themselves, with a knock-on effect for other species. I hope one day we're at a point where we have a more balanced ecosystem which means this kind of deer management is not required. But for the foreseeable future, there will need to be targets and management.

What was the best part of
making the film?
Meeting a range of different people – land managers, novelists, psychologists, politicians – and ensuring that there are different voices being heard.
How does it help raise
awareness of the wider
challenges facing nature?
We need to talk about the climate crisis. And the majority of people aren't going to educate themselves by reading research papers or books. Film can help pull all that
information together in half an hour of sensory experience. There's a timing and reach advantage with
film, too. You could be really passionate about a message, put it together in a video and wake up the next day to have millions of views online.
What's next for
you as a filmmaker?
There's lots on the go! I'm about to start work on some shows for BBC Scotland about conservation and all sorts of different animals. I recently finished a piece for BBC Two's Winterwatch all about urban wildlife. My segment was in the same episode as Sir David Attenborough! I'm also working on a project about local wildlife with legendary camera operator Doug Allen that explores inter-generational viewpoints.