8 Jan 2019
Staff blog: Happenings at Glenlude during 2018
Glenlude manager Karen Purvis' annual newsletter reflected on a busy and satisfying year at our smallest property in the Scottish Borders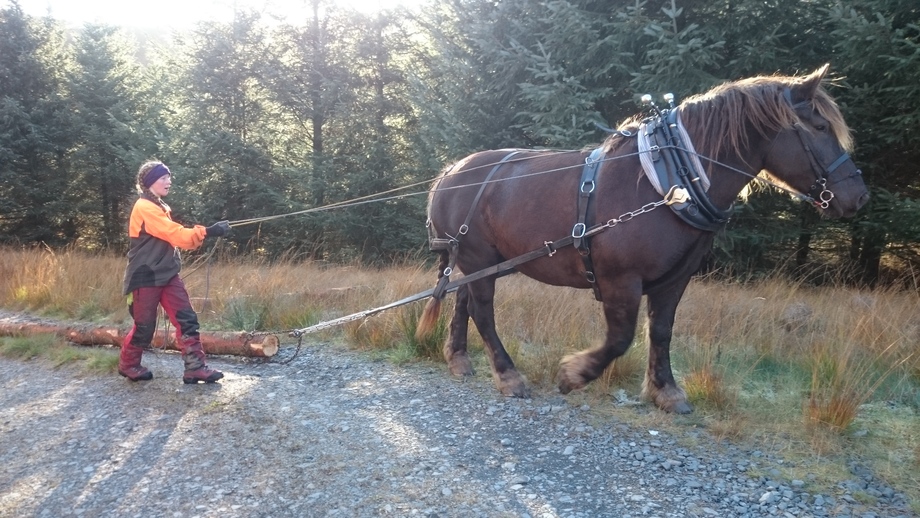 Workparties

Despite several of our weekly Thursday work parties being cancelled due to the bitter cold and heavy drifting snow during early 2018, our stalwart group of regular volunteers achieved a lot at Glenlude last year. We made great progress on a number of projects including thinning the spruce block below the main ride, nursery work, firewood production, tree maintenance and the re-cladding of the gable end of the hut with larch to fix a leak!
A couple of longer three-day (conservation work parties) held in the autumn also proved fruitful. We prepared for timber extraction by horse (pictured above, read more info below), planted shrubs and trees above the ponds and did lots of tree maintenance. This included removing all protection from some of our now very well established trees in that area – another milestone – and constructing another brash hedge at the top of the hill.
Firewood
Thanks to funding from the Forestry Commission's community fund, we held a chainsaw course to train up four of our regular volunteers. This greatly increased our self-sufficiency and enabled us to start harvesting timber ourselves. By felling trees and removing every sixth row (rack) of trees, we kept up supplies of firewood for sale on site (thanks also to No1 Peebles Road Coffee House in Innerleithen for promoting our firewood to the local community) and created fell for brash hedging.
Additional help was provided by Borders College students who received chainsaw training at Glenlude, contributing to our ongoing forestry work.
Surveys and Bioblitz

We continue to work with Saving Scotland's Red Squirrels, despite seeing no evidence of red or greys in our spring survey. However, I did see a red near the road in early November so they are still around.
Our regular flora and fauna surveys showed that we have northern brown argus and small pearl-bordered fritillary butterflies on site – both red UKBAP Priority species. Our breeding bird survey showed up a significant drop in robin, wren and meadow pipit numbers, however blackcap numbers increased and 11 mallard were noted (eight juveniles).
In July Chris Packham visited Glenlude as part of a ten-day UK (Bioblitz) to investigate the extent to which wildlife species are under threat, visiting 50 sites across the UK. Nearly 30 expert and novice surveyors helped record 420 species of fauna, flora, lichen and bryophyte at Glenlude, some of which had not been recorded previously.
Nursery and tree planting
We had good success with alder and elder during 2018 and currently have over 3,500 young trees/shrubs growing on – many of which we hope to plant out autumn/winter 2019/20. Species also include oak, rose, downy birch, rowan and hazel.
The long hot summer made it unbearably hot inside the poly-tunnel, so much time was spent on extra watering duties and daily checks of both inside and outside stock.
We've planted 1,048 trees and shrubs over the past year and carried out a great deal of maintenance on trees planted since 2012 when we first started. This is the first time that the majority of the trees we planted out were grown in our own nursery.
Other tree related tasks include topping up two of our mega-brash hedges to continue to protect the saplings within, restructuring four smaller hedges into two big compartments and extensive work building another brash hedge at the top of the hill.
Phoenix Futures and The Green Team continue to manage Phoenix Forest and Green Team Wildwood respectively. George Watsons College and adventure travel company Great Escapes, both from Edinburgh, have started to establish their own patches of woodland.
Stell rebuild
In September we finally completed rebuilding the old sheep stell - just over a year after starting the project. It took a total of 98 man days (five two-day workshops) to do this.
European students, Trust staff, members, volunteers and public all got stuck in and learned new skills thanks local waller/instructor Neil Moffat. Read writer and photographer David Lintern's Walkhighlands blog about his experience helping with the project.
Horse logging
We have good quality standing timber at Glenlude and want to make the most of this resource using low impact forestry methods. Two logging horses Craobh & Clyde of Homestead Horselogging are based two miles away. In October we welcomed them on site with their handlers Rab Erskine and Caitlin Newton for a ten day trial over the winter months dragging out the timber from our thinning operations. Watch Neil Stewart's film of Homestead Horselogging at Glenlude. Neil Stewart's film of Homestead Horselogging at Glenlude
We've learnt a lot since October and work is progressing well (when the weather lets us) with the timber pile growing steadily. We hope to hold an open day in February 2019, when everyone is welcome come and enjoy new paths through the plantation created by the horses dragging the timber out, meet the team and learn more about this traditional, peaceful forestry method.
Other groups and visits
Many other groups have visited and worked with us throughout the year – schools, colleges, community groups and other charities many whom are working towards their John Muir Awards.
We were pleased to welcome back Galashiels-based employability charity Works+ (formerly Galashiels Works) who have reformed bigger and better after a slight unexpected blip at the beginning of the year.
George Watsons College continued to carry out the deer survey as part of six Sunday work parties working towards achieving their Duke of Edinburgh Awards.
Lancaster University brought an international multi-cultural group for a day to learn about rewilding and the Trusts work.
Phoenix Futures were joined on three different days by: Michelle Ballantyne MSP to learn more about the value of nature-based therapy; photographer David Woodfall taking photographs for his forthcoming book on rewilding; and radio journalist Richard Baynes whose news piece was broadcast on Radio Scotland's Breakfast show.
A huge thanks to everyone who's supported Glenlude during 2018 – it really wouldn't be the same without you, nor would we progress as well as we are.
Karen Purvis
Photo by Karen Purvis shows Caitlin and Craobh from Homestead Horselogging extracting timber at Glenlude.