12 Sep 2023
Field Notes: Ghost gear
In the wake of a beach clean at Camasunary Bay on Skye, our Seasonal Ranger Ben Smith investigates an all-too-real problem that's polluting Britain's coastlines - marine plastic.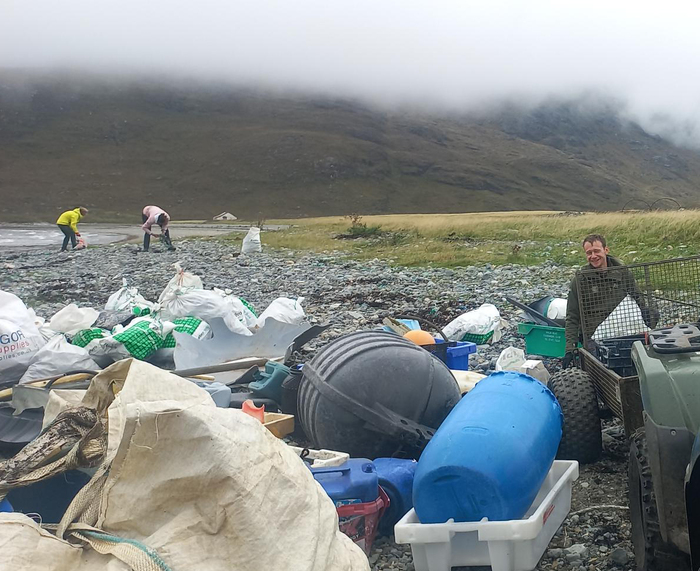 One of the joys of my summer job as Seasonal Ranger on Skye is exploring this dramatic coastline that acts as a natural boundary for the land managed by the Trust on the island. Dishearteningly, it's very apparent that even this remote and wild coastline has not been left untouched by the scourge of marine plastic.
The most common plastic polluter along these beaches is waste from the fishing industry. The problem includes countless tiny strands of polyethylene net intertwined with seaweed, all the way up to immoveable trawler nets that blanket hidden coves. The term used for this lost fishing gear is ghost gear.¹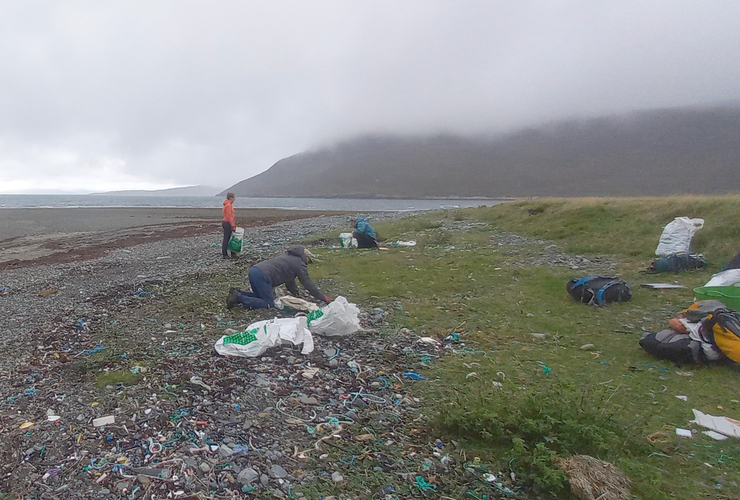 Ghost gear is not only a problem faced on the Isle of Skye but instead represents a collosal international issue. A Greenpeace report on ghost gear concluded that the fishing industry is the largest individual contributor of ocean plastic.² Each year 640,000 tonnes of fishing waste enter our oceans, this is equivalent in weight to 50,000 double-decker buses.²
This casts no blame on local fisherman, ghost gear is mainly a problem caused by illegal, unregulated or unreported fishing.² It does however have an impact on the local fishing community, with fishing stocks impacted by animal entanglement and bioaccumulation of breakdown chemicals from plastic products.³ The fishing industry is in fact a significant contributor to the Global Ghost Gear Initiative, an international organisation focused on reducing the quantity of fishing net that ends up in our oceans.¹
Although the issue is huge, change is happening. In March 2023, the High Seas Treaty was signed by all United Nation members, one of the treaty's aims is to restrict the areas of deep ocean in which fishing can take place.⁴
Organisations such as the Global Ghost Gear Initiative are educating worldwide fishing communities, pressing for change by net manufacturers and campaigning for regulatory change.¹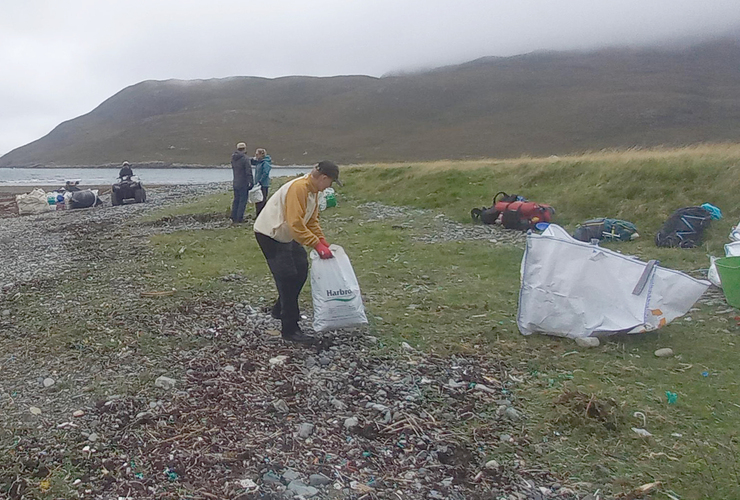 The John Muir Trust team on Skye are doing our bit to help combat the problem. We are working alongside local volunteer groups and organisations to support local beach cleans. Skye Beach Cleans is a fantastic community group who have cleared 12.5 tonnes from Skye beaches in 2023 so far. The John Muir Trust ranger team can also be regularly found combing the coast for plastic waste.
We can also raise awareness of how this international issue is impacting our beautiful local landscape. I am talking to Portree school about the issue and we have invited local youth groups to take part in John Muir Trust-led beach cleans. We are also supporting research being completed on the island by a team from Loughborough University to assess the distribution and source of plastic waste.
Photographs show our Skye team and some fantastic volunteers who helped clean Camasunary beach in early September 2023.
Further reading
¹Global Ghost Gear Initiative (accessed 12 July 2023).
²Thomas K, Dorey K, Obaidullah F. Ghost Gear: The Abandoned Fishing Nets That Are Haunting Our Oceans. Greenpeace 2019 (accessed 11 July 2023).
³Beaumont N, Aanesen M, Austen M, et al. Global ecological, social and economic impacts of marine plastic. Marine Pollution Bulletin 2019; 142 (accessed 11 July 2023).
⁴United Nations. Beyond borders: Why new 'high seas' treaty is critical for the world (accessed 12 July 2023).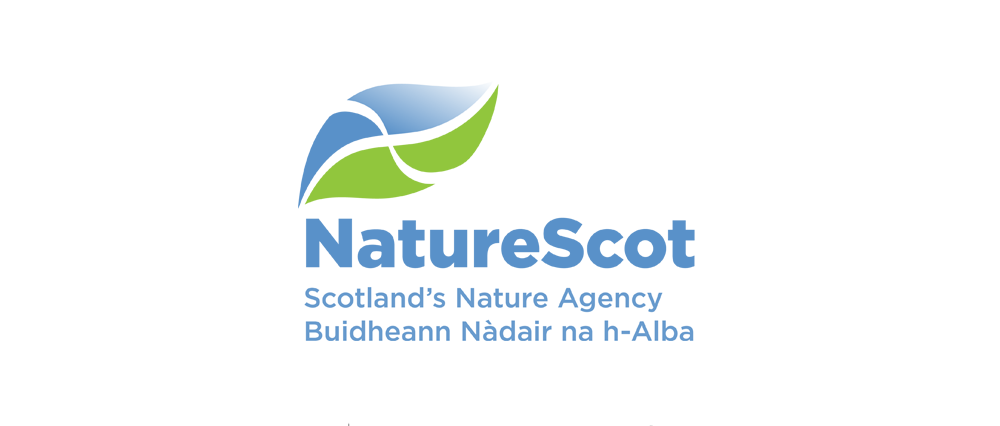 Our Seasonal Ranger role on Skye is supported by NatureScot, through the Better Places Green Recovery Fund.