raised so far
We need to raise £46,000 for the next year of this work. Any additional funds raised will go into our Wild Waters fund to care for coasts, lakes, rivers and wetlands across all our properties.
About this appeal
Sandwood is a land of machair and moorland, dunes and sea cliffs, with the beautiful Sandwood Bay at its heart – a quiet stretch of golden sand, guarded by an impressive sea stack. The wild land we manage on Skye includes the rugged coastline of the Strathaird peninsula. On its western edge lies Loch Coruisk, one of Scotland's most scenic lochs.
Looking after coastal places such as these presents a unique set of challenges. Plastic waste washes up daily on beaches, a threat to seabirds and other marine wildlife. High footfall on popular shoreline paths adds to erosion from wind, waves and rain, while rare habitats such as machair need careful monitoring.
Keeping our beaches clear of plastic pollution
Due to the sheer volume of plastic created and discarded in modern life, compounded by the force of the tides, wind and weather, beaches at Sandwood and Skye continually become littered with plastic bottles, nets, plastic ropes, and other waste. Eventually, larger items break down into microplastics, damaging to marine ecosystems and wildlife.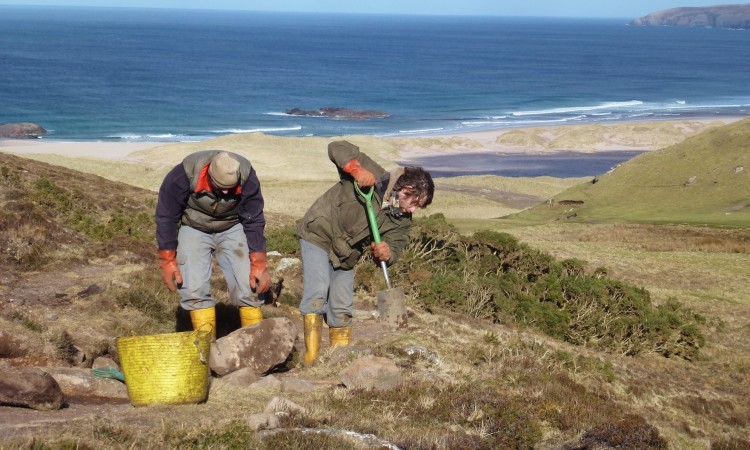 Carrying out repairs to coastal paths
The 4km path from Blairmore car park is the main route for visitors to Sandwood Bay, while on Skye, a path runs for 5km from Elgol at the south of the peninsula along the coast to Camasunary. It's crucial to keep these popular paths in good condition, maintaining access while protecting the fragile plants, animals and soils, including important peatland, from trampling and erosion. Both these well-used paths are now in need of essential repairs.
Protecting fragile habitats for wildlife
On Skye and at Sandwood, we monitor habitats such as blanket bog and machair, and look for signs of grazing impact from sheep and deer. Regular surveys record changes in bird populations. We also undertake an annual deer cull to prevent overgrazing and trampling of coastal habitats, and carry out non-native species control such as monitoring American mink.