29 Oct 2023
Interview: Edward Mwikamba on conservation in Kenya
To celebrate Black History Month, Edward Mwikamba, a Doctoral student at Edinburgh Napier University studying seagrass conservation in Kenya, talks to the Trust about his experience of diversity within the environmental sector.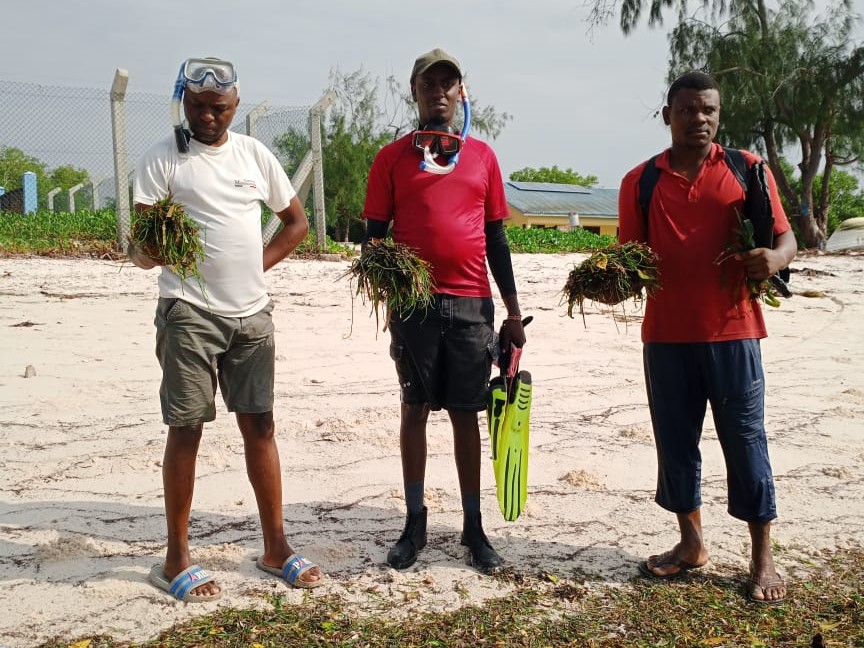 Edward Mwikamba (far left) works with a member of the community and a Masters student to inspect seagrass which has washed ashore a beach in Kenya
What was your relation to nature while growing up?
I grew up in a rural village, where everything is done in a natural setting. From a very young age, my playground was within the nearby forest where childhood games pertained to being part of nature. We picked wild fruits from the forest to snack on while we played and made whistles from mango tree leaves.
From that daily interaction with nature, a passion was ignited to work within that sphere. In particular, I wanted to further my understanding of wildlife ecology, due to my interest in how all the animals and ecosystems intertwined together.
How was your experience accessing education in the environmental sector?
The main issue is matching education and job opportunities. Most young Kenyans are enthusiastic about gaining more knowledge after secondary school and apply for university courses that promise job placements after graduating. Unfortunately, environmental education isn't highly rated in Kenya and so has limited opportunities after graduation thus many people are discouraged from this path.
My undergraduate in biology brought me a greater understanding of how nature works and though I wanted to progress my studies, I was limited with my funding options. Unfortunately, there are many Kenyans with similar experiences and thus their dream to pursue a career in the environmental sector stays just a dream.
How did that difficulty in accessing education affect your ability to access jobs?
Failing to secure funding to advance my education did create a negative perception of higher education. The saying 'education is the key' started to sound like 'education is a barrier to success'.
The tradition has always been that by being more educated, the higher your chances are of getting a decent job, but this is no longer a reality. Despite having a first class honours degree in conservation, it can still be quite challenging to secure a job and start your career. So, the issue is not just about getting an education, but where will you apply your gained knowledge?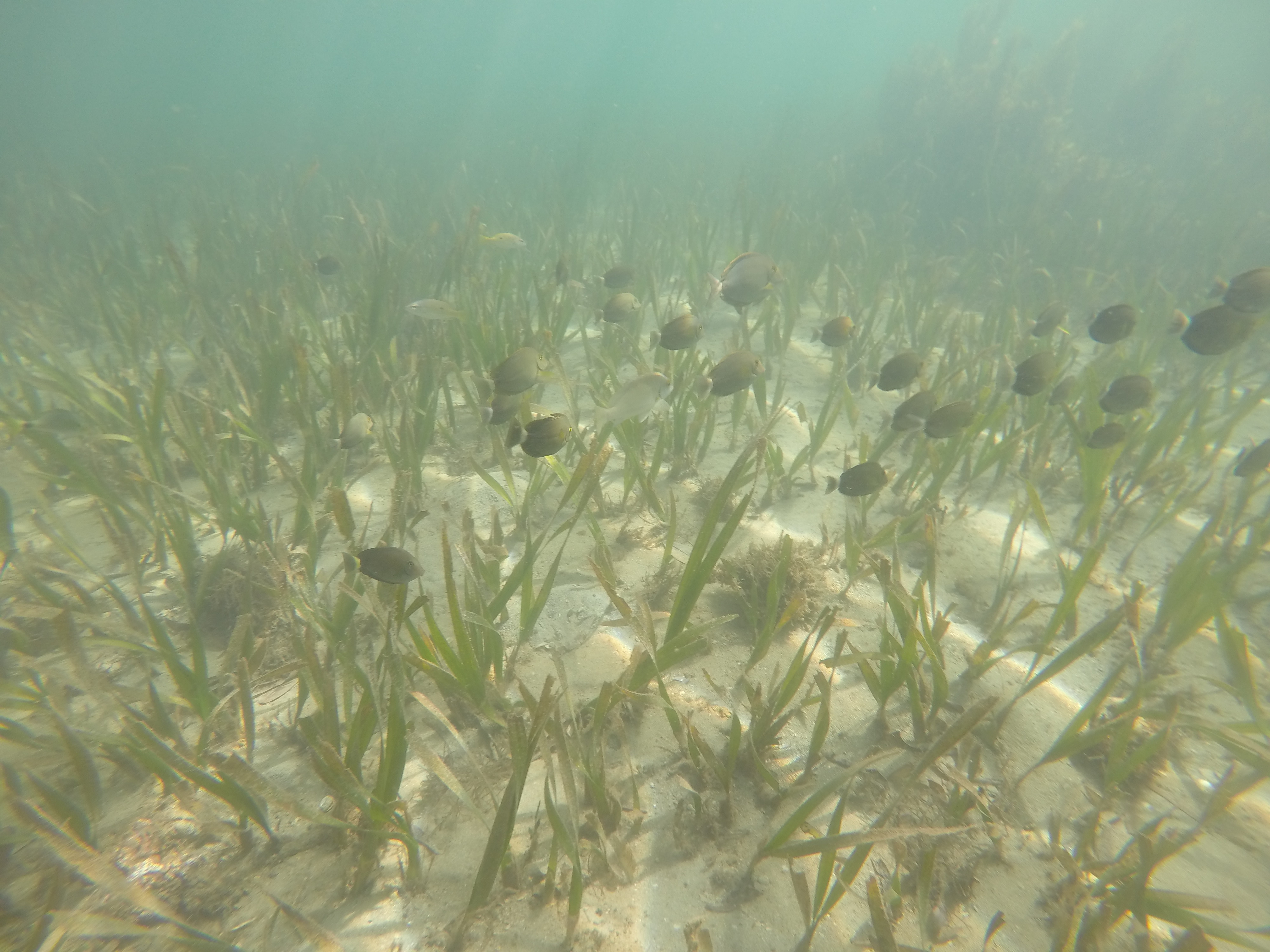 The seagrass habitat supports a number of different fish species, creating a strong relationship between the fishery industry and conservation of the habitat
What do you think causes low opportunities in the environmental sector?
I think the main issue is low funding. From my observation, when deciding on funding environmental projects, donors are mainly looking for the greatest financial returns. Many local people are also not informed on the environmental benefits of their resources and thus have less interest in supporting projects in the subject.
When you look at the opportunities which are available, you realize that there are very few organizations dealing with complex environmental issues. I think this comes from the traditional culture that we used to think that nature is supposed to maintain itself. However, as the world has changed and with the human population increasing, much has to be done to secure the future of nature.
Although there may be funding opportunities available in other countries, stiff competition and restrictive requirements makes this quite challenging to access. Especially if you are not working with or supported by an organization already.
Do you feel there is a discrepancy between different races being able to access different opportunities?
I think so. If you look at most organisations in the environmental sector, there are very few black people in them. When opportunities do arise, foreign applicants are better considered and hired more often compared to applicants with personal local knowledge of the ecosystem, creating the potential for important aspects of the community and the traditional culture to be missed. This disparity means that many young Kenyans become discouraged from persuing a career in the environmental sector and can result in people leaving the sector to find work in other areas. Therefore, it is crucial that the discrepancy of race within organisations is addressed and changes made to rectify this.
What do you think could help increase the racial diversity in the sector?
My opinion is we need more affirmative action - creating opportunities specifically for under-privileged people to help bring black people into the environmental sector, as well as relaxing application requirements to allow more people to be considered for opportunities. Creating these specific opportunities for minority ethnic groups would help to ensure we have a conglomeration of knowledge and skills to work towards the common goal of protecting nature across the world.
What I would propose is a program where people can come to Kenya to learn and work together with the local community and vice versa allowing people of Kenya to travel to other countries; a nature based cultural exchange program. By doing this we would increase understanding on different ecosystems and how we can coexist better. Many Africans, especially in Kenya, have never had the opportunity to leave their local town so to be able to see other countries would help them appreciate what conservation is capable of doing.
What is something you would like to explore further in your career?
I enjoy working with the community in my current project on seagrass and that is something I would like to continue. Learning about the relationship between fisheries and seagrasses has been a really important part of this work because unless you attach tangible value to conserving nature, communities may not be able to see the reason why they should care about it.
I would like to stay working in my current line of work on environmental issues and expand awareness beyond Kenya's borders. I would also like to help governments and other private organizations improve their views and actions in funding environmental courses and projects. We are still growing in our knowledge of the world and I think if there was more support for the environmental sector and if we all worked together across different cultures, we would be able to make a greater difference to the protection of nature.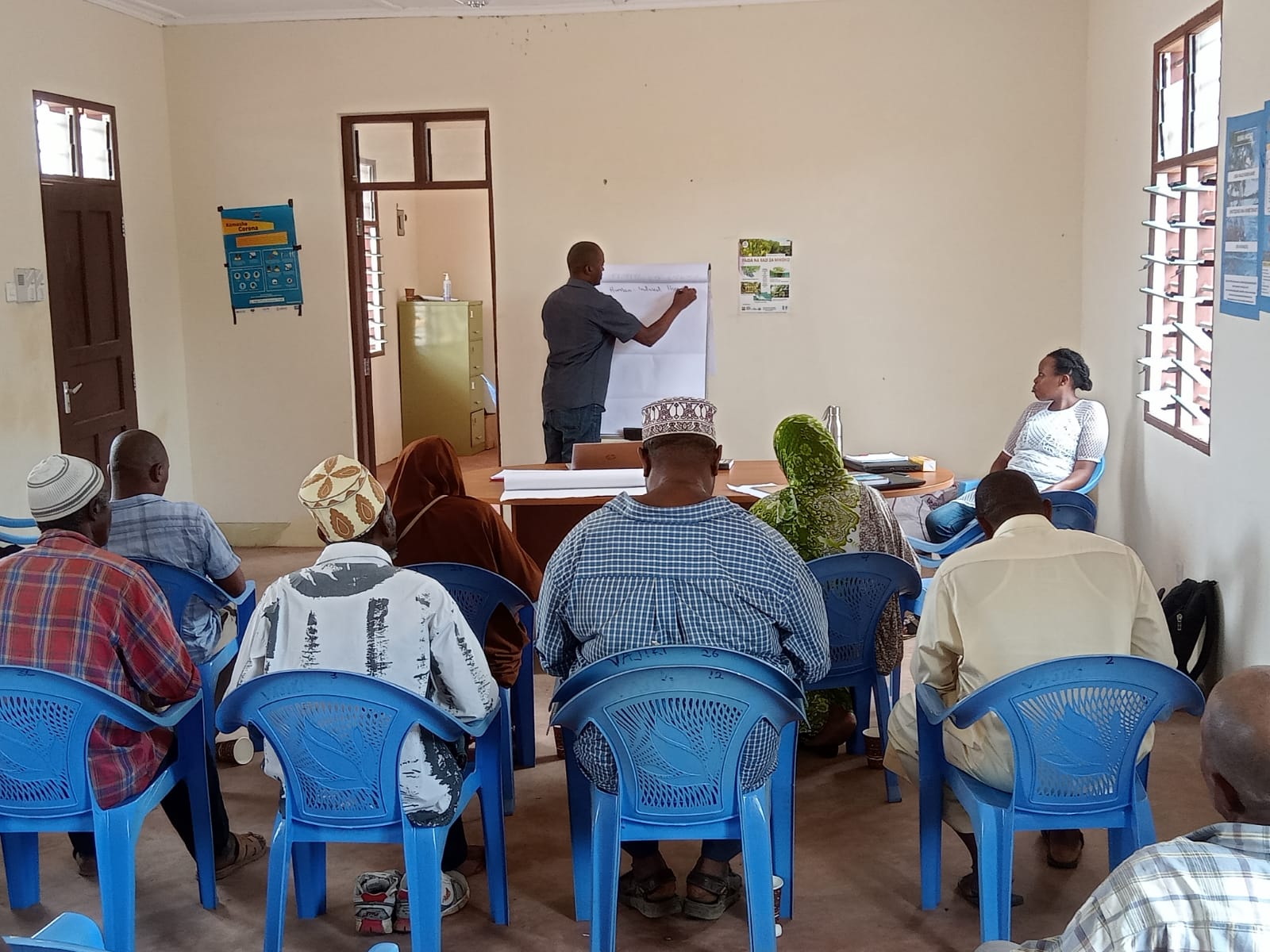 Edward presents to the local community about the importance of seagrass habitat and how they can work together to ensure a harmonious coexistence