12 Feb 2021
Field Notes: The story behind our island
Our community ranger in the Outer Hebrides, Clara Risi, reports on a partnership project that's inspiring the next generation.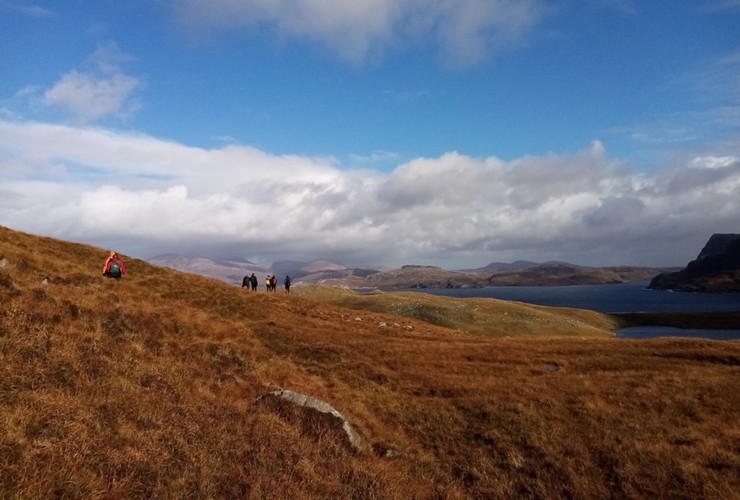 Six young people from Sir E. Scott Secondary School in Harris completed a John Muir Award at the Scaladale outdoor activity centre last October. The experience saw them collecting stories, debating issues that affect their 'patch' and making plans for a greener future.
Their Award focused on collecting living stories and memories from North Harris, specifically from people around the North Harris Trust - a community owned land estate - where many of them live. The young people spent time with local residents, listening to their stories, often accompanied by rainbows, showers and eagles soaring above.
Kate, who organised and ran the week at the Scaladale Centre, said: "The young people really listened, and fed back lots of stories that they had been told by Kenny, Cathy Bell and Calum. Kenny, talking in Gaelic, told them about getting to school as a young boy. The group were fascinated that small children, who could not swim, had to cross stepping stones over a river to get to class."

Many of the young people have family connections to North Harris that go back generations, nurturing strong connections to the land and its ownership. They spent time discovering and debating land use issues - including the near extinction of eagles and deer management on the estate - before deciding that eagles are "badass" and that Harris should be exporting venison.
The young people often feel protective towards the islands, especially when it comes to marine litter. They want to encourage tourists and locals who visit remote beaches to "take a sack and bring it back!" and have since formed a North Harris Trust Youth Group with beach cleaning as one of its core objectives.
Music and photography played an important part in how the young people shared their experiences. Fiona said her harp was integral to her island identity - continuing the tradition of oral storytelling. The group collaborated with artists Saskia Coulson and Colin Tenant who helped them experience their environment in a new light, resulting in a short film.

The week was enjoyed by all who participated and volunteered their time to talk to the young people, helping them to discover their home in more depth. North Harris Trust Ranger John Maclean, said: "It was great meeting the kids and seeing how passionate they were about their local area and the wildlife. We saw lots of wildlife and explored from coast to coast."
Find out more about the John Muir Award
Help us create opportunities for more people to protect and conserve our natural environment by supporting our Wild Action Fund.

Photography: Clara Risi