Published:

22 Jul 2022
Trust deer culling plans
Each year the Trust publishes its proposed deer cull targets across all its properties in line with its commitment to transparency
In previous years the Trust has published its proposed deer cull targets across all its properties in line with its commitment to transparency. From 2022 the Trust will publish its minimum cull requirement for each property*. This will be the minimum number of deer the Trust aims to cull, the total cull for a property may be higher. The decision to continue the cull beyond the minimum will be based on habitat response, which we asses via our ongoing monitoring program.
The Trust is committed to transparency about its deer management plans across its properties as it strives to protect our natural heritage and regenerate native woodlands and has released a table of its minimum cull requirements across the land it manages in the coming year.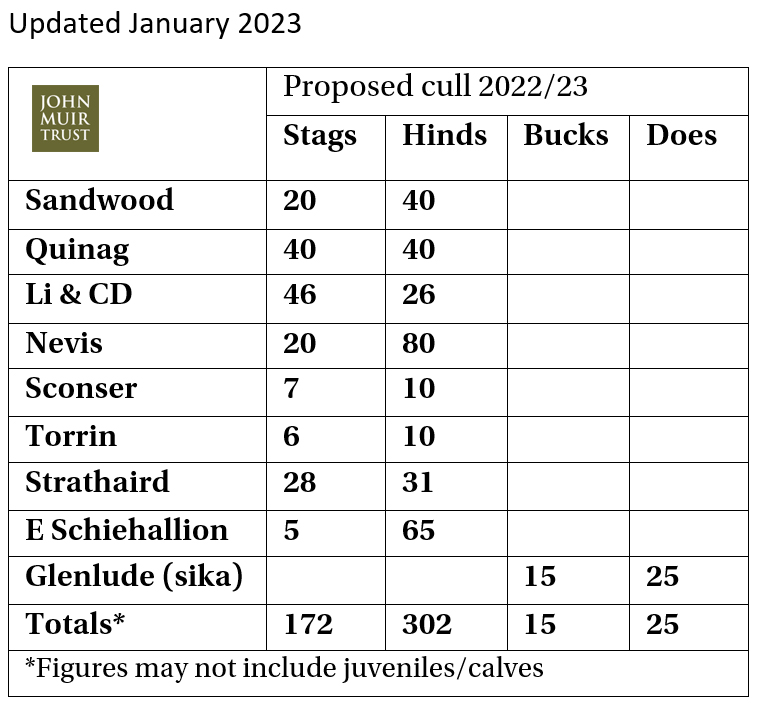 Cull proposals may be subject to minor variations due to a range of factors such as changes in statutory arrangements (for example where the Trust is a signatory to a Section 7 agreement).
We aim to maximise the number of deer carcasses we extract for human consumption. On health and safety grounds (for example, if carcasses are likely to be unfit for human consumption, or too dangerous to extract) or environmental grounds (for example, if damage caused by extraction would be too great or leaving carcasses will benefit wildlife such as eagles) some carcasses may be left.
The Trust has management plans for each of its properties available for download on the following webpages: Ben Nevis, Glenlude, Knoydart, Quinag, Sandwood, Skye and East Schiehallion.
Proposed minimum cull requirements are based on habitat recovery response. Local deer management groups are informed of the Trust's cull requirement to aid in wider deer management planning. Where Trust properties are members of a deer management group there are related deer management group plans available.
*Under Section 81 of the Land Reform (Scotland) Act 2016 new powers will be granted to Scottish Natural Heritage (SNH) to require landowners to state the number of deer they plan to cull in the coming year.