Published:

28 Apr 2021
My Nevis: Mick Tighe
From giants to geologists, guides and climbers, Mick Tighe unravels some of the rich folklore and history associated with Ben Nevis – a mountain that has now been in the Trust's care for 21 years.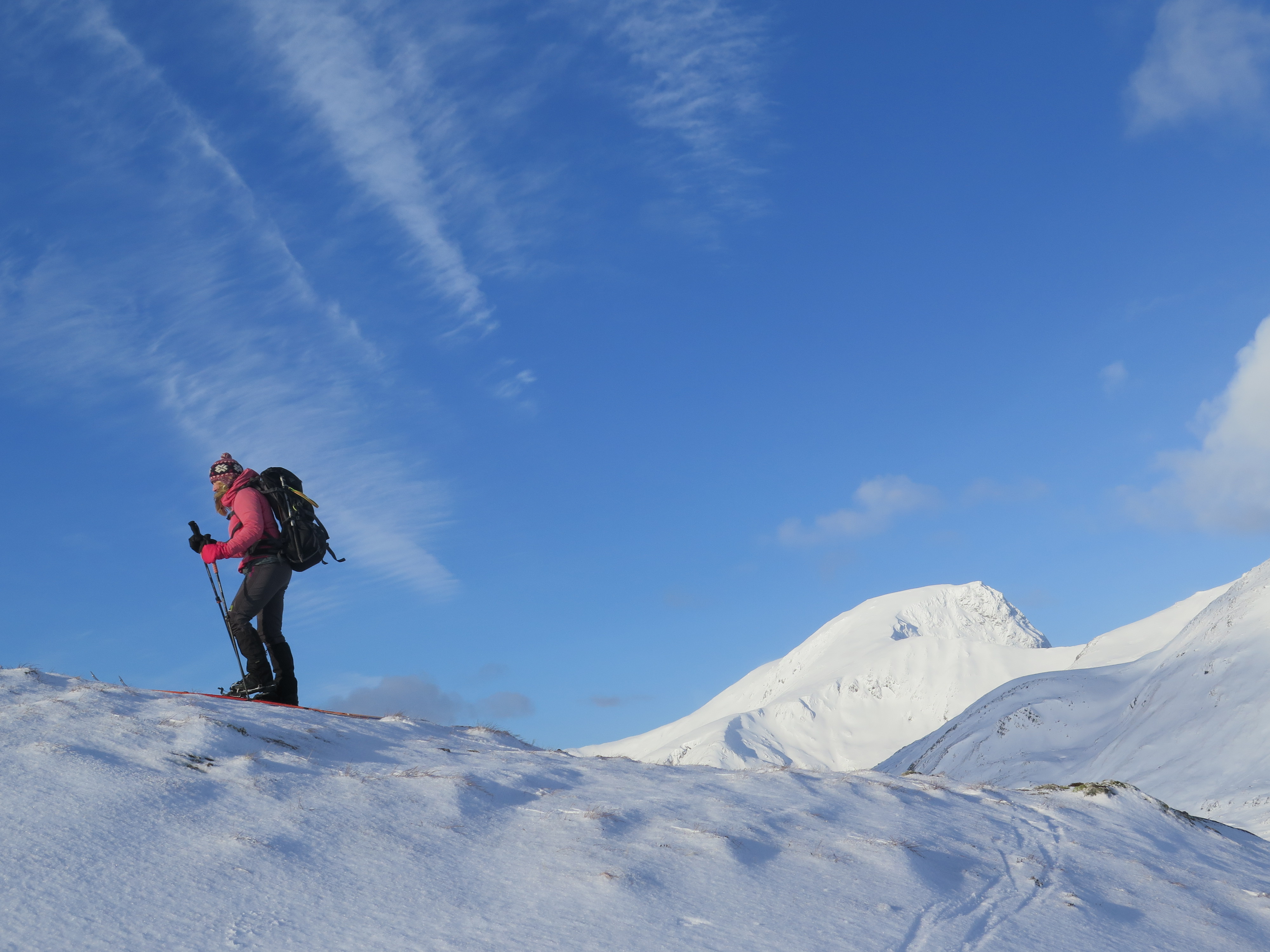 They called her Cailleach Bheur, blue-faced daughter of a pale winter sun – a wild hag with hair of bramble and aspen twigs matted with ice and hoar frost. A dun-coloured shawl fashioned from hides of wolves, deer and mountain hare was pulled tight around her scrawny shoulders with a semmet (vest) of matted hair swooping down to a pair of buskins to cover her bony toes. A wand, some say a hammer, in her right hand, smote the lands roundabout Nevis come autumn time when she appeared from her stone-cold lair to lay waste the fertile ground until the Beltane fires of spring returned warmth to the land and chased the wizened crone back into the eternal snows for another year.
And then there was old Ben himself, born of the nearby volcano family we hear, mother earth spewing forth molten lava from the womb of creation to leave him standing proud among his fuming neighbours. The glaciers came and cooled him a little, rounded his character and sculptured his features along with wind and water. Ben and the old woman lived in harmony for a few millennia until humans came along.
Guiding lights
We'll never know for sure who first ascended Ben Nevis, though the first recorded ascents began in the mid-1700s. Almost universally they were accounts from wealthy travellers, scientists in search of mountain flora and fauna, geologists hunting minerals, explorers wishing to fill a chapter in their travelogues, or poets such as John Keats who, in 1818, mused on the summit and composed a sonnet.
One of the geologists who visited during a tour of the Highlands and Islands in the 1820s was John McCulloch. He reached the summit successfully but, as he recorded later, during a ramble around its plateau "there came on us as dense and bitter storm of snow as I have ever experienced. I was not however alone since I had with me what is commonly called a guide, a lad who had volunteered his services. I had gained too much experience in guides not to know that they were, generally, either useless or mischievous … when my guide found himself in a whirlwind of fog and snow, he began to cry the unhappy animal … vowed that if he ever lived to get home, he would never guide another gentleman again, he would even surrender his five shillings if I would show him the way down the hill".
McCulloch did show him the way down, using his compass to do so, by which time the wee boy's "kilt was thoroughly cooled".
Unsurprisingly, as they were the local clan, it was mostly Cameron men who became Ben Nevis guides, with most ascents rather less dramatic than McCulloch's. The tradition of guiding continues to this day, although guides now tend to be recruited more for climbs on the Ben's north face than for ascents via the main path to the summit.
Though not a guide as such, a man who knew his way up the Ben better than most was Clement Wragge who, together with his dog Renzo, ascended to the summit every day during the summers of 1881 and 1882 to take weather readings. His wife took similar readings at sea level for comparison.
Wragge, who earned the nickname 'In-Clement', worked for the Scottish Meteorological Society with one legacy of his exertions being the building, in 1883, of a summit observatory that took continuous weather recordings for the next 21 years.
Mountain men
The increase in visitors to the Ben brought with it the inevitability of accidents. One of the first to hit the headlines was when the Duchess of Buccleuch and her retinue got lost in mist during an ascent in 1838. Long John McDonald owned the distillery at the foot of Nevis where he distilled his famous Long John Dew of Ben Nevis. A man of many parts, John was probably the first rescue team leader and, upon receiving word that the Duchess was missing, he set off with a large bell which he rang to attract the party's attention; it worked, and the Duchess was brought down on horseback using Long John's plaid in lieu of a saddle. History does not record how much dew of Ben Nevis was consumed as a result.
The rescues continued, initially led by men like Long John, local shepherds and members of the Scottish Mountaineering Club. A Minister in the Church of Scotland in Fort William in 1946, Bob Clarke was perhaps the first person to get a formalised rescue team off the ground. Lochaber Mountaineering Club then became the main rescue team, with assistance from the police and RAF rescue teams.
It was not until 1969, however, that the Lochaber Mountain Rescue Team was formally created. Today, the team deals with around 80 rescues a year in the area, around half of which are on Ben Nevis. On average, five people die on the Ben each year, mostly while attempting climbs on the sheer north face – routes that have become part of climbing legend.
The Scottish Mountaineering Club was formed in 1889 by a somewhat austere bunch of gentlemen, mostly from the upper echelons of Scottish society. This was the golden age of mountaineering when new climbs were being pioneered at home and abroad though, surprisingly perhaps, most English mountaineers still went to the Alps leaving the Scottish contingent carte blanche.
Occasional forays from the south did not go down well and when Norman Collie and his pals succeeded in climbing Tower Ridge on Ben Nevis before the Scots, they were not amused. William Naismith, a stalwart of the Scottish Mountaineering Club, wrote to his good friend William Douglas: "My Dear Douglas … the Sassenachs have indeed taken the wind out of our sails maist notoriously I wull say that. However, I suppose we must make a virtue of necessity and try to look pleasant about it, these beggars were more wide awake than us in skimming the cream off Glencoe and Ben Nevis."
Naismith went on to proclaim that Collie was a Scot, which he wasn't, but had this to say about the other members of the party, "… his three pals tho all very nice chaps are undoubted undiluted specimens of the genus pock-puddin … Flodden or even Culloden was nothing to this".
The subsequent exploration of Nevis has continued to this day with a glittering array of climbs in both summer and winter. They include one of the most famed ice climbs in the world, Point Five Gully, first climbed by JM Alexander, I Clough, D Pipes and R Shaw in 1959. Unfortunately, Clough was of the 'genus pock-puddin' and was subsequently blackballed from joining the Scottish Mountaineering Club.
Changing ownership
The ownership of Ben Nevis pictures like a tapestry of time interwoven with the thread of internecine warfare, clan battles, litigation, speculation, hydro-electricity and pleasure.
In the earliest accounts, Ben Nevis itself gets little mention, with the Lands of Lochaber and similar phrases more common. This was simply because the Ben itself was of no commercial value whereas the lands round about it were; the owners of old wanted men to fight their wars, crops to feed them and rents from the houses in which they lived; they wanted places to hunt and fish and, when times were hard, they wanted land to sell. It was only in the 20th century that water from Ben Nevis became a source of revenue other than through fishing.
When an Act of Parliament passed the Lochaber Water Power Scheme in 1921, it enabled the British Aluminium Company to purchase large amounts of land around Ben Nevis to use its waters for the production of hydro-electricity – a crucial component in the conversion of bauxite into aluminium.
There then began disagreement between the various landowners which resulted in, among many other transactions, the lower part of Ben Nevis coming under the ownership of the aluminium company. It's a situation that remains today, albeit with new landlords.
In 2000, a branch of the Cameron family, somewhat unusually known as Fairfax- Lucy, decided to sell its holding to the John Muir Trust. The purchase marked one of the most remarkable moments in the Ben's history, as it was the first time it had been acquired for conservation purposes rather for any financial gain. It was now, the upper part at least, separate from the 'commercial' land around it.
Together with the Nevis Landscape Partnership, the Heritage Lottery Fund, the local council and various other bodies, the Trust has since pumped large amounts of money into footpath repairs, regeneration schemes, environmental improvements, user management, study groups, rangers and much more.
Who knows what the future will bring? Though we can rest assured the old Ben himself and his Cailleach will maybe sleep a little easier now they are not the subjects of war and attrition.
Photo at the top shows Ben Nevis from Binnean Beag courtesy of Mick Tighe
Find out more and get in touch