29 Nov 2021
Field Notes: A climate crisis proposal
Carbon Officer Nikki Gordon reports on how the Trust's proposal for a Carbon Emissions Land Tax went down in a national newspaper as well as at some COP26 fringe events.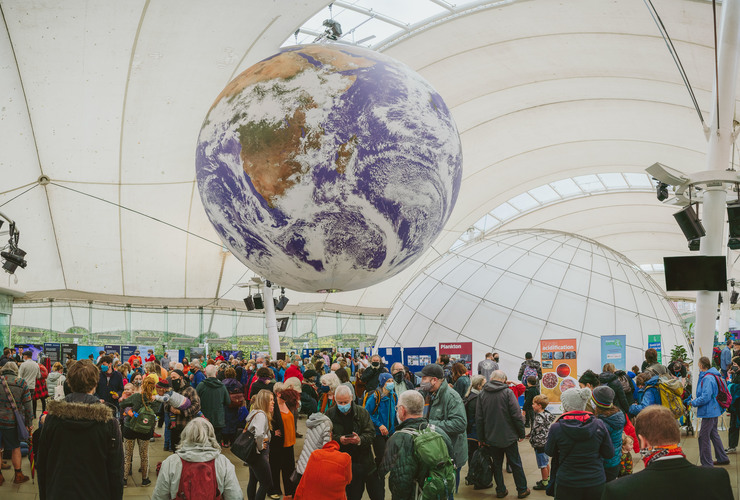 This November, as COP26 progressed in Glasgow, the team took part in a number of climate fringe events to highlight and promote our proposal for a Carbon Emissions Land Tax as a novel solution to the climate and biodiversity crises, and related social and community issues.
Taxing deer and grouse estates for failing to ensure their land properly locks up carbon dioxide could play a crucial role in fighting the climate crisis.
Awareness was raised when the subject was covered in an Observer newspaper article (see quote above) on Sunday 7 November as well as at various physical events and online sessions.
Family friendly at Dynamic Earth
We kicked off in early November with a stall hosted at Dynamic Earth's Climate Science Showcase (pictured above). This was an opportunity for us to promote our new short animated film which helps to explain the issues and the concept of the tax proposal in a fun and engaging way.
Watch the Carbon Emissisons Land Tax animation in English
We also have a Gaelic language version of the film (see below) to widen access to this resource, especially for the younger generation.
Watch the Carbon Emissions Land Tax animation in Gaelic
Our family friendly stall included mystery boxes containing different types of carbon storing habitats for kids (and adults) to try to guess. The best boxes were the ones with peat and sphagnum moss in them. It was very positive to see people were engaged and supportive of our proposal.
Music and poetry at SEDA
Our next fringe event was an online panel discussion about the tax, jointly hosted by the Trust and the Scottish Ecological Design Association (SEDA Land).
The discussion point of the event was 'does Scotland need a Carbon Emissions Land Tax if it is to reach its target of net zero by 2045?'. Our aim was to canvas a range of opinions and critical analysis on our proposed tax.
We had a broad line-up of expert panellists - from forestry consultants to community health specialists - all sharing their own unique perspective on how the tax would impact their areas of speciality. It was gratifying when it became clear that the panellists and audience agreed that they were broadly supportive of the tax and a lively discussion proceeded between panellists and the audience via the Q&A.
The event was punctuated by some inspiring words and music on the theme. Mark Gallie of Loud Poets read his beautiful poem Words from the Weary Wild Places. Specially created for the Trust, he delivered a heart rending story of a world under strain from human pressures. Watch Mark perform his poem in the video below.
Watch Mark Gallie read Words from the Weary Wild Places
Musicians Hamish Napier and Su-a Lee played an uplifting track from Hamish's album The Woods and created a video of the performance just for us.
Watch Hamish Napier and Su-A Lee perform
Crisis talks at REVIVE
Our final climate-related event was at the REVIVE Coalition's national conference held in mid November in Perth. Around 450 people from across Scotland came to hear host Chris Packham and an array of speakers (including me pictured below) and experts discuss the link between the climate and biodiversity crises; as well as the circle of destruction that surrounds grouse shooting.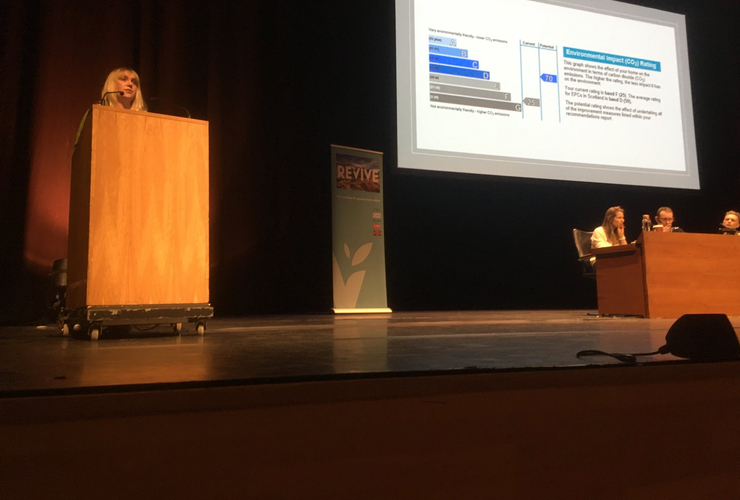 I introduced our Carbon Emissions Land Tax proposal as an incentive mechanism for landowners to transform our moors and described the prospective benefits for people, communities, wildlife and the environment. The proposal was well received and Chris Packham (pictured below at the Trust's stall) did an excellent job of working the crowd.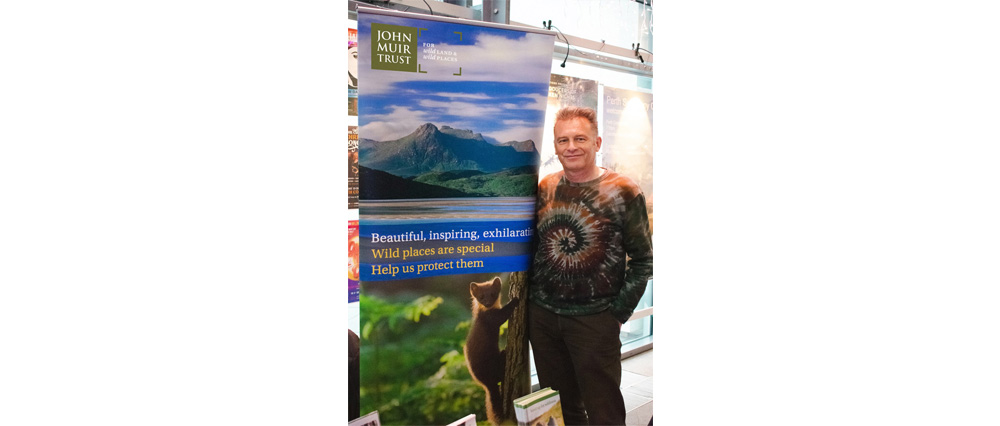 Beyond COP26, we will continue to spread the word about the Carbon Emissions Land Tax as an incentive for the change needed to halt the climate and nature crises. Watch this space.