Increasing carbon storage and wildlife on Scotland's land
Responding to the climate and biodiversity emergencies and the need to reduce carbon emissions in Scotland, our proposal highlights the role - and current under-realised potential - of land functioning as a natural carbon store.
The proposal also highlights the need to incentivise behavioural change among Scotland's landowners and makes the case for a graduated tax on major landowners (over 1,000ha) according to land uses and current estimated negative or positive emissions.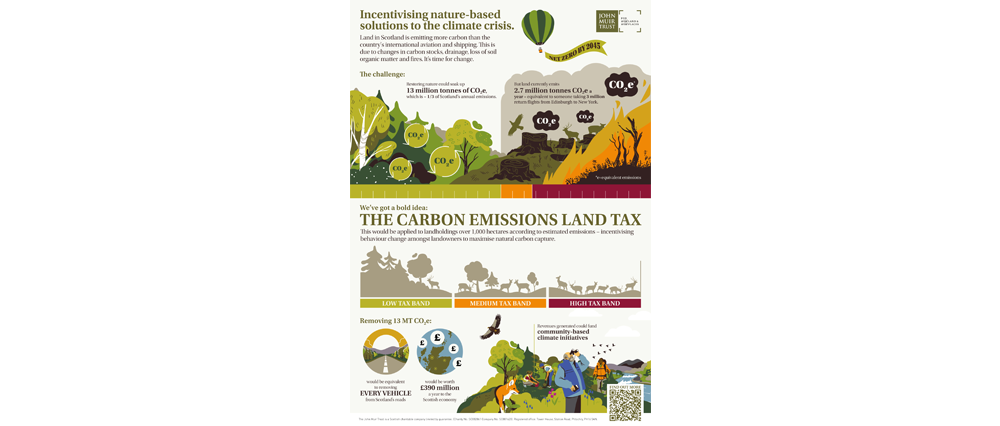 Read the Carbon Emissions Land Tax proposal and see a larger version of our Carbon Emissions Land Tax infographic poster (pictured above).
We believe it is imperative that all large landowners take their share of responsibility for delivering these necessary targets and achieving a just transition to a net zero economy.
4.5 million tonnes of CO2e
could be sequestered every year by restoring damaged peatlands
1.5 million tonnes of CO2e
could be sequestered every year by expanding native woodlands
Key points
Scotland is rich in low productivity land that could be used to lock up vast amounts of carbon, whilst contributing to biodiversity and rural community regeneration.
If all land managers maximised carbon sequestration of peatlands and woodlands, we could reduce our national carbon emissions by almost six million tonnes of CO2e a year – equivalent to removing more than four million cars from our roads.
A carbon emissions land tax would band landholdings over 1,000 ha according to their land uses and estimated negative or positive emissions.
Tax bands would be determined using refinements to existing carbon soil science and data.
Revenues generated could provide additional funding streams for local authorities, which could be used to fund local carbon reduction projects.
Expansion of native woodlands and peatlands would have many additional public benefits: increased biodiversity; new jobs and increased economic activity in sparsely populated areas; reduced flooding and better water quality; more attractive and accessible local landscapes.
Scotland is in a stronger position than most to deliver major carbon reductions by transforming the way we manage our land.
Support and feedback
The proposal was presented at the start of 2021 to Scotland's Climate Assembly and subsequently made its way into the Climate Assembly's 'Statement of Ambition and Recommendations' (please see pages 42 and 86 of their Report).
In December 2021, the Scottish Government published its response to these recommendations. In their response they cited an inability to implement a new national devolved tax within current powers. However, we believe we have demonstrated a number of viable options to take this proposal forward and we strongly urge ambition from the Scottish Government, commensurate to the scale and urgency of the climate and biodiversity crises.
In their own Statement of Response the Climate Assembly called for more urgency and can-do attitude from the Scottish Government. We are continuing our campaign, recognising the necessity and urgency behind our proposal.
Throughout the development of this proposal we have consulted individuals and organisations, and wish to continue to do so. Helpful feedback has already been received and incorporated from the James Hutton Institute, the Just Transition Commission, the Climate Change Committee and the Chartered Institute of Taxation.
How you can help
Poem by Mark Gallie of Loud Poets
Climate Assembly's 'Statement of Ambition and Recommendations'
Our Carbon Emissions Land Tax proposal features on pages 42 and 86 of the Report
Read now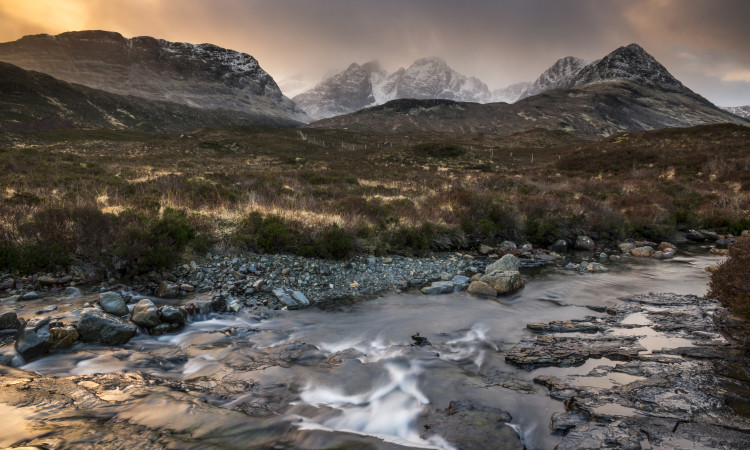 Support this campaign
Become a member for £3.50/month and help give wild places a voice
Join us today
Stay updated on this campaign
Sign up for our emails for the latest developments on this campaign and ways you can take action