Add your voice to 30+ organisations who are campaigning to lock up carbon, boost biodiversity and strengthen rural communities.
Today, Scotland's land emits more carbon than it stores, but it doesn't have to be this way. Woodlands and peatlands could sequester the emissions equivalent of every car in Scotland.
We have a solution to make this happen: it's called a Carbon Emissions Land Tax.
It will encourage the largest landowners to let Scotland's land lock up vast amounts of carbon while boosting biodiversity and strengthening rural communities.
30+ charities and organisations support us. To learn more, click here.
We need your support by the end of September to convince the Scottish Government to make this idea a reality.
Sign our petition and say: "It's time for change".
Read our letter to the Scottish Government
Understand why we're asking them to support a Carbon Emissions Land Tax
Read here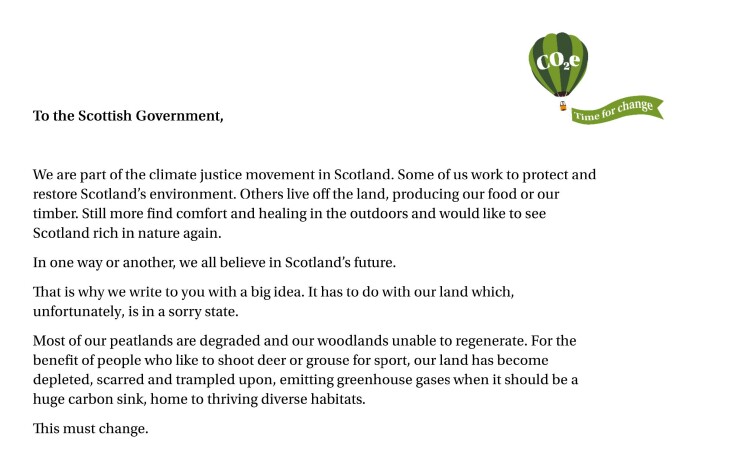 Key points
Scotland is rich in low productivity land that could be used to lock up vast amounts of carbon, whilst contributing to biodiversity and rural community regeneration.
If all land managers maximised carbon sequestration of peatlands and woodlands, we could reduce our national carbon emissions by almost six million tonnes of CO₂e a year – equivalent to removing more than four million cars from our roads.
A carbon emissions land tax would band landholdings over 1,000 ha according to their land uses and estimated negative or positive emissions.
Tax bands would be determined using refinements to existing carbon soil science and data.
Revenues generated could provide additional funding streams for local authorities, which could be used to fund local carbon reduction projects.
Expansion of native woodlands and peatlands would have many additional public benefits: increased biodiversity; new jobs and increased economic activity in sparsely populated areas; reduced flooding and better water quality; more attractive and accessible local landscapes.
How you can help
Sign and sign up! Make sure you've signed the petition, and sign up to our mailing list to hear about milestones and next steps.
Share! Copy "johnmuirtrust.org/celt" and share it with friends and family, and on social media.
Donate! Every donation counts. As a charity, we rely on your support to power this campaign.
Thank you for supporting the campaign to lock up carbon, boost biodiversity and strengthen rural communities.
Related News
12 Sep 2023

1 Sep 2023